Zaamin City Lahore Plots & Villas
Zaamin City is a mega residential and real estate project emerging in the landscape of the capital of Punjab. The society is enjoying the prestigious neighbourhood of Heart of Lahore city and having direct access to various well-known landmarks in a couple of moments. Zaamin City Lahore Plots & Villas stands out from other societies having commercials, recreational & corporate experiences in the market because of its unique signature amenities.
Zaamin city is the most popular and alluring project because of its environmental friendly surroundings, smart features, safety and security, potential infrastructure and providing maximum state-of-the-art amenities in a very affordable and minimum budget. The facilities presented are a dream come true for the residents of Zaamin City, moreover, they work with the best developers, architects and planners around the world.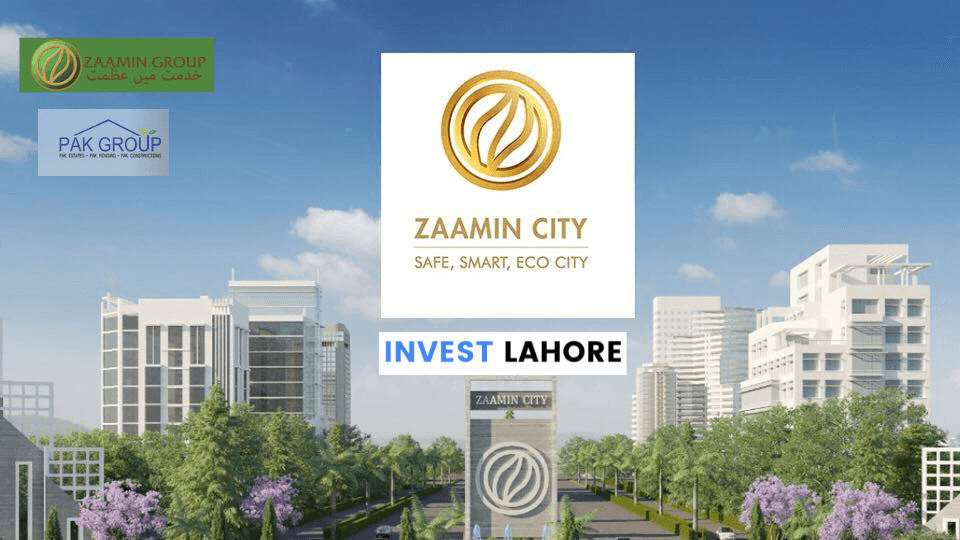 The main aim of society is to uplift the living standards of people and to facilitate them according to smart information and technology infrastructure. Zaamin City Lahore will have modern and creative smart features that make society really smart and attractive for residential purposes.
Zaamin City is a smart, safe, and environmentally friendly housing society that has captivated the interest of many customers and potential investors. The 5-kilometre-long society, which spans 1,000 acres, offers 3,5 and 10 Marla residential and 5 and 8 Marla commercial plots for sale in easy instalments.
Developers & Owners Of Zaamin City
It is the main and the most important thing to have an in-depth look at the developers and owners of a housing project while investing because it enhances your trust in the project.
Behind this opulent commercial & residential project, there is a well-known collection of enterprises; Pak Group joined with Zaamin Group and began a well-organised and well-structured project in Lahore, Pakistan.
A safe and secure investment with one of the best and most respected companies in its field.
Pak Group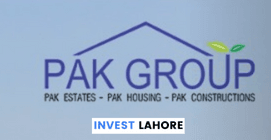 Since 2013, PAK GROUP has been the authorized development company of LDA CITY. Pak Group is one of the oldest and topmost construction and development groups based in Pakistan for the last 9 years. It is recognized as a trusted name and trendsetter in the market of Pakistan.
Pak Group has a high level of well-trained experts in the fields of architecture, real estate and successful professionals for their construction and development projects.
Projects Of Pak Group
The group is considered such a name of trust, honesty and professionalism that any developer who worked with the company feels honoured and proud. Here are some major projects completed by the group:
LDA City Lahore.
DHA Rahbar Sector IV.
Zaamin City.
Zaamin Group
Zaamin Group is a competent firm with a diversified portfolio. It has an interest in the fields of the textile industry, construction industry, hospitality and real estate businesses.
Over the years, the firm has developed to become one of Pakistan's most renowned and respected property companies. Zaamin Group has been serving the Pakistani property and construction industries for over 30 years.
The Zaamin Group's slogan is "Khidmat Mai Azamat," which is positive, constructive and comforting.
Projects Of Zaamin Group
Zaamin Group has several projects under construction and in the completion process in Pakistan which include:
Zaamin Center.
Nishat Apartment Project.
Pak China Dosti Square.
Zaamin Fazaia Villas.
Zaamin City.
Zaamin City Lahore Plots & Villas Map/Masterplan
Pak Group and Zaamin Group have brilliantly developed the Zaamin City master plan in accordance with the most recent trends and standards, spanning a large amount of land in such a manageable manner that it appears to be a modern architectural residential society with luxury art facilities.
The housing society has a well-designed Sports Club, Cinema, Community Club, Mosque, Hospital, School, College, Swimming Pool, Gymnasium and Golf Course with layouts that prioritize aesthetics and space efficiency.
Zaamin City Lahore Location
Most real estate experts think the location is the only factor that has the power to make or break the future valuation of any property.
Zaamin City is strategically located on Pak China Dosti Square, 21 KM Ferozpur Road, Lahore, Punjab 54600. This region is near Pak China Dosti Square, Fruit and vegetable market, Gajjumatta Bus Station and DHA Phase V, Lahore's most developed area that offers excellent investment opportunities.
This project's location allows for quick and direct access to Ferozepur Road and Ring road Lahore. Lahore's central residential districts are easily accessible from the project.
When it comes to new initiatives, this region has been flourishing, with rising demand and prices on the growth side. It is located at the crossroads of several universities, including the University Of Lahore, LUMS, University of South Asia, the University of Central Punjab and Lahore Leads University.
The society's planners and developers took the initiative to locate the society in such a way that every major commercial area and other facilities such as parks, educational institutes, hospitals, and shopping malls are only a few minutes drive away.
Zaamin City Nearby Accessibilities
Zaamin City directions are easily accessible as follows:
Direct Approach to Ferozepur Road & Ringroad Lahore.
3-minute drive to Fruit and Vegetable Market.
5-minutes drive to Gajjumatta Bus Station.
5-minutes drive to Pak China Dosti Square.
7-minutes drive to Royal Residencia Housing Scheme.
8-minutes drive to Madina Town Housing Scheme Ferozpur Road.
10-minutes drive to Railway Station Kahna Lahore.
11-minutes drive to Kakezai Housing Society.
12-minutes drive to Police Station Kahna Lahore.
13-minutes drive to The University Of Lahore.
15-minutes drive to Valencia Housing Society.
23-minutes drive to DHA Phase V.
25-minutes drive to Packages Mall.
26-minutes drive to the University Of Central Punjab.
27-minute drive to Allama Iqbal International Airport.
29-minutes drive to Gaddafi Stadium.
29-minutes drive to Evercare Hospital.
Zaamin City Nearby Landmarks & Places
Zaamin City is close to several recreational amenities, hospitals, and educational institutions, which range from elementary schools to universities.
The University of Lahore.
The University Of South Asia.
Packages Mall.
Royal Residencia.
Virtual University Wapda Town Campus.
Daawat Restaurant.
Pak China Dosti Square.
Lahore General Hospital.
Kot Lakhpat Railway Station.
Johar Town Park.
114 by Insomnia Kitchen.
The University Of Central Punjab.
Gajjumatta Metro Bus Station.
Army Selection Center.
Ittefaq Hospital.
Kahna Police Station.
LUMS.
DHA Phase V.
Metro Airport Road Lahore.
Spice Cottage.
University of Management & Technology.
Muhammadi Park.
Karak Khel.
Lahore Leads University.
Savour Foods.
Uptown LA.
National Hospital & Medical Center.
Zaamin City Lahore LDA Approved
Becoming legal is crucial for any housing society because that will grant the social status of a legal and approved housing society. Investors have trust and faith and are only willing to invest in society if they have received all necessary permits and affiliation from the registered relatable authorities.
Zaamin City is an approved residential housing project that has NO OBJECTION CERTIFICATE (NOC) from LAHORE DEVELOPMENT AUTHORITY (LDA). The approval and acquisition of NOC is the top priority of any residential and commercial society.
Zaamin City Housing Scheme Plot Features
Zaamin City provides you with modern as well as basic facilities that include:
Electricity supply.
Water supply.
Sewerage system.
Satellite or cable supply.
Accessibility through road.
Zaamin City By Pak Estate Notable Features
The planners and developers have revealed the features of Zaamin City and they have hinted that they may be much more similar to world-class standards. The state-of-the-art amenities of Zaamin City include:
Gated & Secured Society.
Family Oriented Environment.
Community Parks.
Jamia And Sector Mosques.
24/7 Supply Of Water, Gas And Electric Power.
Advanced Level Security With Latest Cameras.
Cinemas.
Underground Electrification.
Fibre Optic Connectivity.
Hi-End Shopping Malls And Complexes.
Metrobus System.
Green And Clean Surroundings.
Constructed With A Mind Of Low Environmental Impact.
Modern And Lavish Housing Plans.
Sports Complexes And Community Clubs.
Uninterrupted Water Supply.
150 feet wide Boulevard.
Recreational Use Of Empty Places.
Bus And Public Transport Stations.
Latest And High Standard Hospital.
Topnotch Infrastructure.
Energy Recycling.
Water And Sewerage Treatment Plant.
Load Shedding-Free Environment.
24/7 CCTV Surveillance.
Firefighting System.
Security Control Room.
Energy Backup System.
State-Of-The-Art Gymnasium.
Horticulture.
World Class Standard Educational Institutions.
Wide Roads And A Spacious Main Boulevard.
Smart Street Lights.
Smart Waste Management System.
Web Of Wide and Paved Roads.
Wifi Zones Throughout Society.
Grand And Manicure Central Parks.
Energy Recycling.
Jogging Track.
Prime Location.
Pitch & Putt Golf Course.
Swimming Pool.

State-Of-The-Art Amenities Of Zaamin City
Zaamin City easily meets the original, sustainable and professional standards of any smart city found in the world. Here are the fundamentals of any smart housing society present in the world:
Zaamin City planning will include safe city features such as strategically placed cameras and real-time connections to a central control room. A quick response security force that works effectively with law enforcement agencies is another safety feature.
Zaamin City provides a quality and up-to-standard living experience with state-of-the-art infrastructure, peace, comfort and a resilient social environment with several recreational activities.
The concept of smart cities will take on new meaning with the advent of artificial intelligence Cand 5G technology. Zaamin City will offer fiber optic connectivity, real-time communication, and technology stations connected to all critical points. Zaamin City is one of the few societies that has its own dedicated grid station.
The society also provides various facilities to the clients and residents like hospitals, parks, gyms, cinemas, shopping malls, warehouses, private transportation systems and many more that will bombard the job opportunities and raise the country's economy.
Zaamin City will surely increase not only the society's economy but the main city's economy collectively. Zaamin City will be designed to have a low carbon footprint. Among the features of the Eco-City concept are 100,000 planned trees, 100% rainwater harvesting, air pollution monitoring, and the use of treated grey water for horticulture.
Zaamin City has reserved a total of 30% of the land for greenery and plantation that is surely responsible for a clean, fresh and eco-friendly environment. With the maximum amount of trees and plants, residents would have their best lives.
Zaamin City Villas/Houses For Sale
Because Zaamin City has been designated as a safe and secure community, the housing scheme offers 5 Marla modern and luxury villas with Naya Pakistan Mortgage Facility. Residents will enjoy a high-quality lifestyle in their own neighbourhood, where they will have access to the best amenities, such as A mosque, school, college, hospital, community centre, gym, swimming pool, and other facilities are available.
Based on the number of people living in the 5 Marla land, there are several architectural plans for villas.
Villa Apartment (2 Bed).
Nova (2-4 Bed).
Twin (2-4 Bed).
Seville (4 Bed).
Lexus (5 Bed).
Villas will be built under strict engineering supervision to your specifications, whether Executive or Royal.
Zaamin City Lahore Plots Prices For Sale
Zaamin City Lahore has a wide range of residential and commercial plots for sale. Zaamin City villas are also for sale for luxurious & exquisite living. Plots for sale in Zaamin City are
Residential Plots (3,5,10 Marla)
The residential plots (5-10 Marla) in Zaamin City are priced as PKR 55.4 Lacs – PKR 1.08 Crore with a 20-month payment plan.
Commercial Plots (5 and 8 Marla)
The commercial plots (5 and 8 Marla) in Zaamin City are priced as PKR 1.83 Crore – PKR 2.93 Crore with a 20-month payment plan.
Zaamin City Lahore Payment Plan
Zaamin City Lahore Payment Plan is incredibly reasonable and convenient, with instalments spread out over 20 months. The one unit may be reserved with a 30% down payment, with the 15% balance due on possession.
The price of the plot changes according to the category of the plot. Currently, a 1.5-year quarterly instalment plan is offered in Zaamin City Price Plan.
Important Information
Prices are subject to change without prior notice.
Prime location charges are to be applied like plots facing park, corner, main road will cost extra. In addition, Plots facing Main Boulevard will cost more extra.
There may be some discount on a 50% Down Payment.
Prices are without development charges.
Zaamin City 5 & 10 Marla Residential Payment Plan
Zaamin City 5 and 8 Marla Commercial Payment Plan
Zaamin City Ferozepur Road Lahore Possession Policy
All those members who have booked their plots on 100% payment will be eligible for the possession of plots of their own choice subject to the start of construction works within 90 days after signing their willingness to perform on the stamp agreement.
In the second phase, the society will announce possession of the remaining plots (if available) on a first-come, first-served basis. Priority is given to members who book plots with 40% and 50% down payments respectively. The customer must confirm the availability of the plot before depositing 100% payment and must sign a willingness performa to start construction within 90 days.
Possession is starting from august 2021.
Why Invest In Zaamin City By Pak Estate?
Here are some notable points in experts' opinion that why one should invest in Zaamin City By Pak Estate.
A Better Place For Living
Due to an expanding housing shortage, Pakistan requires about 700,000 new residential units each year, and moderately priced projects like Zaamin City play a critical part in meeting this demand. So, transparency in documentation and ease of ownership transfer are also potential benefits.
Technology Driven Development Plan
Zaamin City will continue to use technologies, housing data, and other information to improve infrastructure and solve problems.
This could include having access to 24-hour electricity, low-cost housing, education, and healthcare services, as well as being connected to everyone.
Trusted Developers
Zaamin City will undoubtedly be a profitable investment due to its developers (Pak Estate), who have never failed to provide smart housing societies on time. 70% of project development also demonstrates their success.
Legally Registered Community
Zaamin City Housing Scheme Lahore is a fully LDA-approved and legally binding society. There is no possibility of fraud or legal encroachment.
A Secure & Smart Investment
Zaamin City will become a thrilling reality, a true example of cutting-edge foundation and engineering combined with unwavering global standards. Once completed, the project is expected to be the region's main economic hub and one of the region's mainstays for future generations. Lahore's real estate market had one of the highest returns on investment (ROI) in Pakistan in 2019, at 6.25%. Zaamin City ensures the availability of luxury lifestyle par excellence hence, a smart investment for passive income as there is 80-100% gain expectation only within 12 months.
Protected Community
Zaamin City Lahore provides its residents with the safest and most peaceful living environment possible. Because of the smart surveillance, the location will be extremely secure, allowing people to live in a terror-free environment. CCTV and other smart cameras will be installed throughout the city to monitor all suspicious events and circumstances. The strict entry-point screening will be maintained, and security experts will work around the clock to provide the best security services.
Prime Location
The location is connected to the main city of Lahore and offers a safe and environmentally friendly environment. It is ideally located near Pak China Dosti Square on Ferozepur Road in Lahore. This location is ideal in every way.
Affordable Payment Plan And Profitable Investment
There is a very flexible payment plan designed with the comfort of the occupants in mind. Zaamin City is the ideal location for you and your family to purchase a plot. Because of their prime location and simple payment procedure, the plots are selling quickly.
Quality Life And Outstanding Amenities
This pristine city's residents will have a standard living experience that includes stability, comfort, and abundance. Wi-Fi will be installed throughout the community, and CCTV cameras will be installed to monitor every nook and cranny around the clock, seven days a week. Zaamin City's educational institutes will provide world-class education.
What Does An Investor Look For While Investing
Here's a look at some of the most important things to consider if you plan to invest in the real estate market:
Location of the property.
Value of the property.
Area of the property.
Builder repute verification.
Title deed verification.
Necessary approvals (NOC) by the local body.
Investment Purpose and Investment Horizon.
Guidelines To Follow While Purchasing/Selling Of Property
Following are the guidelines to follow while purchasing or selling any property:
Document Verification
Always verify all the documentation of the property with complete satisfaction to avoid any inconvenience or misunderstanding. Before purchasing and selling any property, make sure to inquire about the NOC and other approval documents by the developers, approved by the authorities. That's how your purchase or sale will be made without any issue of invalidation.
Financial Security
Before selling and purchasing any property, make sure that you have some financial deposits on for backup if needed. While selling and purchasing, please ensure that your funds align with your payment plan. That's how your purchase or sale will be made without any issues.
Property Visits
It is compulsory to do property visits before purchasing and selling any property to analyse the validity and features of the property properly. After the surety of the validity, visit the site to ensure that the required documents are under the plot specifications.
Zaamin City Booking Requirements
The following documentation is required for booking any property:
Two passport-size Pictures.
Two copies of your National Identity Card.
Two copies of the ID card of your next to kin(father, mother, wife, sister, brother).
NICOP for overseas clients.
Charges To Be Paid At The Time Of Booking
30% down payment that is paid at the time of booking. The booking fee must be paid following the unit size specified in the payment plan.
The payments will be made over 20 months in easy monthly instalments.
15% is to be paid at the time of possession.
Conclusion – Zaamin City By Pak Estate Lahore
Zaamin City Ferozepur Road Lahore is an outstanding international standard housing society designed and built by the most reputable developers Pak Estate near Pak China Dosti Square.
The demand for this kind of housing scheme in Lahore has gone up due to changing preferences of clients. The features and amenities of Zaamin City seem quite promising and it will prove a better, successful and smart investment for the future on a reasonable budget.
So, if you are part of the same crowd looking to invest in instalments in Lahore's new residential projects in 2022, contact INVEST LAHORE now!