Bil Kisa Retreats Farmhouses Lahore
Bil Kisa Retreats Farmhouses Lahore is a meticulously planned tranquil living space of luxury and elegance that intends to become an iconic landmark. Beautiful and sumptuous residences, spacious farmhouses, rich green surroundings, and an extensive list of facilities are all conveniently positioned on a spectacular location on Main Barki Road near DHA and LSE (Lahore School of Economics).
Bilkisa Retreats is an ultra-modern, multi-purpose complex with exceptional residential and recreational amenities spans over 64 Kanals. Bil Kisa Retreats is the city's most popular farmhouse community which attributes a Aqua Lake, 1 to 4 Kanal standard farmhouses & 2 Kanal Corner Farmhouses with a scenic view of lush greenery , a Mosque and a well planned gated community for family living.
Bil-Kisa is a venture of Bil-Kisa Developers that have a stellar track record in the sector of real estate developments. Bilkisa is an iconic luxury venture in its own right, requiring no adjacent landmark because it offers a mix of residential and recreational facilities like 24/7 CCTV surveillance with advanced technology, underground electrical wiring and splendid AQUA Lake in middle of the community.
Bilkisa is granting possession in exchange for 50% of the total payment. The payment plan for farmhouses and residential plots is also affordable and straight forward. This combination of luxury and elegance is a wise investment because, in a few future years, there is a hope of high capital gain and it will prove a high yielding investment.
Bilkisa Retreats Owners & Developers
Behind this opulent recreational & residential project, there is a well-known, well-organized and well-structured team of developers named BIL-KISA DEVELOPERS.
About Bil Kisa Developers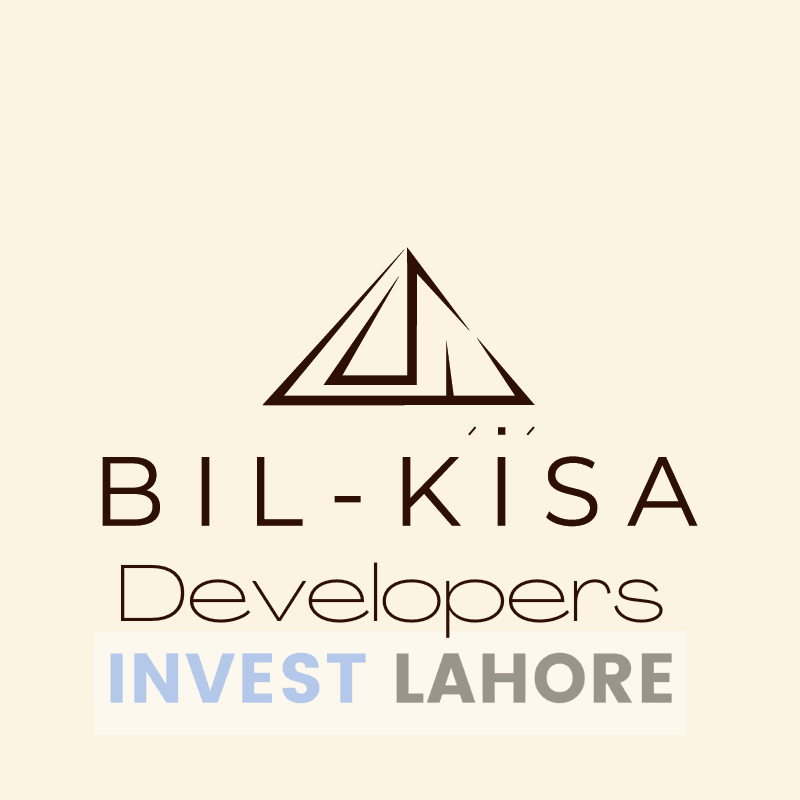 BIL-KISA Developers is known for constructing high-end real estate developments that meet the needs of consumers. They keep their promises quite well. The firm believes in quality above quantity, which is why customers value their original projects.
They seek to deliver competitive and artistically constructed real estate properties that meet the genuine needs of clients, and to become a prominent participant in Pakistan's real estate business, filling a need in the market.
Bil-Kisa Developers offers turnkey construction solutions through various customized plans for customers who are pressed for time due to their hectic schedules.
Bilkisa Retreats Location & Map
Most real estate experts thinks location is the only factor that have the power to make or break the future valuation of any property.
Bil Kisa Retreats is strategically located on Main Barki Road, FG6V+8JP, Lahore Cantt, Lahore, Punjab, Pakistan. This region is near to DHA, Lahore's most developed area that offers excellent investment opportunities.
This project's location allows for quick and direct access to D.H.A, Lahore Ring road, Paragon City, Green City Housing Scheme, Defence Raya Golf & Country Club and many other farm houses and recreational areas. Lahore's major residential districts are easily accessible from the project.
Bil-kisa is almost a few minutes drive away from DHA Main Boulevard and has a direct approach to Lahore School Of Economics, University Of South Asia DHA Barki Road, Army Selection Center and Pakistan Kidney & Liver Institute & Research Center.
DHA Lahore is unquestionably Lahore's commercial and recreational centre. DHA offers its people access to elegant and top-notch business options. This region boasts the greatest educational, healthcare and commercial possibilities for its residents, in addition to business prospects.
Bil Kisa Retreats Lahore Nearby Accessibilities
Bil-kisa directions are easily accessible as follows
3.5 Kilometer from DHA Phase VII Commercial Area.
5 Kilometer from DHA Phase VII.
8 Kilometer from Lahore School Of Economics.
8.5 Kilometer from DHA Phase VIII.
11 Kilometer from DHA Phase VI.
11.3 Kilometer from Paragon City.
11.9 Kilometer from Defence Raya Golf & Country Club.
13.5 Kilometer from Lahore Ring road.
15.5 Kilometer from Allama Iqbal International Airport.
Bilkisa Retreats Nearby Landmarks & Places
Bilkisa Retreats is close to several recreational amenities, hospitals, and educational institutions, which range from elementary schools to universities.
University Of South Asia DHA Barki Road.
Pakistan Kidney & Liver Institute & Research Center.
Avicenna Medical College.
Army Selection Center.
McDonald's.
Metro Airport Road Lahore.
Lahore Leads University.
Army Museum.
National Hospital & Medical Center.
DHA Phase 9 Prism.
Joyland.
Allama Iqbal International Airport.
Phase 5 DHA.
Fauji Foundation.
Spice Bazaar DHA Phase 6.
The Millenium Universal College.
LUMS.
Lahore School Of Economics.
DHA Phase 8.
Packages Mall.
Fortress Stadium.
Bil Kisa Retreats Lahore Plot Features
Bil Kisa farmhouses provides you with modern as well as basic facilities that include:
Sui gas supply.
Electricity supply.
Water supply.
Sewerage system.
Satellite or cable supply.
Accessibility through road.
Bil-Kisa Retreats Notable State-Of -The-Art Amenities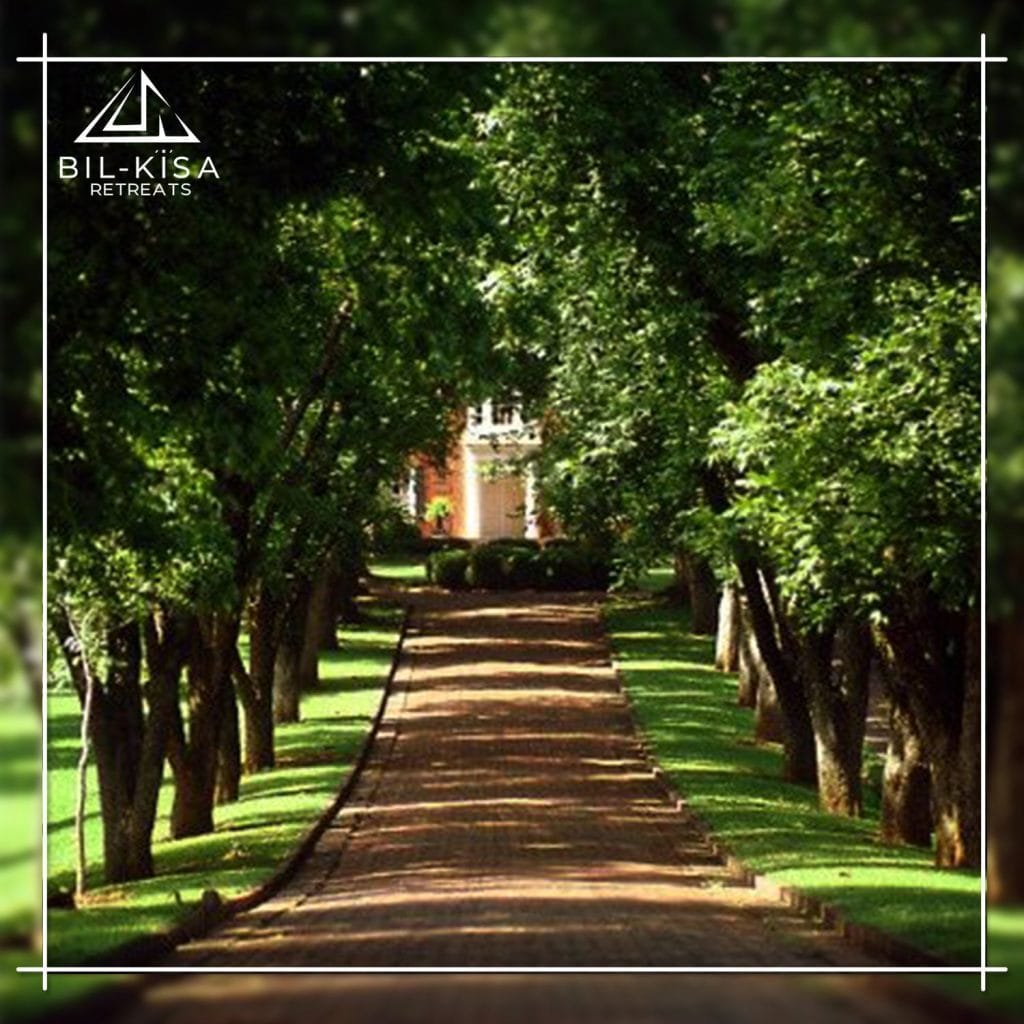 Bil-Kisa Residencies offer premium facilities at a lower price than other farmhouse projects in the vicinity. These are the features that make luxury farmhouses essential for the future.
Possession on 50% payment.
Low Height Construction By Laws.
Community Mosque.
Turnkey Solutions by Developers for Busy Scheduled Persons.
24/7 Presence Of The On Site Management Team.
Electronically secured Boundary Walls.
Innovative & Unmatched Community.
Motion Light Sensor For Security.
Underground Electrical Wiring.
24/7 CCTV Surveillance With Advanced Technology.
Solar System For Lights.
Splendid AQUA Lake IN Middle of the Community.
Well Designed Terraces.
Spacious Parking.
Infrastructure With An Architectural Design.
Well Designed And Well Planned Community.
Sitting Area & Garden.
24hrs Electricity, Gas And Water Backup.
Easy Instalment Plan.
Control Room For Security.
Charming & Scenic Views Of Lush Greenery.
Paved Pathways.
Farmhouses For Sale In Lahore
Bil-Kisa is recognized as area's most prestigious zone, including all necessary and sumptuous facilities under one umbrella. The project involves a cutting-edge farmhouses, recreational structure and a rising residential construction.
Best Farmhouses For Sale In Lahore
Farmhouses (Standard) (11655 Sq.ft. – 17955Sq.ft.)
Bil Kisa offers standard farmhouses in the price of PKR 2.82 Crore – 4.34 Crore with an affordable payment plan.
Farmhouses (Corner) (12330 Sq.ft.)
Bil Kisa offers corner farmhouses in the price of PKR 2.98 Crore with an affordable payment plan.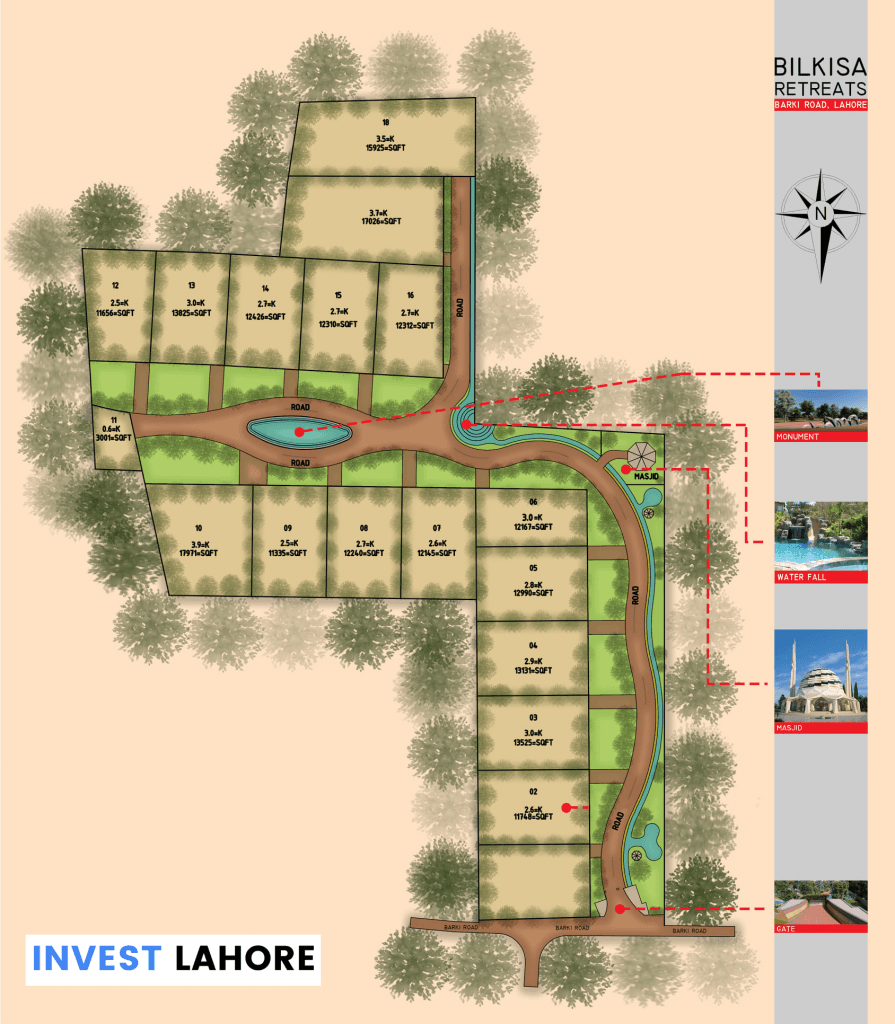 Bil Kisa Retreats Lahore Payment Plan
The payment plans of BIL KISA are affordable and flexible. The properties for sale are open for booking at an easy instalment schedule. Investors will get huge profits off their money in the future; however, high rental incomes are guaranteed. The payment plan is given below:
Why Invest In Bil Kisa Retreats Lahore?
Here is the expert opinion that why invest in Bil Kisa Retreats:
Bil-kisa Retreats will surely be a productive investment because of its developers (Bil-Kisa Developers) who never fail in the provision of real estate projects.
Bil-kisa Retreats is a really valuable investment opportunity since high capital gains are expected in the following several years.
Located near DHA phase VII, a hub of infrastructure development and real estate investment.
Innovative & Unmatched Community.
Well Designed Infrastructure and Well Planned Community.
Offering premium & luxurious facilities at a cheaper cost.
Sale agreement (ownership) at 30% down payment.
A smart investment for passive income.
A fantastic opportunity for buyers & investors to take advantage of the opportunities on DHA's remunerative property market by building residential homes and recreational resorts on such a tranquil setting.
Documentation transparency and ease of ownership transfer.
Bil Kisa is granting possession in exchange for 50% of the total payment.
What Does An Investor Look For While Investing
Here's a look at some of the most important things to consider if you plan to invest in the real estate market
Location of the property.
Value of the property.
Area of the property.
Builder repute verification.
Title deed verification.
Necessary approvals (NOC) by the local body.
Investment Purpose and Investment Horizon.
Guidelines To Follow While Purchasing/Selling Of Property
Following are the guidelines to follow while purchasing or selling any property
Document Verification
Always verify all the documentation of property with complete satisfaction to avoid any inconvenience or misunderstanding. Before purchasing and selling any property, make sure to inquire about the NOC and other approval documents by the developers, approved by the authorities. That's how your purchase or sale will be made without any issue of invalidation.
Financial Security
Before selling and purchasing any property, make sure that you have some financial deposits on for backup if needed. While selling and purchasing, please ensure that your funds align with your payment plan. That's how your purchase or sale will be made without any issues.
Property Visits
It is compulsory to do property visits before purchasing and selling any property to analyse the validity and features of the property properly. After the surety of the validity, visit the site to ensure that the required documents are under the plot specifications.
Documentation Requirement For Booking
The following documentation is required for booking any property:
Two passport size Pictures.
Two copies of your National Identity Card.
Two copies of the ID card of your next to kin(father, mother, wife, sister, brother).
NICOP for overseas clients.
Charges To Be Paid At The Time Of Booking
30% down payment that is paid at the time of booking. The booking fee must be paid following the unit size specified in the payment plan.
The payments will be made over 8 months in easy monthly instalments.
Conclusion – Bil Kisa Retreats Lahore
Bil Kisa Retreats Lahore is a meticulously planned serene living arrangement that is surrounded by peace, warmth, love and tranquility where life is perfect and blissful. Bil Kisa Retreats offers plots ranging from 1 to 4 Kanals in size for peaceful residential purposes away from the hustle and bustle of everyday life, as well as for farmhouses & recreational activities.
Bilkisa has everything you may desire for a relaxed weekend or a quick weekend vacation. So, if you are part of the same crowd looking to invest in instalments in Lahore's new residential projects in 2022, contact INVEST LAHORE now!