Defence Raya Golf & Country Club Lahore
Defence Raya Golf & Country Club Lahore is an exquisite combination of luxury and elegance that intends to become an iconic landmark for DHA, Lahore's booming urban arena. Beautiful and sumptuous residences, spacious villas, 18 hole golf course, rich green surroundings, and an extensive list of facilities are all conveniently positioned near essential institutions and entertainment areas in the project.
Defence Raya is an ultra-modern, multi-purpose complex with exceptional residential and commercial facilities. DHA Raya is the city's most popular Golf & Country Club which attributes a Commercial center (Fairways), Golf View Villas (1 Kanal non-golf view villas & 2 Kanal Golf view resort villas), 18 Hole Golf Course & 18 Green Condominiums.
Defence Raya Golf & Country Club is a collaboration between BRDB Malaysia and DHA Lahore. Both developers have a stellar track record in the sector of real estate development.
Defence Raya is an iconic luxury endeavor in and of itself, requiring no adjacent landmark because it offers a mix of residential and commercial facilities.
DHA Raya Lahore provides a perfect location for brand stores to attract clients in DHA Raya Fairways Commercial Center, Lahore's business and upscale district with all the educational, health and commercial facilities nearby.
Defence Raya Owners & Developers
Behind this opulent commercial & residential project, there is a well-known collection of enterprises; BRDB Developments joined with DHA Lahore and began a well-organized and well-structured project in Lahore, Pakistan.
This premium project by BRDB is being developed in conjunction with DHA Lahore. A safe and secure investment with one of the best and most respected companies in its field.
About BRDB
Bandar Raya Developments Berhad (BRDB) is a multinational firm with a diversified portfolio. It has an interest in the construction industry and real estate businesses.
BRDB Developments Sdn Bhd has been inextricably tied to the neighbourhood and communities of Bangsar since its start in 1964. Over the years, the firm has developed to become one of Malaysia's most renowned and respected property companies.
BRDB Developments has been serving the Malaysian property and construction industries for over 50 years. It is also the proud creator of Bangsar, one of the most wealthy neighbourhoods in Kuala Lumpur, the country's administrative and financial centre.
Projects Of BRDB
BRDB has several projects under construction and in the completion process in Malaysia which include
Tamansari.
Senja Private Residences.
The Pulse Residence.
DHA Lahore
Defence Housing Authority Lahore is a "Nationally recognized corporate" company that has labored to give the people of Pakistan the option to live in creative modern living structures.
Using modern designs in the development of residences, infrastructure, and vital accompanying amenities, has breathed new life into "Defence Living," making it gloriously lively, pleasantly dynamic, and easy to live.
They seek to deliver competitive and artistically constructed real estate properties that meet the genuine needs of clients, and to become a prominent participant in Pakistan's real estate business, filling a need in the market.
Projects Of DHA Lahore
Since its establishment, DHA has developed several magnificent projects around Pakistan. The projects that are currently in operation are
Haly Tower in phase II.
Goldcrest in phase IV.
Penta square phase V.
Defence Raya Country Club and Golf Resort.
Dolmen Mall.
IVY College of Management Sciences.
Defence Raya Lahore Project Plan
Defence Raya is recognized as DHA's most prestigious zone, including all necessary and sumptuous facilities under one umbrella.
Raya Defence involves a cutting-edge retail structure and a rising residential construction named:
Fairways Commercial Centre.
Golf View Villas.
18 Green Condominiums.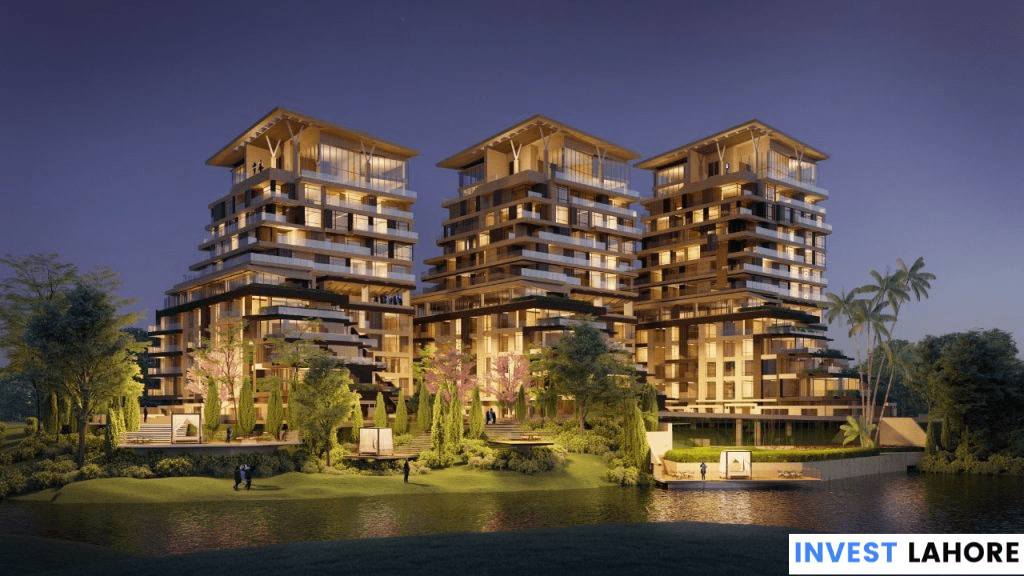 DHA Raya – Fairways Commercial Center
Defence Raya Lahore presents Fairways Commercial Center which features:
7 storeys plaza has a shopping mall.
12 Kanal centrally located piazza.
Dedicated Basement parking.
Shops with front parking.
Broad pedestrian walkways.
8 Marla commercial plazas.
Al-fresco dining options.
Fabulous rooftop terrace.
Beautiful views of lush fairways and a pristine sparkling lake.
Easy Instalments Plan For Commercial Plaza.
DHA Raya – Golf View Villas
DHA Raya presents Golf View Villas with a charming & fascinating view of the greenery
10,14 Marla villas.
1 Kanal non golf view villas.
2 Kanal villas with breathtaking views of the Golf Course.
Executed flawlessly villas.
Semi-open areas.
Dark spaces in basements.
Rooftop terrace.
Entertainment zone, gymnasium.
DHA Raya – 18Green Condominiums
18 Green Defence Raya is a newly launched project of DHA Raya which features identical residential apartments. Apartments in this extravagant community are well-designed, with layouts that prioritize aesthetics and space economy. 18 Green Defence Raya offers:
1-bedroom apartments (958 sq.ft. – 1475 sq.ft.).
2-bedroom apartments (1593 sq.ft. – 2616 sq.ft.).
3-bedroom apartments (2164 sq.ft. – 2939 sq.ft.).
Defence Raya Total Land
Defence Raya Golf Club has 400 acres of lush greenery, a golf course, a huge variety of villas, and a rather higher residential and commercial complex.
Defence Raya Golf & Country Club Directions & Map
The slogan of real estate investors worldwide is 'Location, Location, Location,' and the location of Defence Raya in Lahore is one of its most noticeable advantages.
Because of its exceptional position, DHA Raya Lahore provides a perfect site for brand stores to attract clients. It is located in Defence housing and is regarded as one of the city's business centers and upscale neighborhoods, with all amenities.
Defence Raya Golf Club is strategically located on Avenue 1, DHA Phase 6, Defence, Bhungali, Lahore District, Punjab, Pakistan, 54792. This region is one of DHA Lahore's most developed phases and offers excellent investment opportunities.
This project's location allows for quick and direct access to Cantonment, D.H.A, Lahore Ring road & Gulberg. All of Lahore's major residential districts are easily accessible from the apartments. This project is almost a few minutes drive away from Gulberg Main Boulevard and has a direct approach to Model Town, Garden Town, Johar Town and Faisal Town.
DHA Lahore is unquestionably Lahore's commercial and recreational centre. DHA offers its people access to elegant and top-notch business options. This region boasts the greatest educational, healthcare and commercial possibilities for its residents, in addition to business prospects.
Defence Raya Phase 6 Nearby Accessibilities
Defence Raya directions are easily accessible as follows
Close proximity to Lahore Ring road.
2 minutes drive from DHA Phase VI Main Boulevard.
7 min drive from Sui Gas Phase 1 Ring Road Interchange.
10 minutes drive from LUMS.
10 minutes drive from Shahbaz Sharif Government Hospital.
15 minutes drive from Allama Iqbal International Airport.
18 min drive from Lahore International Airport.
20 min drive from Kalma Chowk.
25 min drive from Mall Road Lahore.
27 min drive from Liberty Market Lahore.
35 min drive from Lahore Railway Station.
40 Min drive to Thokar Niaz Baig M-2 Interchange.
Defence Raya Phase 6 Nearby Landmarks & Places
Defence Raya Lahore is close to several recreational amenities, hospitals, and educational institutions, which range from elementary schools to universities.
Nearby Schools & Universities
The project has multiple renowned schools and universities nearby including
The Millennium ROOTS universal college.
SICAS DHA Phase VI.
Green Hall Academy DHA Phase 6 Campus.
Lahore Garrison University.
The City School DHA Campus.
Naseem Nisar High School.
Beaconhouse Newsland Lahore.
National Tele School Of Pakistan.
Lahore School Of Economics.
Nearby Restaurants
The options of the eateries in the area are as follows
Spice Bazaar.
Nando's.
Mocca Café.
Johnny & Jugnu.
Second Cup.
Broadway Pizza DHA Phase 6.
Gloria Jeans.
Gossip Girls.
Al-Fatah Grocery Store.
Nearby Hospitals & Pharmacies
Hospitals & pharmacies around the Venture are
Saadat Medical Complex.
Al Shafi Medical Center.
Eureka Clinics.
Doctor's Clinic.
Basic Health Facility DHA.
Rahat Free Medical Center.
National Hospital & Medical Center.
Pakistan Kidney & Liver Institute & Research Center.
Nearby Parks
The real estate venture has multiple renowned parks nearby including
LGU Sports Complex.
Sector H Park, DHA Phase 6.
K Block Park DHA.
Park Sector D Phase VI.
DHA Phase VII
Defence Raya Lahore Plot Features
Defence Raya provides you with modern as well as basic facilities that include:
Sui gas supply.
Electricity supply.
Water supply.
Sewerage system.
Satellite or cable supply.
Accessibility through road.
Defence Raya Golf Resort Salient Features
Defence Raya Lahore offer premium facilities at a lower price than other real estate projects in the vicinity. These are the features that make luxury apartments essential for the future
Allotment Letter By DHA.
Gated And Secured Community.
World Class 18 Hole Golf Course.
High Standard & Planned Residential Project.
24/7 CCTV Security & Surveillance System.
Modern & impressive Infrastructure.
Well Designed Terraces.
Spacious Parking.
Kids Zone.
Al Fresco Dining Options.
Modern Indoor & outdoor Cafes & Restaurants.
Separate housing units for domestic workers.
Sitting Area & Garden.
24hrs Electricity, Gas And Water Backup.
Easy Instalment Plan for commercial plazas.
Latest Garbage Shooting System.
Commercial Facilities.
Charming & Scenic Views of Lush Lawns.
Ultramodern Community Setups.
12 Kanal Centrally Located Piazza.
Health & Fitness Center.
Tennis Court.
Nearby Schools & Shopping Malls.
Shaded Pathways.
Defence Raya State-of-the-art-Construction
DHA Raya Lahore features fairways commercial center & golf view villas that were
Built under the direct supervision of skilled and experienced structural, public health, electrical, mechanical, and HVAC experts.
International building standards to assure the most incredible quality, safety, and security.
Sustainable architecture and energy-efficient design.
High-quality interior finishes.
Structure resistant to earthquakes.
The material used In construction.

Granite/porcelain tiles.
Ash/Oak wooden doors.
Windows with 3-track glazed shutters.
Built-in fridge/freezer and oven.
Brick deep foundations, filled with concrete.
Aluminum framed glass windows.
DHA Raya Golf View Villas Payment Plan 2022
The payment plans of DHA Raya are affordable and flexible. The properties for sale are open for booking at an easy instalment schedule. Investors will get huge profits off their money in the future; however, high rental incomes are guaranteed. The payment plan is given below:
18 Green Defence Raya Golf Resort Payment Plan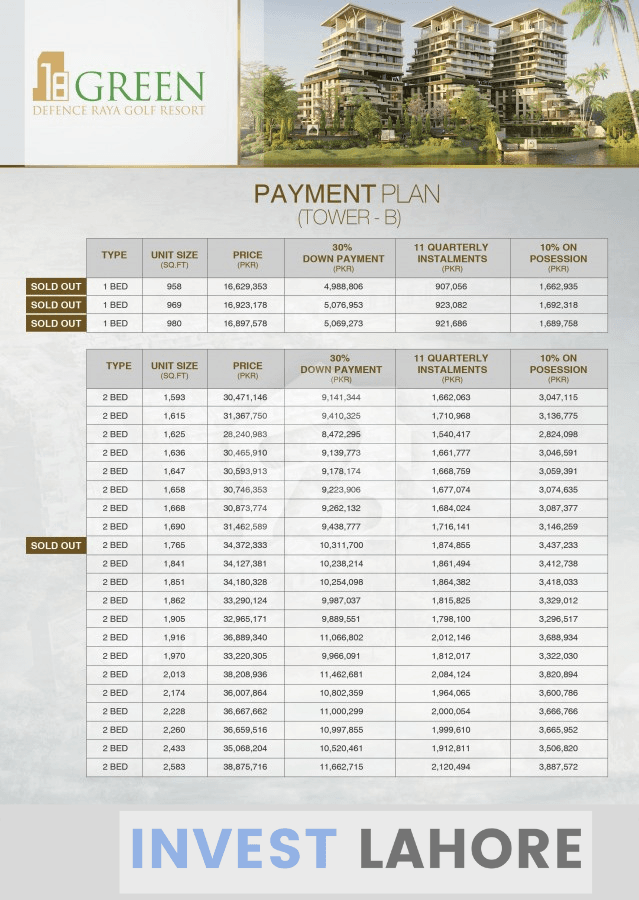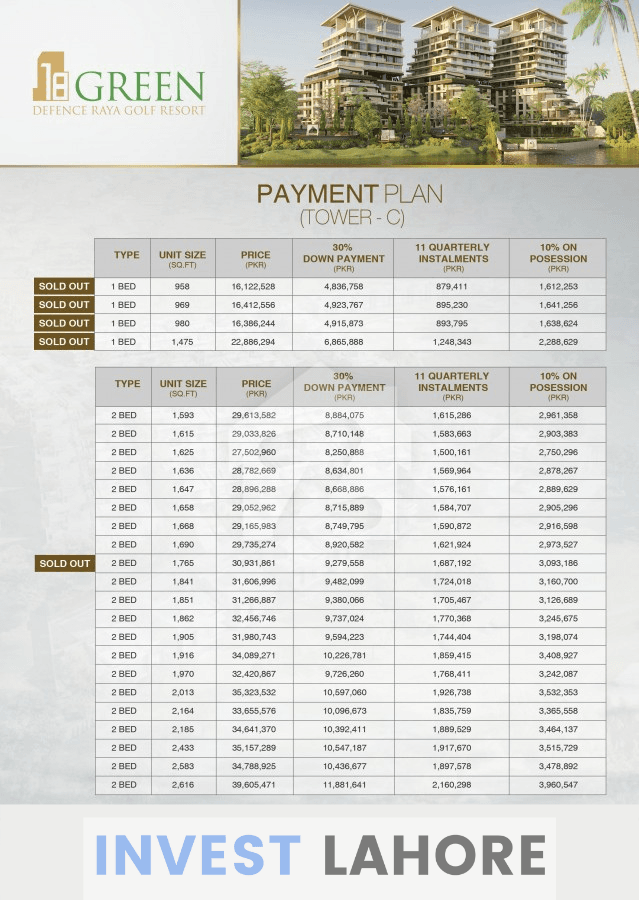 Why Invest In Defence Raya Golf & Country Club?
Defence Raya Golf Club will surely be a productive investment because of its developers who never fail in the provision of real estate projects. Here is the expert opinion that why invest in Defence Raya:
Defence Raya is a really valuable investment opportunity since capital gains of up to 50% are expected in the following several years.
Located In DHA phase VI, a hub of infrastructure development and real estate investment.
An allotment letter from DHA will be provided.
Offering premium & luxurious facilities at a cheaper cost.
Due to an expanding housing shortage, Pakistan requires about 0.7 million new residential units each year, and moderately priced projects like Defence Raya play a critical part in meeting this demand.
Signal-free corridor in DHA has ensured easy access to DHA Raya.
In 2019, Lahore's real estate market had one of the best returns on investment (ROI) of any city in Pakistan, at 6.25%.
Between January 2018 and September 2020, apartment search volumes climbed by 127%.
18-hole international standard Golf Course.
High-quality construction & building techniques & materials.
Sale agreement (ownership) at 30% down payment.
A smart investment for passive income.
Documentation transparency and ease of ownership transfer.
Being built in collaboration with Defence Housing Authority (DHA) & BRDB, the project has strong investor confidence and has solidified investor trust.
What Does An Investor Look For While Investing?
Here's a look at some of the most important things to consider if you plan to invest in the real estate market
Location of the property.
Value of the property.
Area of the property.
Builder repute verification.
Title deed verification.
Necessary approvals (NOC) by the local body.
Investment Purpose and Investment Horizon.
Benefits Of Investing In Rental Property
Have a look at the benefits of investing in rental property:
Potential for long-term returns.
Provide a regular income.
Wealth accumulation.
Hedge against inflation
Appreciation for the property.
A steady stream of cash flow.
Advantages/deductions in tax.
Guidelines To Follow While Purchasing/Selling Of Property
Following are the guidelines to follow while purchasing or selling any property
Document Verification
Always verify all the documentation of property with complete satisfaction to avoid any inconvenience or misunderstanding. Before purchasing and selling any property, make sure to inquire about the NOC and other approval documents by the developers, approved by the authorities. That's how your purchase or sale will be made without any issue of invalidation.
Financial Security
Before selling and purchasing any property, make sure that you have some financial deposits on for backup if needed. While selling and purchasing, please ensure that your funds align with your payment plan. That's how your purchase or sale will be made without any issues.
Property Visits
It is compulsory to do property visits before purchasing and selling any property to analyse the validity and features of the property properly. After the surety of the validity, visit the site to ensure that the required documents are under the plot specifications.
Documentation Requirement For Booking
The following documentation is required for booking any property:
Two passport size Pictures.
Two copies of your National Identity Card.
Two copies of the ID card of your next to kin(father, mother, wife, sister, brother).
NICOP for overseas clients.
Conclusion – Defence Raya Golf & Country Club Lahore
Defence Raya Golf & Country Club is a premium residential & commercial project that is surrounded by peace, warmth, love and serenity where life is perfect and blissful. This exquisite combination of luxury and elegance is a wise investment because, in a few future years, there is a hope of a 50% capital gain. This country club has everything you may desire for a relaxed weekend or a quick weekend vacation. so invest for your better tomorrow as it's a legacy for the next generation.
So, if you are part of the same crowd looking to invest in instalments in Lahore's new residential projects in 2022, contact INVEST LAHORE now!