Goldcrest Mall & Residency DHA Lahore
Goldcrest Mall & Residency DHA Lahore is an exquisite combination of luxury and elegance that intends to become an iconic landmark for DHA, Lahore's booming urban arena. The project comprises beautiful and opulent apartments, handy highways, lush green surroundings, and an extensive list of amenities, all conveniently located near vital institutions and entertainment hotspots. Gold Crest Mall & residency dha Lahore payment plan and location, we will reveal each and every bit of information about this project in this guide, keep reading.
The pace of advancement and development is incredible and the Goldcrest mall & residency completed its grey structure by 100%.DHA Lahore's Goldcrest Mall provides a perfect location for brand stores to attract clients located in DHA, Lahore's business and upscale district having all the educational, health and commercial facilities nearby.
This is an excellent chance for anyone wishing to invest, and it is ideal if you want to build your own residence. This magnificent project is embellished with sophisticated and opulent residences, easy motorways, lush green surroundings, and an extensive list of facilities, all conveniently located near vital institutions and entertainment hotspots.
Gold Crest Shopping Mall Lahore is located in DHA Phase 4 with the family centre atmosphere that you love to visit and shop from the top leading brands, and the list of amenities is not yet complete. It contains a well-organized food court, a theatre, and 10 floors of magnificent and intriguing apartments.
Goldcrest Mall & Residency DHA Lahore Developers
Behind this opulent mall and the residency project, there is a well-known collection of enterprises; Giga Group joined with DHA and began a well-organized and well-structured project in Lahore, Pakistan.
This premium project by GIGA GROUP is being developed in conjunction with DHA Lahore. A safe and secure investment with one of the best and most respected companies in its field.
About Giga Group
Giga Group is a multinational firm with a diversified portfolio. It has an interest in the gold refining, bullion dealing, textile, and real estate businesses.
Haji Abdul Rahim Giga, the founder of the Giga Group of Companies, made his entrance in the textile industry and trade business in Dubai, United Arab Emirates in 1956, planting a seed that has grown into a massive tree that is still expanding and branching out today.
Giga Group is well-known in Pakistan and the United Arab Emirates. The developers are thrilled to introduce the improved version of the Icon of Dubai to Pakistan, having won the "Best High-rise Development Award 2008" in Dubai.
Projects Of Giga Group
Giga group has several projects under construction and in the completion process which include :
Giga Mall.
Goldcrest Highlife.
D Mall.
Lignum Towers.
DHA Lahore
Defence Housing Authority Lahore is a "Nationally recognized corporate" company that has labored to give the people of Pakistan the option to live in creative modern living structures.
By using modern designs in the development of residences, infrastructure, and vital accompanying amenities, has breathed new life into "Defence Living," making it gloriously lively, pleasantly dynamic, and easy living.
They seek to deliver competitive and artistically constructed real estate properties that meet the genuine needs of clients, and to become a prominent participant in Pakistan's real estate business, filling a need in the market.
Projects Of DHA Lahore
Since its establishment, DHA has developed several magnificent projects around Pakistan. The projects that are currently in operation are:
Haly Tower in phase II.
Goldcrest in phase IV.
Penta square phase V.
Defence Raya Country Club and Golf Resort.
Dolmen Mall.
IVY College of Management Sciences.
Goldcrest Mall & Residency Layout Plan
Goldcrest Mall & Residency is known as the tallest building in DHA possessing all essential and opulent amenities beneath one roof.
Goldcrest Mall & Residency is a 19 storey tallest building in DHA Phase IV which is offering 254 incredibly designed luxurious apartments on 10 levels, and 4 dedicated basement parking levels.
This project has dedicated 4 levels measured as 250,000 sq.ft. for commercial space having 55 plus brands on board like AL FATAH, Fun City and Super Cinema located on the fifth commercial floor on the building. The 4th Floor will have a spa, gym, swimming pool, and other facilities.
Goldcrest Apartments Lahore
Apartments in this extravagant building are well-designed, with layouts that prioritize aesthetics and space economy. Goldcrest Residency Lahore offers:
Studio apartments (756 sq.ft.).
1-bedroom apartments (1156 sq.ft. – 1612 sq.ft.).
2-bedroom apartments (1920 sq.ft. – 1956 sq.ft.).
3-bedroom apartments (2294 sq.ft. – 2882 sq.ft.).
3-Bedroom duplex apartments.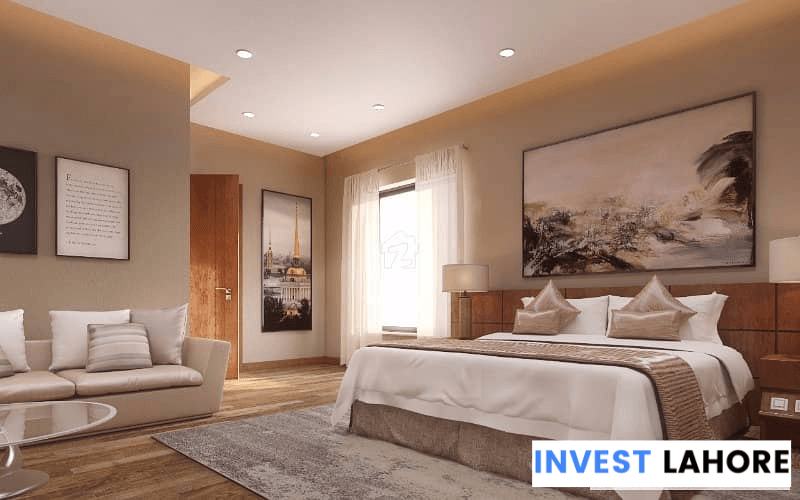 Goldcrest Mall and Residency Lahore Prices
The prices of Goldcrest Apartments Lahore in per square foot are given below, with the help of these prices you can calculate the price per apartment.
1 bed apartment (1156 sq.ft. to 1612 sq.ft.) = 18,000 PKR per sq. ft.
2 bed apartment (1920 sq.ft. to 1956 sq.ft.) = 17,000 PKR per sq. ft.
3 bed apartment (2294 sq.ft. to 2882 sq.ft.) = 16,500 PKR per sq. ft.
Goldcrest Mall Lahore Location & Map
Because of its exceptional position, Goldcrest Mall DHA Lahore provides a perfect site for brand stores to attract clients. It is located in Defence housing and is regarded as one of the city's business centers and upscale neighborhoods, with all amenities.
Gold Crest Mall & Residency is located at 456 DD Phase IV, one of DHA Lahore's most developed phases, and offers excellent investment opportunities. It is close to all phases of DHA, Lahore, and Phase 3 DHA commercial, thus inhabitants have no trouble getting about. This project's location allows for a quick and simple travel to Cantonment, D.H.A, Model Town, and Ferozepur Road.
The project also provides direct access to Allama Iqbal International Airport, which can be reached in 15 minutes. The well-known DHA-Y block market is only a 2 minute drive from the apartments. The Lahore Ring road is only around 10 minutes drive away.
Goldcrest Mall & Residency Nearby Accessibilities
Goldcrest Mall & Residency directions are easily accessible as follows:
2 minutes drive from Y-block market DHA.
7 min drive from Sui Gas Phase 1 Ring Road Interchange.
10 minutes drive from ring road Lahore.
13 min drive from DHA Phase 5 Ring Road Interchange.
15 minutes drive from Allama Iqbal International Airport.
20 min drive from Kalma Chowk.
21 min drive from Lahore International Airport.
25 min drive from Liberty Market Lahore.
27 min drive from Mall Road Lahore.
35 min drive from Lahore Railway Station.
40 Min drive to Thokar Niaz Baig M-2 Interchange.
Goldcrest Mall & Residency Nearby Landmarks & Places
Goldcrest Mall & Residency DHA Lahore is close to several recreational amenities, hospitals, and educational institutions, which range from elementary schools to universities.
Nearby Schools & Universities
Goldcrest Mall & Residency has multiple renowned schools and universities nearby including:
Lahore Grammar School phase 5.
School of Science & Engineering.
Lahore University of Management Sciences.
Color's Up Montessori School.
Suleman Dawood School of Business.
The Lahore ALMA.
DPS Girls & Boys.
Beaconhouse School System.
Nearby Restaurants
The options of the eateries in the area are as follows:
Johnny & Jugnu.
Cheeky Joe's
Wright Burger.
Sarpino's.
Gourmet Grill.
Kitchen Cuisine.
Bundu Khan.
Gloria Jeans.
New Yorker Pizza.
Cold Stone DHA.
Kashi Restaurant.
Al-Minaal Arabian Restaurant.
Nearby Hospitals & Pharmacies
Hospitals & pharmacies around the venture are:
DHA Medical Centre phase 3.
Rasheed Hospital.
Nazar Homeo Herbal Clinic.
CSH Pharma.
Rabbani & Rabbani Dental Expressions.
Defence Skin, Laser & Cosmetology Clinic.
Makhdoom memorial hospital.
Aadil Hospital.
Lahore General Hospital.
Shaukat Khanum Laboratory.
Al Mairah Dental & Cosmetic Clinic.
Cantonment Board Dispensary.
Nearby Parks
Goldcrest Mall & Residency has multiple renowned parks nearby including:
Nishat Park.
U-block Park.
Walton Community Park.
V park.
Sheeba Park.
Q Park.
Society Park.
DHA phase V sector L Football Ground.
D-block mini Triangular Park.
Children Park Alfalah Town.
Ittefaq Cricket Ground.
Goldcrest Mall & Residency Dha Lahore Salient Features
Goldcrest Mall & Residency offer premium facilities at a lower price than other real estate projects in the vicinity. These are the features that make luxury apartments essential for the future:
Tallest Building Of DHA.
Gated And Secured Community.
High Standard & Planned Residential Project.
24/7 Cctv Security & Surveillance System.
Modern Infrastructure.
Steam Room, Plunge Pools, And Sauna (3rd Floor).
Well Designed Terrace.
Modern Indoor Cafes & Restaurants.
Juice Bar/Relaxation Lounge.
Sitting Area & Garden.
24hrs Electricity, Gas And Water Backup.
Easy Instalment Plan.
Fast Cargo Lifts.
Latest Garbage Shooting System.
Commercial Facilities.
Handicapped Accessible.
Dry Cleaning Service At Doorstep.
Earthquake Proof Building Design.
Spa And Fitness Centre (3rd Floor).
Central Heating & Cooling (VRF) System.
Emergency Fire Exits.
Double Height Grand Lobby.
High-Speed Wireless Internet Cloud.
Secured And Free Residential Parking.
Goldcrest Mall & Residency State-of-the-art-Construction
Goldcrest Mall Lahore has an 19-storey mixed-use building that was built under the direct supervision of skilled and experienced structural, public health, electrical, mechanical, and HVAC experts.
International building standards to assure the greatest quality, safety, and security.
Sustainable architecture and energy-efficient design.
High-quality interior finishes.
Structure resistant to earthquakes.
Material used In construction.

Granite/porcelain tiles.
Ash/Oak wooden doors.
Windows with 3 track glazed shutters.
Built-in fridge/freezer and oven.
Goldcrest Mall & Residency Payment Plan
The payment plans of Goldcrest mall are affordable and flexible. The properties for sale are open for booking at an easy installment schedule. Investors will get huge profits off their money in the future; however, high rental incomes are guaranteed. The payment plan of Goldcrest Mall & Residency Dha Lahore is given below: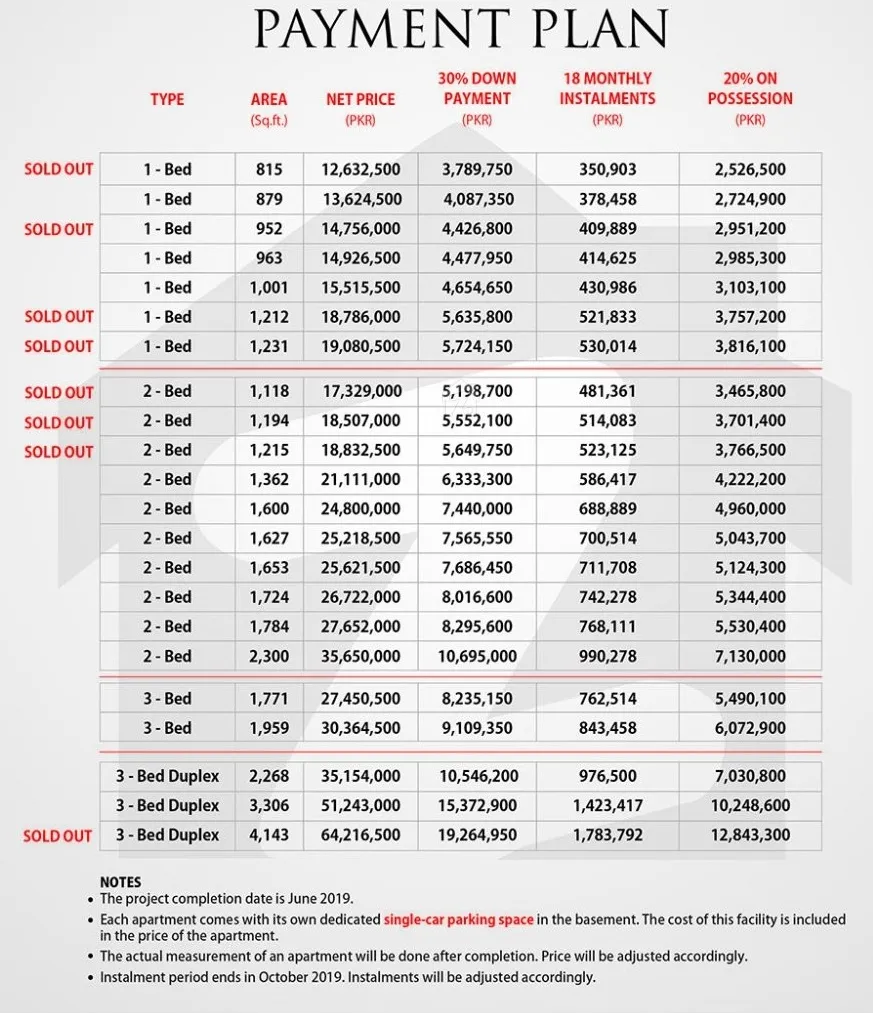 Why Invest In Goldcrest Mall & Residency?
Goldcrest Mall & Residency Lahore will surely be a productive investment because of its developers who never fail in the provision of real estate projects.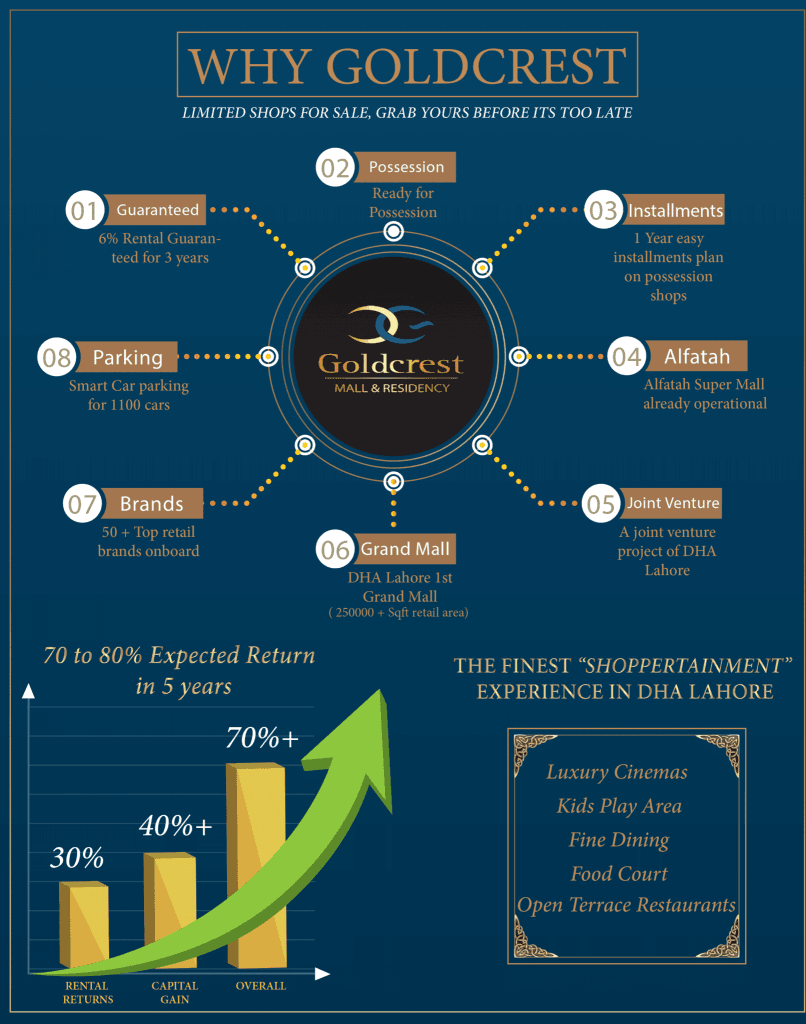 Real estate values in the area have risen 20% in the last 3 years, and a 45-55% increase is projected over the next 2 years.
7-8% annual rental return is expected.
Located In DHA phase IV, a hub of infrastructure development and real estate investment.
An allotment letter from DHA will be provided.
Offering premium & luxurious facilities at a cheaper cost.
Grey structure is 100% complete enabling swift delivery of the project in the near future.
Due to an expanding housing shortage, Pakistan requires about 0.7 million new residential units each year, and moderately priced projects like Goldcrest Mall & Residency play a critical part in meeting this demand.
Signal-free corridor in DHA has ensured easy access to Goldcrest Mall & Residency.
Timely completion of project guaranteed.
In 2019, Lahore's real estate market had one of the best returns on investment (ROI) of any city in Pakistan, at 6.25%.
Between January 2018 and September 2020, apartment search volumes climbed by 127%.
Goldcrest Mall & Residency is FBR registered, hence no revenue source statement is necessary.
Meet the rapidly changing lifestyles.
High-quality construction & building techniques & materials.
Competitive pricing, 25% lower than the surrounding market.
Sale agreement (ownership) at 30% down payment.
A smart investment for passive income.
5% discount on 50% payment.
Documentation transparency and ease of ownership transfer.
Being built in collaboration with Defence Housing Authority (DHA), the project has strong investor confidence and has solidified investor trust.
What Does An Investor Look For While Investing?
Here's a look at some of the most important things to consider if you plan to invest in the real estate market:
Location of the property.
Value of the property.
Area of the property.
Builder repute verification.
Title deed verification.
Necessary approvals (NOC) by the local body.
Investment Purpose and Investment Horizon.
Benefits Of Investing In Rental Property
Have a look on benefits of investing in rental property:
Potential for long-term returns.
Provide a regular income.
Wealth accumulation.
Hedge against inflation
Appreciation for the property.
A steady stream of cash flow.
Advantages/deductions in tax.
Guidelines To Follow While Purchasing/Selling Of Property
Following are the guidelines to follow while purchasing or selling any property:
Document Verification
Always verify all the documentation of property with complete satisfaction to avoid any inconvenience or misunderstanding. Before purchasing and selling any property, make sure to inquire about the NOC and other approval documents by the developers, approved by the authorities. That's how your purchase or sale will be made without any issue of invalidation.
Financial Security
Before selling and purchasing any property, make sure that you have some financial deposits on for backup if needed. While selling and purchasing, please ensure that your funds align with your payment plan. That's how your purchase or sale will be made without any issues.
Property Visits
It is compulsory to do property visits before purchasing and selling any property to analyse the validity and features of the property properly. After the surety of the validity, visit the site to ensure that the required documents are under the plot specifications.
Documentation Requirement For Booking
The following documentation is required for booking any property:
Two passport size Pictures.
Two copies of your National Identity Card.
Two copies of the ID card of your next to kin(father, mother, wife, sister, brother).
NICOP for overseas clients.
Conclusion
Goldcrest Mall & Residency Lahore is a premium residential project that is surrounded by peace, warmth, love and serenity where life is perfect and blissful. This exquisite combination of luxury and elegance is a wise investment because, in a few future years, there is a hope of high capital gain. so invest for your better tomorrow as it's a legacy for the next generation.
So, if you are part of the same crowd looking to invest in installments in Lahore's new residential projects in 2022, contact INVEST LAHORE now!