PARK VIEW CITY LAHORE
Park view city Lahore is an iconic housing community and a commercial project which is not only  spread over a large area but it carries quality developmental work to fulfil the luxurious living experience. It is a newly developing housing society with a prime location, low budgeted and affordable prices, plenty of plots and state of the art amenities. 
"VISION GROUP" are the owners and developers of society who  have planned and designed each and every aspect of park view city with a modern and futuristic perspective.
The developers have strategically chosen the location of the project at central location of Lahore, Multan road because this area has access to almost all the major and main areas of Lahore like DHA, Bahria town, EME society, Valencia town, Thokar Niaz Baig , Johar town and Model town.
Park view city usually  consists of two types of plots for sale ,residential and commercial plots. Society contains more residential plots of small areas like 3.5 , 5 and 6 Marla to facilitate maximum numbers of investors and clients. Moreover, Park view city also offers commercial plots of 6 and 8 Marla.
 Earlier, Park view city was recognized by the name "Park View Villas", but later, the owners of the society  changed the name  to "Park View City ".
WHY NAMED PARK VIEW CITY?
Park view cityis named as PARK VIEW CITY because the society is surrounded with beautiful landscapes and enchanting scenic parks that adds charm and fascination to the entire community.
A central park of 22 Kanal is planned at the hub of park view city. Apart from this, several small parks of 10 marlas to 2 Kanal are designed within the society for refreshing the residents inside. All the parks have beautiful landscapes with several types of  plants, trees and unique kinds of flowers. 
As the slogan of the society says it all "where the dreams come true."
Park view city is systematic with premium quality developmental work, scenic park views, state of the art amenities, affordability, accessibility, 24/7 security that's why it is perfect for building your dream home.
PARK VIEW CITY OWNERS AND DEVELOPERS
Park View City is an outstanding housing project in Lahore that is offering a luxury lifestyle with all modern amenities. Park View City is one of the most promising residential projects held by the Vision Group. Park view city is located at Multan road Lahore.
Vision Group is owned by one of the well-known politicians MR. ALEEM KHAN is serving the government of Pakistan by being a member of Tehreek-e-Insaf (PTI).
ABOUT VISION GROUP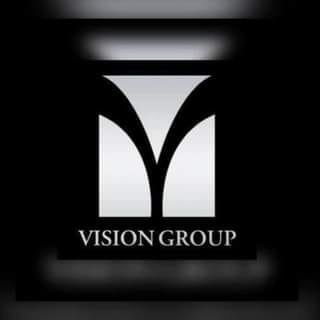 Vision Group is one of the biggest real estate conglomerates in Pakistan that has developed and delivered plenty of real estate and residential projects across Pakistan.
The Vision Group is headed by Mr. Aleem Khan. Mr. Aleem Khan is a remarkable real estate tycoon in Pakistan, as well as an accomplished politician.
The Vision Group began its development and construction journey in 2012. Up till now, they are delivering all the highly accomplished real estate projects in the main cities of Pakistan like Lahore, and Islamabad. Park view city Lahore and Park view city Islamabad are the main projects of the vision group.
PROJECTS OF VISION GROUP
Vision Group has successfully established its name in Pakistan because of many of the renowned projects that it has completed:
Park View Villas at Multan road-Lahore.
Abdul Aleem Khan Foundation.
Park View Corporate Centre at Mall road-Lahore.
Park View Icon located at I.I. Chandigarh road-Karachi.
Park View City in Islamabad.
Park View Signature Apartments at Gulberg-Lahore.
The National School.
Vision Group has created a strong and clean reputation in the market that produced a bond of trust with investors and clients.
TOTAL LAND OF PARK VIEW CITY
The total land that park view city holds for its residential and commercial area is about more than  5000 kanals.                                   
PARK VIEW CITY NOC
Becoming legal is crucial for any housing society because that will grant the society status of a legal and approved housing society. Investors have trust and faith and are only willing to invest in society if they have received all necessary permits and affiliation from the registered relatable authorities.
The NO OBJECTION CERTIFICATE(NOC) of PARK VIEW CITY will be soon approved by the LAHORE DEVELOPMENT AUTHORITY(LDA).LDA will approve all the construction plans, instalment plans, payment plans, and layout plans of the society. The approval and acquisition of NOC is the top priority of any residential and commercial society.
There is a lot of confusion in the real estate industry about the NOC of the Park view city that is confirmed by LDA ,but LDA has not mentioned about the approval of the  NOC of Park view city on their website. However, park view society Lahore is highly investment-attractive in the real estate industry.
PARK VIEW CITY LAHORE LOCATION
In the real estate business industry, there are some factors that play a vital role in buying and selling of property. Location is one of the most important factors. In fact, most real estate experts define location as one of the only factors that have the power to make or break the future valuation of any property.
Park view city is one of the most secure and luxurious residential projects located at river edge housing scheme, 3 kilometer Thokar Niaz Baig, Multan road, and next to the National highway Lahore, Pakistan. This location has wonderful and amazing aspects as there are many other real estate and housing projects going on.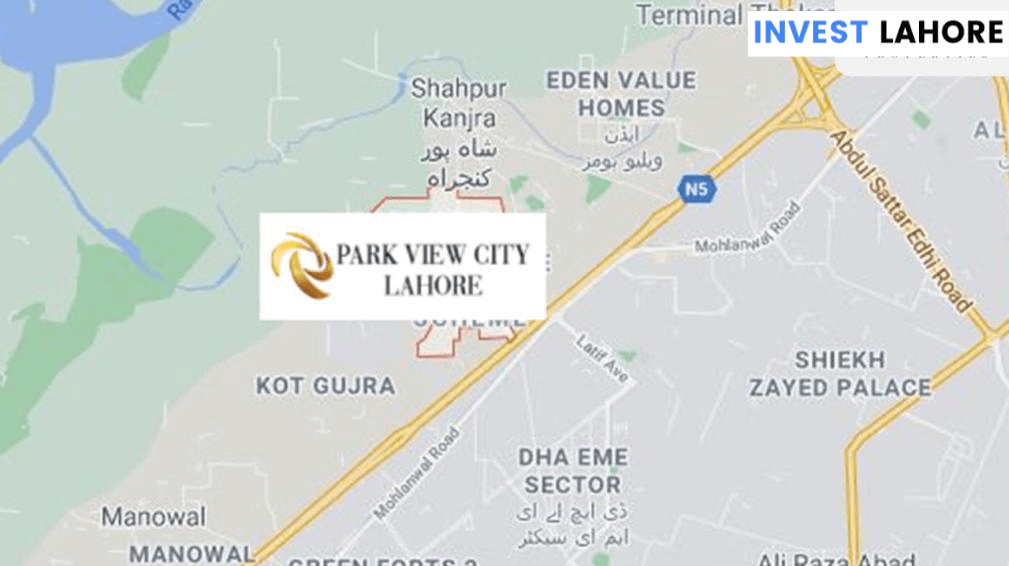 The main access of Lahore Park view city is from the Lahore-Multan road.  It is situated just 3 Km away from the Thokar Niaz Baig Flyover and Canal Road. The best thing is that Park View City is quite easy to access from all the areas of Lahore. It is only 2 km away from the Lahore-Islamabad motorway.
Park view city is located near the Thokar Niaz Baig Interchange of the Lahore–Islamabad– Multan Road interchange. Apart from this, many other famous and posh housing schemes such as DHA, Eden Gardens, and EME Housing Scheme lie in the proximity of this housing society. The great location of Lahore Park View City gives great access to the rest of the urban hubs of Lahore.
PARK VIEW CITY NEARBY ACCESSIBILITIES
Park view city has following of the quick and easy nearby accessibilities:
Right at the River edge housing scheme, Multan Road.
Right next to the National Highway.
Opposite of DHA, EME society.
3 kilometers away from Thokar Niaz Baig flyover and canal road, Lahore.
Almost 9 min drive away from Abdul Sattar Edhi Road, Lahore.
Almost 10 min drive away from M-2 Motorway.
Almost 12 min drive away from Raiwind Road Lahore.
Almost 18 min drive away from L-20, Lahore Ring Road.
Almost 19 min drive away from Defence Road, Lahore.
PARK VIEW CITY NEARBY LANDMARKS AND PLACES
Park view  city is strategically planned at an ideal and prime central location which is easily accessible from all the main areas of Lahore city within a few minutes drive.
Park view city is legally approved by LAHORE DEVELOPMENT AUTHORITY (LDA) and has the following of the renowned nearby landmarks and places.
Defence Housing Authority (DHA), Lahore.
Sabzazar, Lahore.
Bahria Town Lahore.
Valencia Town Lahore.
Johar Town Lahore.
Muhafiz Town Lahore.
Thokar Niaz Baig Lahore.
Badshahi Mosque Lahore.
Daewoo Express Terminal Thokar Niaz Baig.
WAPDA Town Lahore.
LDA Avenue Lahore.
Allama Iqbal Town Lahore.
Muhafiz Town Lahore.
Model Town Lahore.
Nishtar Town Lahore.
Eden Value Homes.
OPF Housing Scheme Lahore.
Gulshan-e-Lahore.
Mustafa Town Lahore.
Samanabad Town Lahore.
Welfare Society Lahore.
PCSIR Housing Scheme, Lahore.
Marghazar Colony Lahore.
Airline Society Lahore.
Expo Centre Lahore.
PARK VIEW CITY LAHORE MAP & MASTER PLAN
Park view society Multan Road Lahore was launched in 2012. Park view city master plan is designed and developed by the team of highly qualified and experienced expertise including engineers and architects. In the vast land of 5000 kanals, almost 4500 plots are reserved for residential purposes to meet the growing need for luxurious living in society.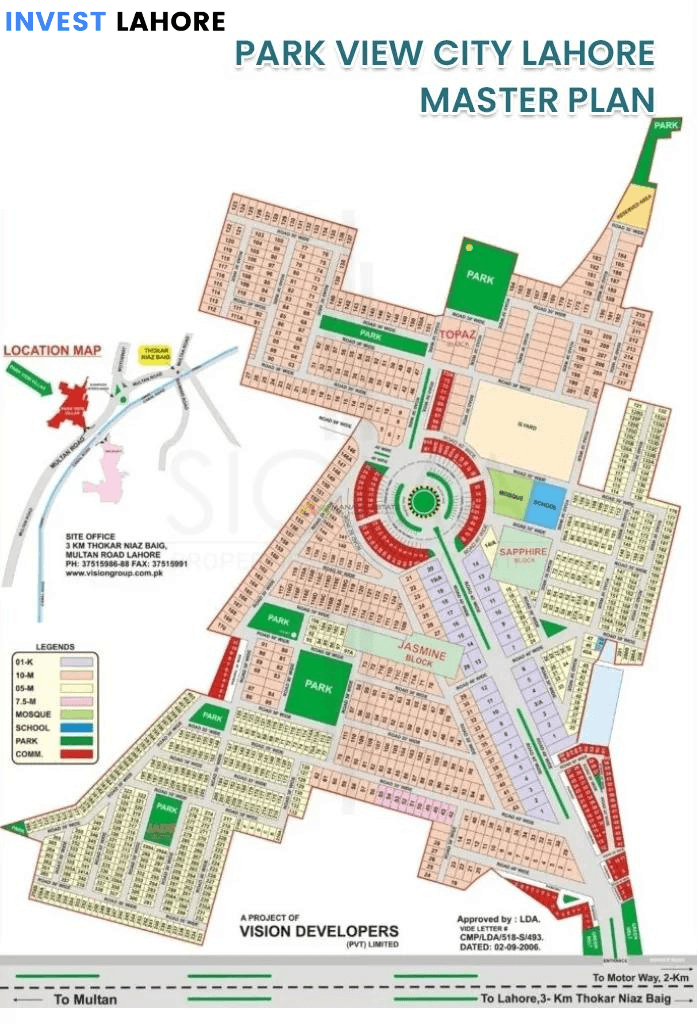 All of these blocks of Park view city are offering 2 types of plots:
Residential plots.
Commercial plots.
Park view city is offering residential plots in the following sizes:
3.5 Marla
5 Marla
6 Marla
10 Marla
1 Kanal
The commercial plots are available in the given sizes:
FACILITIES AND AMENITIES IN PARK VIEW CITY
Load shedding free zone.
Noticeable front.
Grand Mosque.
Community Centers .
Zoo.
Fire alarms.
Jogging tracks
Country Clubs.
Educational complexes.
Healthcare Facilities like hospitals, dispensaries, clinics and health care centers.
Retail Area.
I-max Cinema.
365 days Maintenance staff.
Eco-friendly community.
Indoor and outdoor sports complexes.
Gated Community.
Beautiful Entrance.
Boundary wall.
24/7 CCTV security system.
Mosques in all blocks.
High-quality road infrastructure.
Parks and Grounds for Kids.
Business and commercial hub.
Graveyard.
85 feet wide boulevard.
Commercial zone.
Electricity, Gas, and Water Resources.
World-class infrastructure and development.
Maintenance throughout the year.
30,60 and 100 feet wide Carpeted Roads.
Proper Sewerage and drainage system.
Safe and clean society.
Restaurants and food courts.
Budget-friendly society.
Main boulevard.
Green belts around roads.
Shopping centers.
Gymnasium.
Proper ventilation system.
Green landscapes in society.
24/7 Security staff.
Recreational parks.
Grand Mosque.
Security system at entrance.
Underground electrification.
PARK VIEW CITY BLOCKS AND THEIR PAYMENT PLANS 2022
Park view city is an emerging housing society covering a large area of land and ideally located at the central location of Lahore accessible through several routes. The owners and developers of the society has divided the total land of the society into different blocks categorized below:
Tulip Block.
Gold Block.
Jade Block.
Rose Block.
Topaz Block.
Orchard Block.
Jasmine Block.
Platinum Block.
Diamond Block.
Executive Block.
Overseas Block.
Tulip Overseas Block.
Pearl Block.
DIAMOND BLOCK
Diamond block is a much pricier than gold block. Diamond block is one of the most advanced and futuristic blocks of the entire housing scheme. From fancy restaurants to contemporary malls, the commercial area here is truly top notch.  Diamond block Park view city plots for sale:
GOLD BLOCK
The Gold block of Park view city is the most renowned block of the society because of its features. The developers facilitated and located this block to meet all luxurious residential standards and living experiences.
It is the most developed and most beautiful block of Park view city amongst all the blocks because construction work is almost completed. That's why there is a quick response in purchasing and reselling of the plots and most of the plots are already sold out.
As gold block is the oldest block in the society having maximum number of residents living their dream  life. Gold block Park view city Lahore plots for sale:
5 Marla residential (from 22 lacs to 23 lacs rupees).
10 Marla residential (from 36 lacs to 38 lacs rupees).
Gold block is quite budget friendly and light on the pocket of investors as rates are increased in other blocks. Plots are only available at the 20% down payment and the remaining amount will be payable within 2 years in quarterly instalments.
PEARL BLOCK PARK VIEW CITY LAHORE
For the purpose of investment, pearl block offers great payment plan and variety of plots. This is the new and developing block and plots are also available on full cash payment. Mostly, pearl block have 5 Marla plots available:
5 Marla: 26 lacs to 32 lacs.
PLATINUM BLOCK
Platinum block has opulent features and state of the art amenities for the people wanting to live a luxurious and modern life. Rates are almost as same as in diamond block. This block features 5 Marla and 10 Marla residential and also have commercial plots.
5 Marla: 38 lacs to 45 lacs.
10 Marla: 66 lacs to 80 lacs.
JADE BLOCK
Jade block is a well populated block and has all the plots on ground. The possession of the plots will n be announced soon. This block is great opportunity for Investment, here are Park view city Lahore plots for sale:
5 Marla: 70 lacs to 80 lacs.
10 Marla: 1.25 crores to 1.40 crores.
ROSE BLOCK
The price range of rose block are a bit on the lower side than the jade block having all the basic facilities with the state of the art amenities and have a good number of population here:
5 Marla: 65 lacs to 70 lacs.
10 Marla: 1.10 crores to 1.15 crores.
SAPPHIRE BLOCK
After entering in park view city, one can easily find out the sapphire block and differentiate from the other blocks because of its salient features. Sapphire block Park view city Lahore plots for sale:
5 Marla: 70 lacs to 80 lacs.
10 Marla: 1.25 crores to 1.40 crores.
JASMINE BLOCK
Buying a property in Jasmine block is a great choice to get the desirable lifestyle and best value for your money. Jasmine block has high end features, world class infrastructure and a vibrant location.
5 Marla: 70 lacs to 80 lacs.
10 Marla: 1.25 crores to 1.40 crores.
TOPAZ BLOCK
Topaz block is a well populated block and has all the plots on ground. The possession of the plots will n be announced soon. This block is great opportunity for Investment Topaz block in park view offers 10 Marla plots.
10 Marla: 1.10 crores to 1.20 crores.
TULIP BLOCK, TULIP BLOCK EXTENSION, TULIP OVERSEAS BLOCK
This block was initially named as tulip block, after adding more land in it tulip block was named tulip block extension and then further categorized in tulip overseas block., the specialty of this block is the prime location and paid possession charges. Also, the National School and College are located inside it. Tulip block offers
5 Marla: Average Prices of 65 lacs.
10 Marla: Average Prices of 1 crore.
GOLF ESTATE BLOCK
Golf estate block is a premium resident block offering luxurious state of the art living within a minimum budget. Booking in the golf estate block starts with the minimum of 10% and the other amount is payable in quarterly easy instalments. Golf estate offers:
5 Marla: 55 lacs (Golf Estate).
10 Marla: 95 lacs (Golf Estate).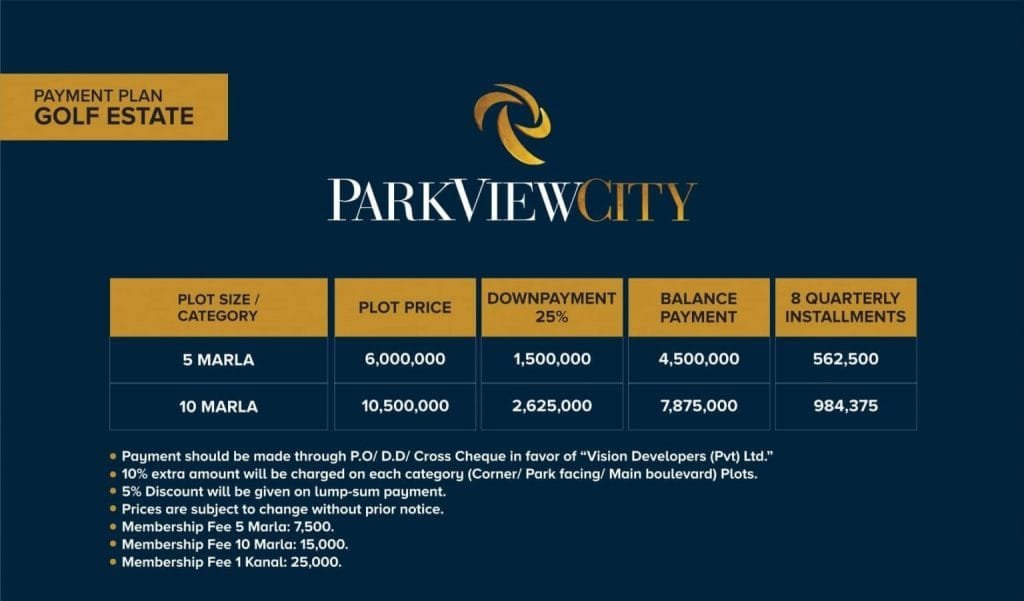 CRYSTAL BLOCK
The option of crystal block is great for the purpose of investment. This block have amazing features and beautiful developments offering 5 Marla and 10n Marla plots on easy instalment plan.
OVERSEAS BLOCK
Overseas block is the latest and newly launched block in Park view city. Overseas Block is a highly luxurious block that has been especially reserved for Overseas Investors. Overseas block is highly affordable and offers:
5 Marla .
10 Marla.
1 Kanal.
GUIDELINES TO FOLLOW WHILE PURCHASING/SELLING OF PLOTS IN PARK VIEW CITY
Following are the guidelines to follow while purchasing or selling of any property:
DOCUMENT VERIFICATION
Always verify all the documentation of property with complete satisfaction to avoid any inconvenience or misunderstanding. Before purchasing and selling any property, make sure to inquire about the NOC and other approval documents by the developers, approved by the authorities. That's how your purchase or sale will be made without any issue of invalidation.
FINANCIAL SECURITY
Before selling and purchasing any property, make sure that you have some financial deposits on for the backup, if needed. While selling and purchasing, please ensure that your funds align with your payment plan. That's how your purchase or sale will be made without any issue.
PROPERTY VISITS
It is compulsory to do property visits before purchasing and selling of any property to analyse the validity and features of the property properly. After surety of the validity , visit the site to ensure that the required documents are under the plot specifications.
DOCUMENTS REQUIRED FOR PROPERTY BOOKING IN PARK VIEW CITY
Following documentation is needed to purchase property in Park View City:
Two passport size Pictures.
Two copies of your National Identity Card (NIC).
Two copies of the ID card of your next of Kin (Mother, Father, Brother, Sister).
NICOP in case of overseas clients.
For Overseas Pakistanis
CNIC Copy.
Two Passport size Photo.
Nominee CNIC Copy.
Down Payment through Cash/Pay Draft.
Physical Appearance is not Necessary.
BOOKING PROCEDURE FOR PARK VIEW CITY
The booking method is as basic as could really be expected. You should simply follow the means referenced underneath:
Fill your booking application form with full attention.
Attach the CNIC Copies of Applicant.
Pay Down Payment via Check or Pay order in favour of "Park View City," but confirm the management process in case of new changes.
Cash Payments are also accepted after confirmation by the management.
Submit all the required documents, Payment, and Get the receipt.
BENEFITS OF INVESTING IN PARK VIEW CITY
Park view city can be your dream investment in future. Here are some notable points as an investor and a client while investing in Park View City:
Surrounded by landscapes and scenic parks
Prime location.
Non-depreciable assets.
Availability of all basic needs(water, gas, electricity) and luxury facilities.
24/7 security and gated community.
Affordable housing society with a flexible payment policy.
CONCLUSION – PARK VIEW CITY LAHORE
PARK VIEW CITY is a legalized residential housing project presented by the 'VISION GROUP'.  The demand for this kind of housing scheme in Lahore has gone up due to changing preferences of clients and investors. As the slogan of the society says it all "where the dreams come true."
 The features and amenities of PARK VIEW CITY seems quite promising that it will prove a better, successful and smart investment for the future on a reasonable budget.
So, if you are part of the same crowd looking to invest in installments in Lahore's new residential projects in 2022, contact INVEST LAHORE now!