Defence View Apartments Lahore
Defence view apartments Lahore is simply a private residential apartment complex that is based on 5 towers. It is a gated community concept with all the amenities and services available inside the complex.
Defence View Apartments is a self-contained housing estate that has simplified apartment life. Because of its distinctive architecture, Defence View Apartments stand out from other housing and apartment buildings. Defence view apartments housing concept offers exceptional value for money and provides you with a contemporary and luxurious lifestyle at a lower cost.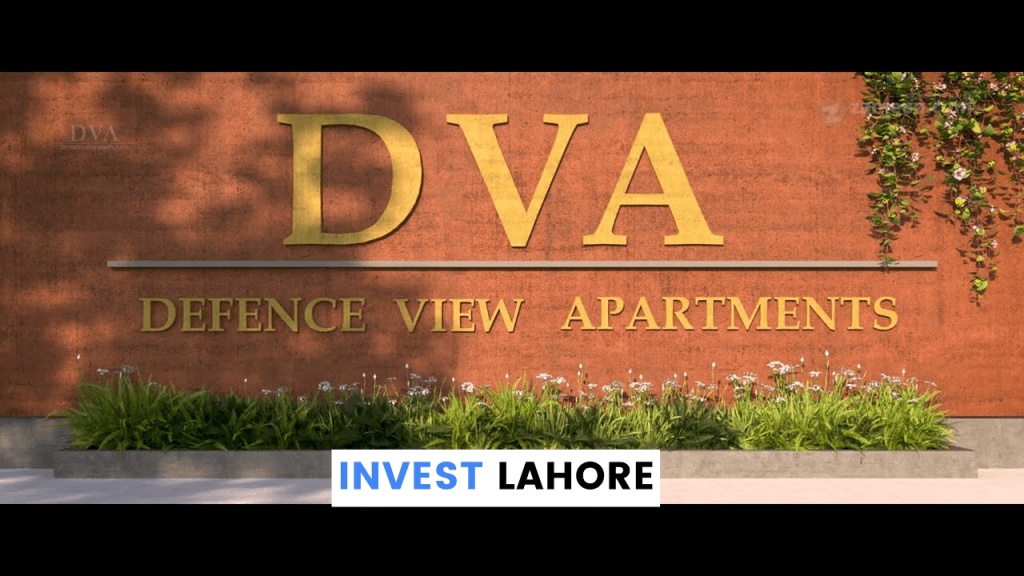 Defence view apartments is a very profitable apartment complex that offers all of the greatest residential facilities that modern apartment consumers want. It is a 5-towers structure that will be a wonderful icon in Lahore's residential projects. The project's huge and attractive architecture, prominent location, and exquisite facilities will appeal to real purchasers and investors.
It has an opulent multi-purpose tower with world-class amenities and services. This residential complex features apartments with 1,2 & 3 bedrooms and promises a luxurious lifestyle. The payment plan is also straightforward to grasp for clients because it covers a time frame of 2 years.
Defence View Apartments Owners & Developers
It is essential to conduct an in-depth examination of the developers and owners of a project before investing because it increases your trust in the project.
Defence view apartments is a notable initiative of Dupak Properties, a prestigious real estate development company in Pakistan. Dupak Properties is built on the ideals of integrity, accountability, dedication, and excellence to improve Pakistan's real estate development and design business.
Dupak Properties
Dupak Properties(Pvt.).ltd is controlled by a group of experts and profoundly guaranteed people tremendous involvement in the fields of improvement and development.
Dupak properties is an associated organization from Siddiq sons bunch, HKB Limited and Republic Engineering Corporation (Pvt) Ltd, Pakistan, the management of Dupak Properties has pioneered many landmarks developments & introduced many firsts to Pakistan.
Dupak Properties (Pvt.) Ltd. is an entirely possessed auxiliary of Dupak Developers Pakistan (Pvt) Ltd. Their objective at Dupak Properties is to cater for the requirements of each task with the most extreme dedication. The group contains profoundly guaranteed people whose involvement with the development of the board and land advancement says a lot.
Project Of Dupak Properties
Dupak properties have its administrative center at stronghold arena Lahore cantonment and have given us its leader and superb venture, a flagship project by Dupak Properties:
Defence View Apartments Approvals
Defence View Apartments has been approved by all the related authorized authorities, that adds more value and charm to the residential project.
Defence View Apartments has been approved by:
LDA (Lahore Development Authority).
FBR registered (no income source declaration is required).
MCL (Metropolitan Corporation Limited).
Defence View Apartments Masterplan
Defence view apartments is a 5 towers complex named
Tower A
Tower B
Tower C
Tower D
Tower E
The building of each tower consists of 7 floors, and each tower's architectural plan is different from other towers.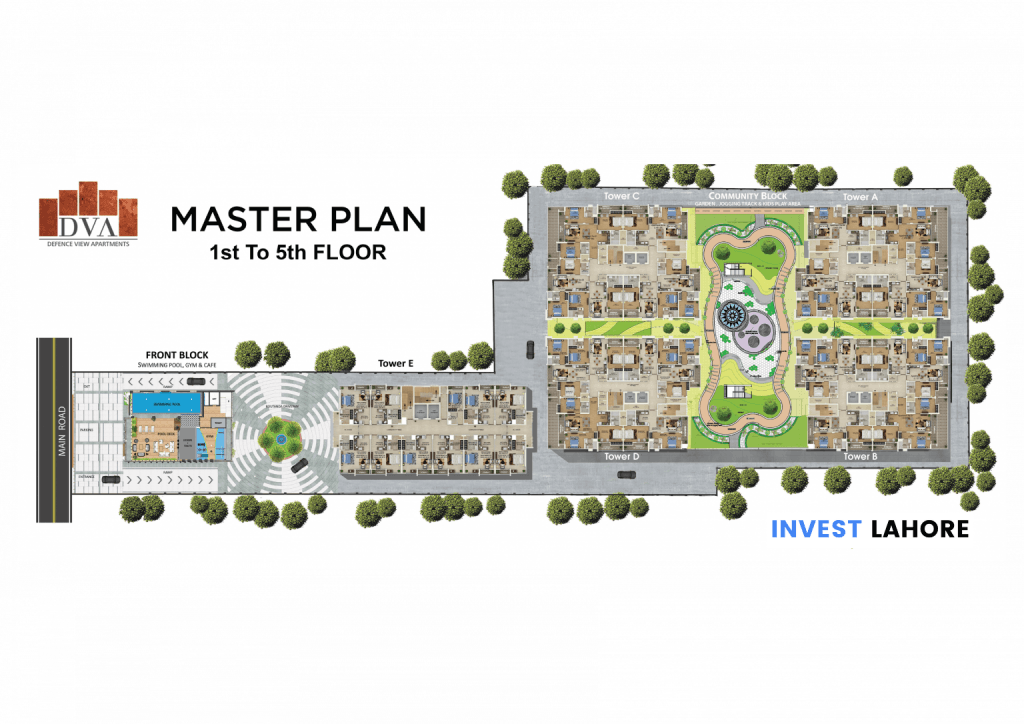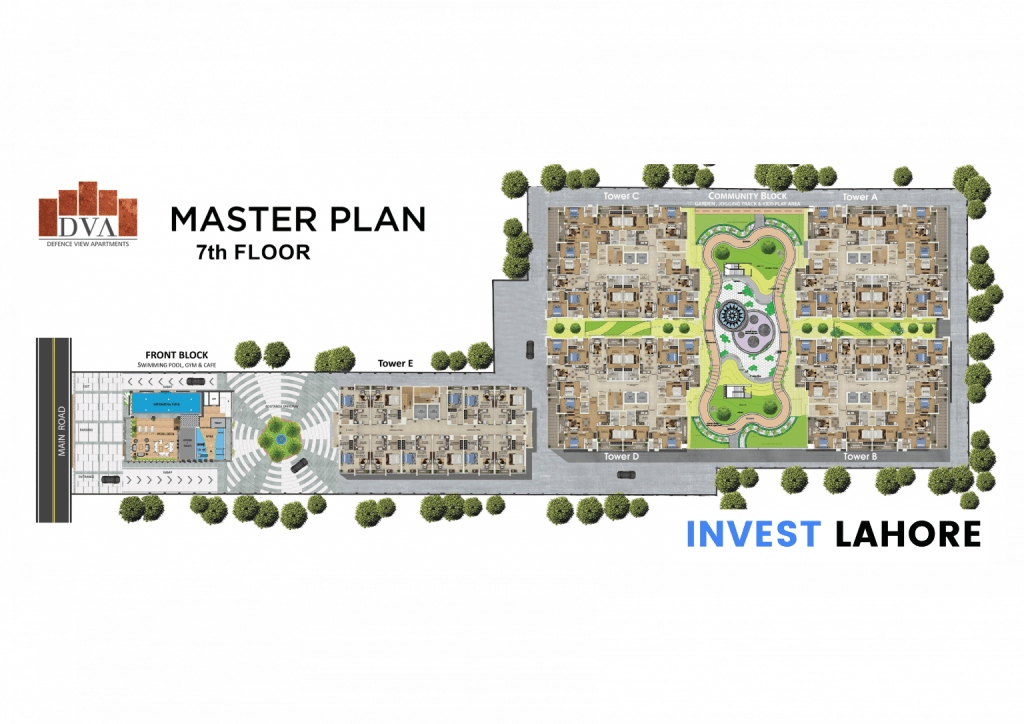 Defence View Apartments Lahore Location
The slogan of real estate investors worldwide is 'Location, Location, Location,' and the location of Defence View Apartments in Lahore is one of its most noticeable advantages.
DHA Lahore is unquestionably Lahore's commercial and recreational centre. DHA offers its people access to elegant and top-notch business options. This region boasts the greatest educational, healthcare and commercial possibilities for its residents, in addition to business prospects.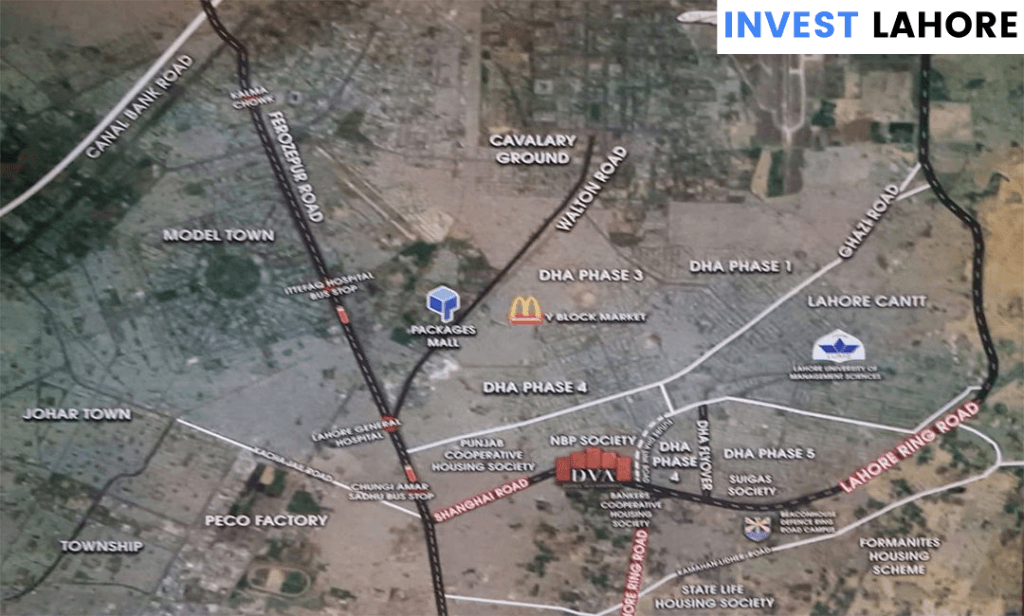 Defence View Apartments is located in a unique and prime location on behind Dha Phase 4 Lahore, Ring road Punjab Society Interchange, vibrant Shanghai Road. This incredible project has also proximity to Ring road Kamahan Interchange.
All of Lahore's major residential districts are easily accessible from the apartments. This project is almost few minutes drive away from Gulberg Main Boulevard and has a direct approach to Model Town, Garden Town, Johar Town and Faisal Town.
Defence View Apartments Nearby Accessibilities
Defence view apartments can be approached by nearby places as:
Opposite location of DHA Lahore phase 4.
1-minute drive from ring road kamahan interchange.
2-minute drive from Beacon house ring road campus.
4-minutes drive from Beacon house TNS phase 5.
6-minute drive from Wateen chowk.
7-8 minute drive from LUMS.
9-10 minutes drive from Y block market & Allama Iqbal international airport.
12-minute drive from Packages Mall.
13-minute drive from Fortress Stadium.
14-minute drive from Fortress Square Mall.
15-minute drive from Kalma Chowk.
Defence View Apartments Nearby Landmarks & Places
Defence View Apartments is close to several recreational amenities, hospitals, and educational institutions, which range from elementary schools to universities.
Nearby Schools & Universities
Defence View Apartments has multiple renowned schools and universities nearby including:
Lahore Grammar School Phase 5.
Lahore University Of Management & Sciences (LUMS).
DPS Girls.
DHA Library.
Beaconhouse School.
Government Rabia Basri College For Women.
Nearby Restaurants
The options of the eateries in the area are as follows:
Cheeky Joe's.
Wright Burgers.
Sarpino's
McDonald's Y block.
K.F.C
Dunkin Donuts.
Gourmet Grill.
New York Pizza.
Bundu Khan.
Hardees.
Gloria Jeans.
The Sweet Tooth.
Nearby Hospitals & Pharmacies
Hospitals & pharmacies around the Defence View Apartments are:
DHA Medical Center Phase 3.
Shaukat Khanum Laboratory Collection Center.
Sav on Medical Center.
Blood Bank (General Hospital).
DVM Pharma.
Cantonment Board Dispensary.
Lahore General Hospital.
Makhdoom Memorial Hospital.
Nearby Parks
DVA has multiple renowned parks nearby including:
Sec Z Park Phase 3.
Sec E Park.
Sec C Phase 1.
Sec J Phase 1.
State Life Housing Society Park.
Central Park.
D-Block Park.
Sheeba Park.
D-Block mini Triangular Park.
Defence View Apartments Prices
Defence view apartments offer a variety of residential apartments in 5 towers complex. Luxury flats for sale in Lahore:
Studio apartments.
1-bed apartments   (625 Sq. Ft. – 643 Sq. Ft.).
2-bed apartments   (1,168 Sq. Ft. – 1,497 Sq. Ft.).
3-bed apartments   (1,238 Sq. Ft. – 2235 Sq. Ft.).
Defence View Apartments rate per square foot is 11,514/- per sq. ft. with the help of per sq. ft. price you can calculate the price per apartment.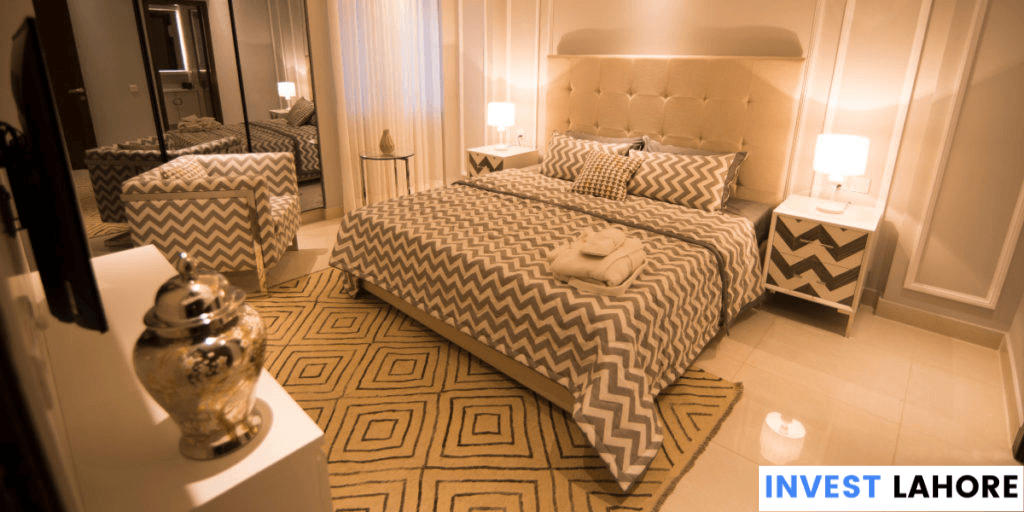 Studio Apartments
A studio apartment is usually a self-contained space that houses everything within a single room with a separate bathroom.
1-Bed Apartments
As the name shows 1-bed apartment is an apartment with one bedroom that's completely separate from the other space. The other space includes a kitchen and a living room. Sometimes the kitchen is separate and some apartments have an open kitchen in the living room.
2-Bed Apartments
A 2-bed apartment is an apartment which has 2 bedrooms and 2 bathrooms with a separate kitchen and living room.
3-Bed Apartments
A 3-bed apartment is considered ideal for a small family that consists of 3 bedrooms with attached bathrooms and a kitchen and living room. Each unit has airy balconies that provide a mesmerizing view of the surroundings.
Defence View Apartments Plot Features
DVA provide you with modern as well as basic facilities that include:
Sui gas supply.
Electricity supply.
Water supply.
Sewerage system.
Satellite or cable supply.
Accessibility through road.
Defence View Apartments State-of-the-art Amenities
Aside from the obvious considerations of how many bedrooms, price, and style, it's also crucial to know what amenities are available in an apartment complex.
State-of-the-art gym.
Infinity swimming pools.
Fascinating kids play area.
Mosques.
Waste Disposal.
Spacious community halls.
Business halls.
Broadband Internet Access.
Rooftop barbeque area.
24/7 CCTV security.
Fire extinguishing system.
Salons.
Prayer area.
Satellite/Cable Access.
Daycare centre.
Flexible Payment Plan.
Car parking.
24/7 power backup generation.
Lifetime building maintenance.
Visitors reception.
Fascinating furniture & fixtures.
Emergency exits.
Airy balconies for natural ventilation.
Defence View Apartments Lahore Payment Plan and Prices
The booking of Defence View Apartments is open for all types of apartments. The standard 2 bedroom apartment price starts from 97 lacs rupees and 3 bedroom starting price is 1.17crore rupees.
The rates may vary depending upon the covered area and floor options. These apartments can be booked at a 25% down payment of the total price and are available at 2.5 years payment plan. You can the remaining amount in 2.5 years payment plan on monthly or quarterly instalments as per your choice and affordability.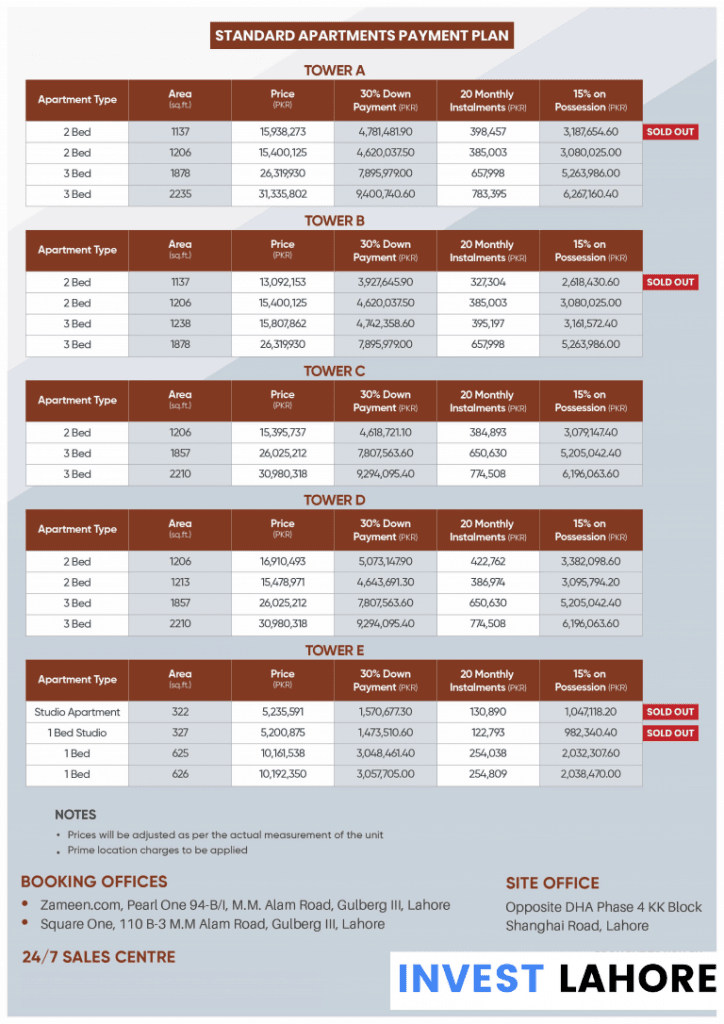 Why Invest In Defence view apartments Lahore?
Defence view apartments will surely be a productive investment because of its developers who never fail in the provision of real estate projects.
FBR registered project.
MCL (Metropolitan Corporation Limited) approved the project.
Approved and registered by all the relevant authorities.
Providing every comfort in a thriving environment.
Located on DHA, a hub of infrastructure development and real estate investment.
LDA approved project.
Offering premium & luxurious facilities at a cheaper cost.
Safety and security measures.
Due to an expanding housing shortage, Pakistan requires about 700,000 new residential units each year, and moderately priced projects like Defence View Apartments play a critical part in meeting this demand.
Timely completion of project guaranteed.
Equipped with modern facilities.
Good opportunity for rental investment.
8% rental yield on 100% payment.
5 towers complex, each building has 7 floors.
No need to show the source of income.
A smart investment for passive income.
Affordability & flexibility in the payment plan.
Documentation transparency and ease of ownership transfer.
What Does An Investor Look For While Investing? 
Here's a look at some of the most important things to consider if you plan to invest in the real estate market:
Location of the property.
Value of the property.
Area of the property.
Builder repute verification.
Title deed verification.
Necessary approvals (NOC) by the local body.
Investment Purpose and Investment Horizon.
Benefits Of Investing In Rental Property
Potential for long-term returns.
Provide a regular income.
Wealth accumulation.
Hedge against inflation
Appreciation for the property.
A steady stream of cash flow.
Advantages/deductions in tax.
Guidelines To Follow While Purchasing/Selling Of Property
Following are the guidelines to follow while purchasing or selling any property:
Document Verification
Always verify all the documentation of property with complete satisfaction to avoid any inconvenience or misunderstanding. Before purchasing and selling any property, make sure to inquire about the NOC and other approval documents by the developers, approved by the authorities. That's how your purchase or sale will be made without any issue of invalidation.
Financial Security
Before selling and purchasing any property, make sure that you have some financial deposits on for backup if needed. while selling and purchasing, please ensure that your funds align with your payment plan. That's how your purchase or sale will be made without any issues.
Property Visits
It is compulsory to do property visits before purchasing and selling any property to analyse the validity and features of the property properly. After the surety of the validity, visit the site to ensure that the required documents are under the plot specifications.
Documentation Requirement For Booking
The following documentation is required for booking any property:
Two passport size Pictures.
Two copies of your National Identity Card.
Two copies of the ID card of your next to kin(father, mother, wife, sister, brother).
NICOP for overseas clients.
Conclusion – Defence View Apartments
Defence view apartments are the ideal combination of elegance and comfort. These apartments are excellent for both residence and investment, with construction set to complete soon. If you rent out your unit to a high-end tenant when the development is finished, you will have a guaranteed monthly rental income.
DVA is a wise investment because, in a few future years, there is a hope of high capital gain. The pre-bookings are open now and payment plans of your choice are available. So invest for your better tomorrow as it's a legacy for the next generation.
So, if you are part of the same crowd looking to invest in installments in Lahore's new residential projects in 2022, contact INVEST LAHORE now!