Grand Square Mall Gulberg Lahore
Grand Square Mall Lahore is a cutting-edge mixed-use structure with an odd assortment of visually appealing retail outlets, shopping mall, corporate office spaces, food court and studio,1 & 2 bed apartments. The project's huge and attractive architecture, prominent location, and exquisite facilities will appeal to real purchasers and investors.
Grand Square Mall is an LDA registered project which is owned and developed by the most reputable developers 'Salman Builders'. Because of its distinctive architecture, the project stand out from other commercial, recreational &  corporate experiences.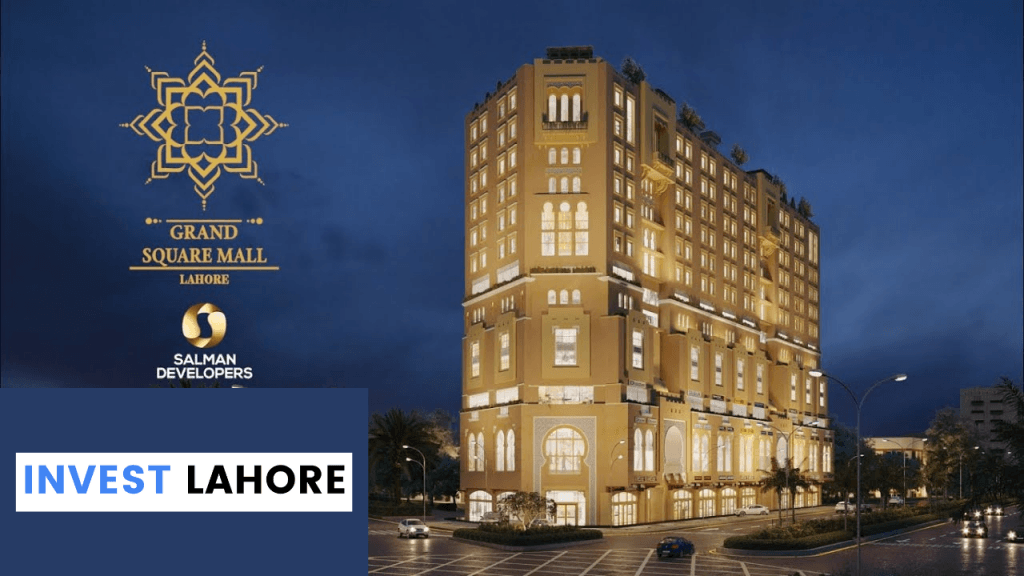 Gulberg III, Lahore, offers the best opportunity for real estate investment. Grand Square Mall Lahore, a one-of-a-kind project, is managed by Salman Builders. The project's proximity to Center Point, Canal Road, Firdous Market & M.M Alam Road adds attraction to it.
Grand Square is a very lucrative commercial complex that offers all of the greatest retail facilities that modern consumers want. It is a corner plot with 12-storey structure that will be a wonderful icon in Lahore's skyline. The project spans 6 Kanals, but the covered area is only 4 Kanals, allowing green space for scenic beauty and landscapes.
Grand Square Mall Gulberg Owners & Developers
It is the main and the most important thing to have an in-depth look at the developers and owners of a project while investing because it enhances your trust in the project.
Grand Square Mall is a project by one of the country's most reputable builders named Salman Builders.
The Salman Builders is known for constructing high-end real estate developments that meet the needs of consumers. They keep their promises quite well. The firm believes in quality above quantity, which is why customers value their original projects.
Salman Builders
Salman Builders has maintained its profitable record via innovation and devotion to the best building techniques. With this current venture, the developer hopes to contribute their gem to the environment of Lahore. They help the real estate industry grow by creating highly safe and profitable investment opportunities.
Grand Square Mall is the only ready to move residential project by the Salman Builders. This project's creators have a lengthy and noteworthy history.
Grand Square Mall Project Plan
Grand Square Mall Lahore is a massive project that is located on corner & comprises ground floor, 12 storeys exquisitely built commercial outlets, corporate offices & residences, and 2 basements designated for parking with valet service.
The properties for sale in this opulent structure are well-designed, with layouts that prioritize aesthetics and space economy. This commercial & residential complex provides
Corporate Offices.
Commercial Outlets.
Shopping Mall.
Residential Apartments.
Food Court.
and promises a wonderful living.
Grand Square Mall Lahore Location & Map
Gulberg is unquestionably Lahore's commercial and recreational centre. Gulberg offers its people access to elegant and top-notch business options. This region boasts the greatest educational, healthcare and commercial possibilities for its residents, in addition to business prospects.
Grand Square Mall is located at 8-E/3, main boulevard Gulberg III, Opp. Centre Point Plaza, Firdous Market Road, Lahore, Pakistan. The project is having a Corner Location on one side facing Ali-Zaib road and the main boulevard Gulberg on the other side. The mall holds a  prime location in Lahore, just a 1-minute drive away from kalma chowk and a 5-minute drive away from Liberty Market & M.M Alam Road.
When it comes to new initiatives, this region has been flourishing, with rising demand and prices on the growth side. It is located at the crossroads of several universities, including Forman Christian College, the University of Punjab, SKANS, LGS and CFE Group of Colleges.
Grand Square Lahore Nearby Accessibilities
Grand Mall directions are easily accessible as follows:
A short walking distance from Center Point Chowk.
Near the National Bank Park.
Canal Road is a 1-minute drive away.
Firdaus Market Underpass is a 1-minute drive away.
Kalma Chowk is a 1-minute drive away.
Monal Restaurant is a 2-minute drive away.
M.M. Alam Road is a 5-minute drive away.
Liberty Market is a 5-minute drive away.
Gaddafi Stadium is a 6-minute drive away.
DHA Main Boulevard is a 15-minute drive away.
A direct approach to Model Town, Garden Town, Johar Town and Faisal Town.
Grand Square Mall Nearby Landmarks & Places
Grand Square is close to several recreational amenities, hospitals, and educational institutions, which range from elementary schools to universities.
Nearby Schools & Universities
Grand Square Plaza has multiple renowned schools and universities nearby including
Forman Christian College University.
The University of Punjab.
LGS School.
Civil Services Academy.
CFE Group of Colleges.
Qasr e Behbood.
LACAS school.
Model Town Library.
Institute of Management Sciences.
SKANS school of accountancy ACCA Campus.
Pak Railway Academy.
Deen schooling system.
Government College for Boys – Gulberg.
Nearby Restaurants
The options of the eateries in the area are as follows
The Brasserie Lahore.
La Atrium.
Nisa Sultan.
Uncle Tetsu.
McDonald's Pakistan.
Hardees Pakistan.
PF Chang's Pakistan.
Turkish restaurant & café.
Lal Qila.
OPTP.
Café Zauq.
Tabaq Restaurant.
Taipei Chinese.
Grab Your Meal.
Nearby Hospitals & Pharmacies
Hospitals & pharmacies around the project are
Dr Qazi associates.
Agha Khan Laboratory.
Shaukat Khanum Laboratory.
Sheikh Zayed Hospital
Anmol Cancer Hospital Oncologists.
Gulab Devi Memorial Hospital.
Masood Hospital.
Al Shaukat Medical & Kidney Centre
Punjab Medical Centre.
Dental Hub.
Fazal Din Pharma Plus.
Hameed Latif Hospital.
Ammar Medical Complex.
Cavalry Dental Clinic.
Hijaz Hospital.
Amanat Eye Hospital.
Nearby Parks
The retail destination has multiple renowned parks nearby including
Football League Practice Ground.
Walton Community Park.
Ghousia Triangle Park.
Usman Block Park.
National Bank Park.
South Garden.
D-Block Park.
Ali Block Park.
Walton Field.
Ladies Park.
East Garden.
Cavalry Ground Park.
jam -e- Shireen Park.
PAF Stadium.
Polo Ground.
FCC Park.
Mobilink Theme Park & Flower Market.
Grand Square Mall Lahore Prices & Property Types
Grand Square Lahore offers a variety of commercial outlets, corporate offices & flats on the lower, ground and upper floors. House for sale with a shop in Lahore are
Shops (Lower Ground Floor) (290 sq. ft. – 449 sq. ft.)
The shops on the lower ground level have priced between PKR 2.05 Crore – PKR 3.17 Crore with a 36-month payment plan.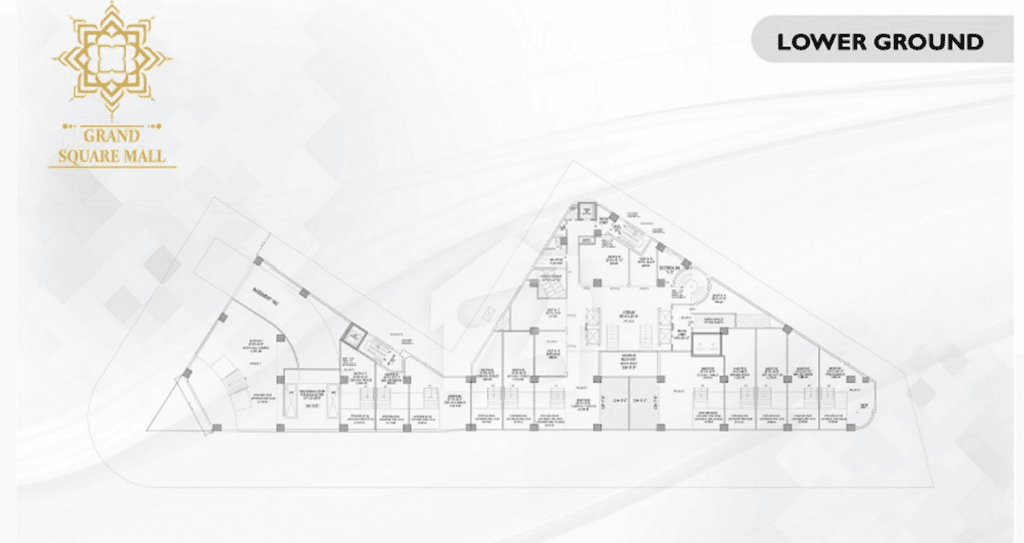 Shops (Ground Floor) (1082 sq. ft. – 4342 sq. ft.)
The shops on the ground level have priced between PKR 9.56 Crore – PKR 35.59 Crore with a 36-month payment plan.
Shops (Upper Ground Floor) (410 sq. ft. – 927 sq. ft.)
The shops on the upper ground level have priced between PKR 3.75 Crore – PKR 8.48 Crore with a 36-month payment plan.
Shops (First Floor) (311 sq. ft.)
The shops on the first level have priced as PKR 1.87 Crore with a 36-month payment plan.
Shops (Second Floor) (240 sq. ft. – 416 sq. ft.)
The shops on the second level have priced between PKR 1.16 Crore – PKR 2.01 Crore with a 36-month payment plan.
Others (13th Floor, Food Court) (0.32 Marla – 2.29 Marla)
The properties on the 13th level have priced between PKR 69.04 lacs – PKR 3.21 Crore with a 36-month payment plan.
Offices (4th to 12th Floor) (296 sq. ft. – 1124 sq. ft.)
The offices on the upper levels have priced between PKR 74.09 lacs – PKR 2.81 Crore with a 36-month payment plan.
Grand Square Apartments Lahore Plot Features
Grand Square Apartments provide you with modern as well as basic facilities that include
Sui gas supply.
Electricity supply.
Water supply.
Sewerage system.
Satellite or cable supply.
Accessibility through road.
Grand Square Mall State-of-the-art Amenities
Aside from the obvious considerations of how many bedrooms, price, and style, it's also crucial to know what amenities are available in an apartment complex.
The following are the top apartment features and amenities in Grand Square Mall:
2 Basement Car Parking.
Earth-Quake Resistant Structure.
Cargo Elevators.
Community Living.
24/7 Surveillance Via Cctv.
Jogging/Walking Track.
Handicapped Accessible.
Wifi Facility.
Mosque.
Shopping Mall.
Executive Offices.
Food Court.
Visitor's Lobby
On-Site Commercial Facilities.
Rooftop Barbecue Area And Garden.
Prayer Room.
Playground For Children.
Clubhouse.
24/7 Power Backup.
Maid Rooms.
Central Cooling & Heating (Vrf) System.
Health & Fitness Club.
Hi-Speed Passengers Elevators.
Satellite Facility.
Gated & Secured Neighbourhood.
A Well-Equipped Gym.
Dedicated Maintenance Personnel.
Modern Firefighting Equipment.
Waste Management System.
Laundry Service.
Valet Parking.
Grand Square Mall Lahore Payment Plan
The payment plan for Grand Square Mall Gulberg Lahore is straightforward and flexible, which customers will like. Its price plan is incredibly reasonable and convenient, with instalments spread out over 36 months. The one unit may be reserved with a 25% down payment, with the remaining balance due in 2 years. Possession will be granted on a 10% basis.
The price of the area per square foot in Grand Square Mall is
Commercial Lower Ground: Rs:70,590/- per sq.ft
Commercial Ground Floor: Rs:91,506/- per sq.ft
Commercial Ground Floor (Split-Level): Rs:80,696/- per sq.ft
Commercial 1st Floor: Rs:60,138/- per sq.ft
Commercial 2nd Floor: Rs:48,370/- per sq.ft
Residential Apartments (1 Bed):Rs:22,561/- per sq.ft
Residential Apartments (2 Bed):Rs:22,561/- per sq.ft
Residential Apartments (Studio):Rs:22,563/-per sq.ft
Corporate Offices: Rs:22,881/- per sq.ft
Why Invest In Grand Square Mall Gulberg?
Grand Square Mall will surely be a productive investment because of its developers (Salman Builders) who never fail in the provision of real estate projects.
Real estate values in the area have risen 30-40% in the last 3 years, and a 40-50% increase is projected over the next 3 years.
5-6% annual rental return is expected.
Located on Gulberg III, a hub of infrastructure development and real estate investment.
LDA-approved project.
Offering premium & luxurious facilities at a cheaper cost.
Safety and security measures.
Due to an expanding housing shortage, Pakistan requires about 700,000 new residential units each year, and moderately priced projects like Grand Square Apartments play a critical part in meeting this demand.
Timely completion of project guaranteed.
In 2019, Lahore's real estate market had one of the best returns on investment (ROI) of any city in Pakistan, at 6.25%.
Meet the rapidly changing lifestyles.
A smart investment for passive income.
Affordability & flexibility in the payment plan.
Documentation transparency and ease of ownership transfer.
Between January 2018 and September 2020, apartment search volumes climbed by 127%.
What Does An Investor Look For While Investing?
Here's a look at some of the most important things to consider if you plan to invest in the real estate market:
Location of the property.
Value of the property.
Area of the property.
Builder repute verification.
Title deed verification.
Necessary approvals (NOC) by the local body.
Investment Purpose and Investment Horizon.
Benefits Of Investing In Rental Property:
Potential for long-term returns.
Provide a regular income.
Wealth accumulation.
Hedge against inflation
Appreciation for the property.
A steady stream of cash flow.
Advantages/deductions in tax.
Guidelines To Follow While Purchasing/Selling Of Property
Following are the guidelines to follow while purchasing or selling any property
Document Verification
Always verify all the documentation of property with complete satisfaction to avoid any inconvenience or misunderstanding. Before purchasing and selling any property, make sure to inquire about the NOC and other approval documents by the developers, approved by the authorities. That's how your purchase or sale will be made without any issue of invalidation.
Financial Security
Before selling and purchasing any property, make sure you have some financial deposits on for backup if needed. while selling and purchasing, please ensure that your funds align with your payment plan. That's how your purchase or sale will be made without any issues.
Property Visits
It is compulsory to do property visits before purchasing and selling any property to analyse the validity and features of the property properly. After the surety of the validity, visit the site to ensure that the required documents are under the plot specifications.
Grand Square Mall Booking Requirements
The following documentation is required for booking any property
Two passport size Pictures.
Two copies of your National Identity Card.
Two copies of the ID card of your next to kin(father, mother, wife, sister, brother).
NICOP for overseas clients.
Charges To Be Paid At The Time Of Booking
25% down payment that is paid at the time of booking. The booking fee must be paid following the unit size specified in the payment plan.
The payments will be made over 3 years in easy monthly instalments.
10% is to be paid at the time of possession.
Conclusion – Grand Square Mall
According to the New York Times, Lahore is the top tourist destination in the world, and more and more people are becoming interested in this provincial city that is generating real estate headlines for all the right reasons.
Grand Square Mall is the ideal combination of elegance and comfort. These shops, offices and apartments are excellent for both residence and investment, with construction set to complete soon. If you rent out your unit to a high-end tenant when the development is finished, you will have a guaranteed monthly rental income.
So, if you are part of the same audience wanting to invest in Lahore's new residential projects in instalments in 2022, approach INVEST LAHORE right away!