ZAMEEN AURUM LAHORE
Zameen Aurum Lahore perfectly blends the comfort of home with the demand for luxury for both residents and visitors. The beautifully manicured entryway and wide rooftop lead to gorgeous, extensive green spaces within the premises; while the apartments are naturally ventilated and provide stunning views of the city.
The apartments and penthouses are loaded with consumer-driven, contemporary design preferences; and aided by commercial outlets, they build the fundamentals of a wholesome, day-to-day lifestyle.
Zameen Aurum is one of Lahore's most unusual and grand residential developments. It also provides lucrative investment options. The project has a significant advantage in that it offers good returns to investors.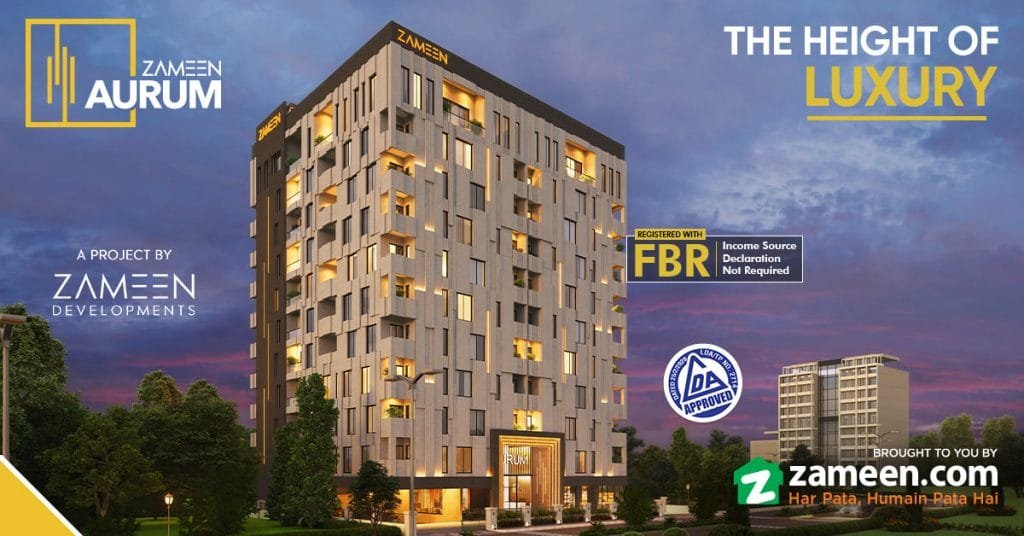 ZAMEEN AURUM DEVELOPERS
It is the main and the most important thing to have an in-depth look at the developers and owners of a project while investing because it enhances your trust in the project.
Zameen Aurum Lahore is a notable initiative of Zameen Developments, a prestigious real estate development company in Pakistan. Zameen Developments is built on the ideals of integrity, accountability, dedication, and excellence to improve Pakistan's real estate development and design business.
ABOUT ZAMEEN DEVELOPMENTS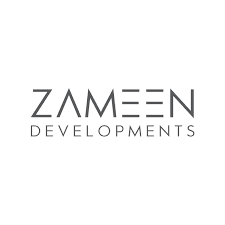 Zameen Developments is a subsidiary of the Emerging Markets Property Group (EMPG), an international collaboration that owns and runs digital classifieds websites in over 16 countries and counting.
Zameen Developments aspires to revolutionize the Pakistani real estate development industry. Zameen Developments is a Multidisciplinary Team of 150+ Professionals having 5 on-ground projects worth PKR 36 Billion and 2,000+ happy customers.
Zameen developments vision is to become Pakistan's greatest vertical real estate developer, helping the government regulate horizontal expansion and promote new construction trends. They have a mission to put their customers, investors, and partners first, as well as to become the employer of choice.
ZAMEEN DEVELOPMENTS PROJECTS
Following are the currently running projects of Zameen developments:
Zameen Quadrangle.
Zameen Aurum.
Grande Palladium.
Zameen Ace Homes.
Mall 35.
Zameen Ace Mall.
All of these projects have received widespread local attention for their subsequent, high-quality building work.
ZAMEEN AURUM NOC
Zameen Aurum is an earthquake-resistant structure approved by Lahore Development Authority (LDA).
Investors may expect fast delivery of Zameen Aurum, which has been registered with the Federal Board of Revenue (FBR) and authorized by the Lahore Development Authority (LDA). So there is no need for a declaration of income resources.
ZAMEEN AURUM LAYOUT PLAN
Zameen Aurum apartments have a 15-storey master design that is divided into 3 dedicated basements for visitors and residential parking, a ground level, and 11 above stories, all of which work together to provide a safe and quiet atmosphere for the residents.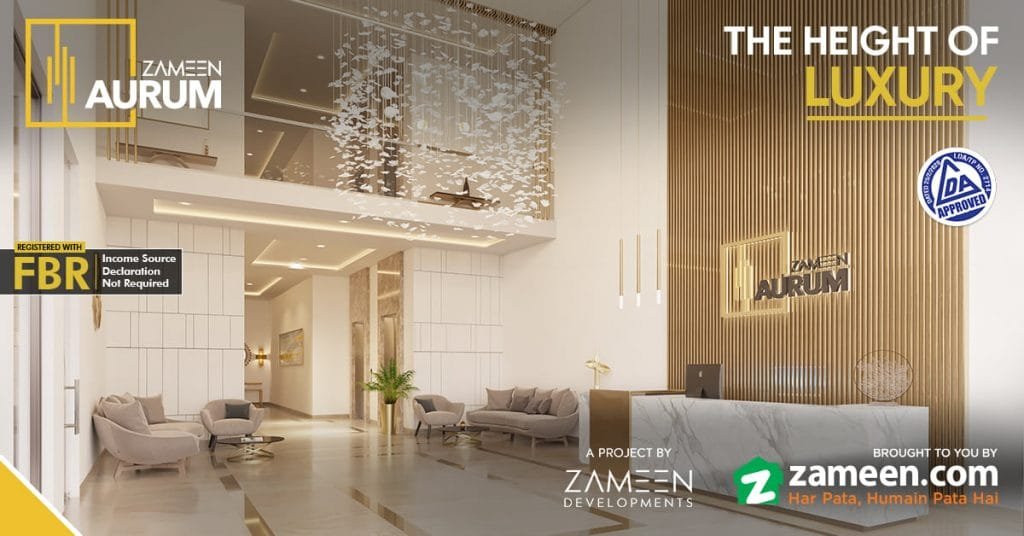 ZAMEEN AURUM APARTMENTS
A high-end project, Zameen Aurum Apartments features tastefully crafted and equipped with all the principal offers a wide range of property options:
Studio apartments (440 sq.ft.).
1 bedroom apartments (552sq.ft.-642sq.ft.).
2 bedroom apartments (992 sq.ft.)
3 bedroom apartments (1271 sq.ft.)
Single-storey & duplex penthouses (2310sq.ft.).
Service outlets (450sq.ft.).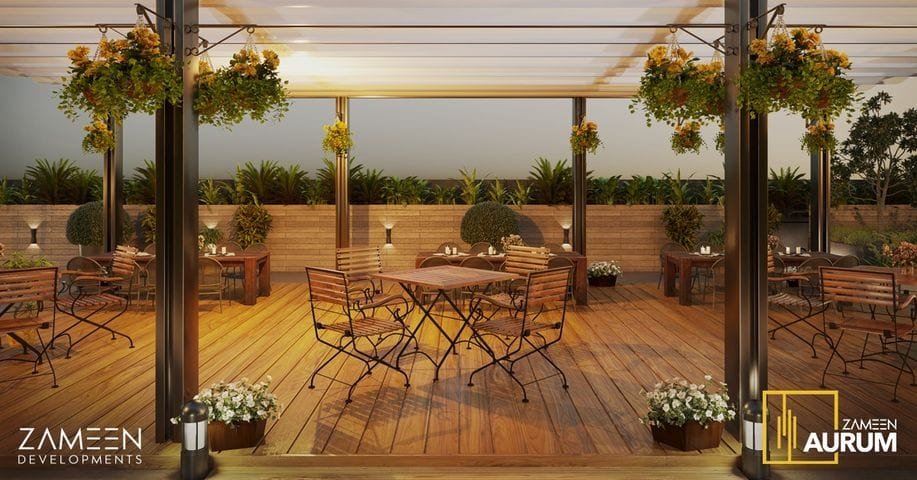 ZAMEEN AURUM TOTAL LAND
The amount of total land of 15-storey structure Zameen Aurum Gulberg apartments being built on an area of 4 kanals assuring city's greatest educational, commercial, healthcare, and recreational resources nearby.
ZAMEEN AURUM LOCATION
The slogan of real estate investors worldwide is 'Location, Location, Location,' and the location of Zameen Aurum in Lahore is one of its most noticeable advantages.
In Lahore city, Gulberg is regarded as a fantastic area to live a modern life and invest in both business and residential properties. This location has a lot of potential for investors in terms of profit, growth, and returns.
Zameen Aurum Lahore is centrally located in 15A, Block L Gulberg III, Lahore, Punjab. This premium neighbourhood boasts the city's greatest educational, commercial, healthcare, and recreational resources. Residents in this area also have a unique sense of belonging to a strong community.
All of Lahore's major residential districts are easily accessible from the apartments. This project is almost 15 minutes drive away from DHA Main Boulevard and has a direct approach to Model Town, Garden Town, Johar Town and Faisal Town.
ZAMEEN AURUM NEARBY ACCESSIBILITIES
Zameen Aurum directions are easily accessible as follows:
Next to Ferozepur Road.
Opposite Model Town's entrance.
Kalma Chowk is a 1-minute drive away.
Main Boulevard is a 1-minute drive away.
Centre Point is a 1-minute drive away.
M.M. Alam Road is a 5-minute drive away.
Liberty Market is a 5-minute drive away.
Gaddafi Stadium is a 6-minute drive away.
DHA Main Boulevard is a 15-minute drive away.
A direct approach to Model Town, Garden Town, Johar Town and Faisal Town.
ZAMEEN AURUM NEARBY LANDMARKS & PLACES
Zameen Aurum is close to several recreational amenities, hospitals, and educational institutions, which range from elementary schools to universities.
NEARBY SCHOOLS & UNIVERSITIES
Zameen Aurum has multiple renowned schools and universities nearby including:
Forman Christian College University.
The University of Punjab.
LGS School.
CFE Group of Colleges.
Qasr e Behbood.
LACAS school.
Model Town Library.
SKANS school of accountancy ACCA Campus.
Pak Railway Academy.
Deen schooling system.
Government College for Boys – Gulberg.
NEARBY RESTAURANTS
The options of the eateries in the area are as follows:
The Brasserie Lahore.
La Atrium.
Nisa Sultan.
Uncle Tetsu.
McDonald's Pakistan.
Hardees Pakistan.
PF Chang's Pakistan.
Turkish restaurant & cafe.
OPTP.
Cafe Zauq.
Tabaq Restaurant.
Taipei Chinese.
Grab Your Meal.
NEARBY HOSPITALS & PHARMACIES
Hospitals & pharmacies around the residency are:
Dr Qazi associates.
Gulab Devi Memorial Hospital.
Masood Hospital.
Al Shaukat Medical & Kidney Centre
Punjab Medical Centre.
Hameed Latif Hospital.
Ammar Medical Complex.
Cavalry Dental Clinic.
Hijaz Hospital.
Amanat Eye Hospital.
NEARBY PARKS
The project has multiple renowned parks nearby including:
Football League Practice Ground.
Walton Community Park.
Ghousia Triangle Park.
Usman Block Park.
National Bank Park.
Ali Block Park.
Walton Field.
Ladies Park.
East Garden.
Cavalry Ground Park.
jam -e- Shireen Park.
PAF Stadium.
Polo Ground.
FCC Park.
Mobilink Theme Park & Flower Market.
ZAMEEN AURUM PLOT FEATURES
The plot features of Zameen Aurum are described below:
Sewerage.
Water supply.
Electricity supply.
Sui Gas supply.
Accessible through the road.
ZAMEEN AURUM STATE-OF-THE-ART AMENITIES
3 basement car parking.
Grocery store.
Earth-quake resistant structure.
Artisan's pastry shop.
Grand Lobby.
Cargo elevators.
Rooftop barbecue and garden.
Prayer room.
Outdoor yoga centre.
Unisex saloon.
Playground for children.
Clubhouse.
24/7 power backup.
E-tag controlled, Automated Entry System
Central cooling system.
Health & fitness club.
Swimming pool.
Hi-speed Passengers Elevators.
Satellite facility.
Mini-theatre.
Gated & secured neighbourhood.
Restaurant with Indoor and poolside dining.
A well-equipped gym.
Residents' café.
Dedicated maintenance personnel.
Modern firefighting equipment.
24/7 Surveillance via CCTV.
Spa & sauna.
ATM service.
24/7 Facility Management System.
Laundry service.
Groceries delivery.
Rental car service.
valet parking.
ZAMEEN AURUM LAHORE PAYMENT PLAN
The project's rising commercial success in Lahore is due in large part to the highly convenient and flexible Zameen Aurum payment plan. It is expected to enjoy impressive capital gains of up to 60% shortly. Zameen Aurum offers apartments ranging between PKR 1.25 Crore to 6.72 Crore.
A unit can be booked in Zameen Aurum by paying a 30% down payment. The rest of the amount will be paid in instalments covering 2 years.10% of the amount will be paid on possession.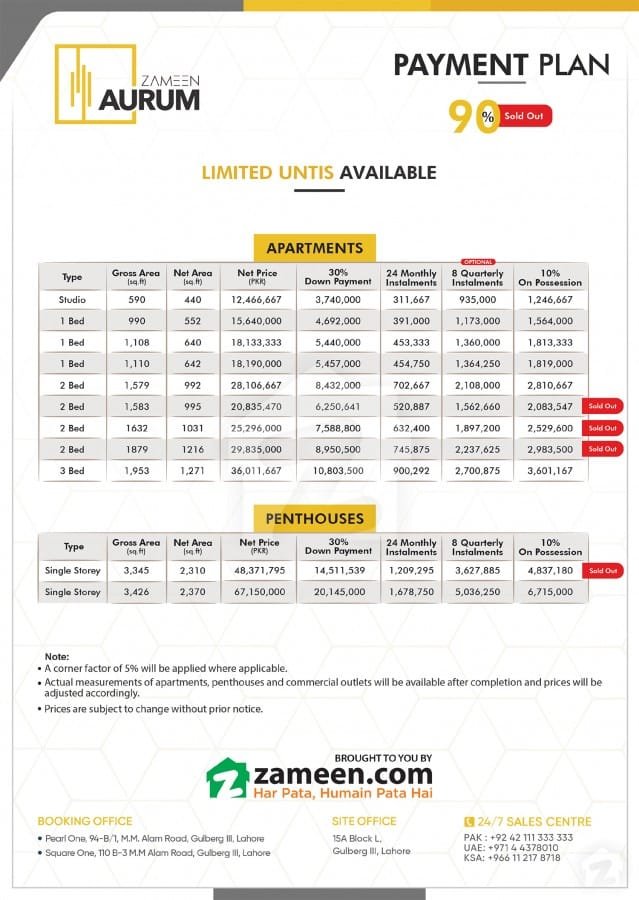 WHY INVEST IN ZAMEEN AURUM?
Zameen Aurum will surely be a productive investment because of its developers who never fail in the provision of real estate projects.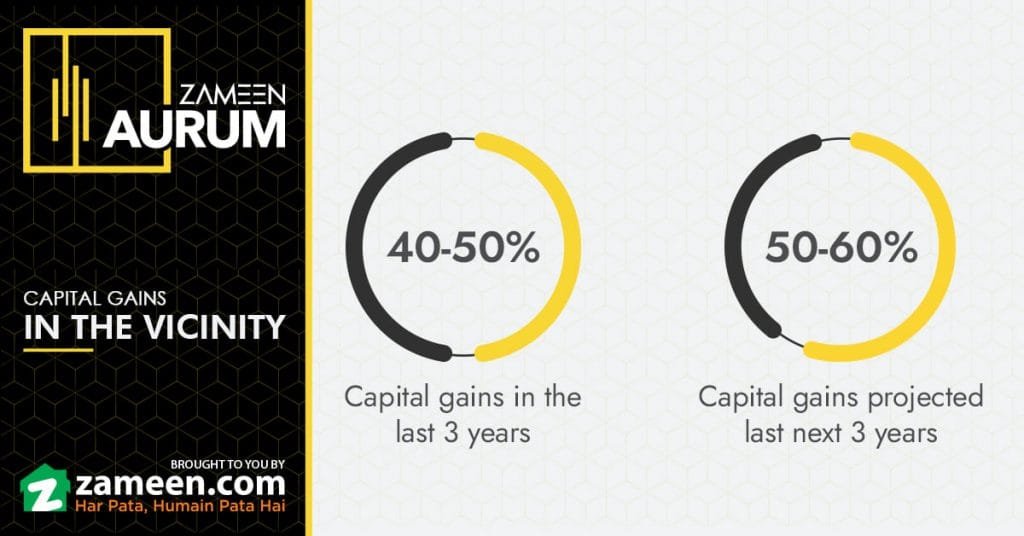 Real estate values in the area have risen 40-50% in the last 3 years, and a 50-60% increase is projected over the next 3 years.
5-7% annual rental return is expected.
Located on Gulberg III, a hub of infrastructure development and real estate investment.
LDA approved project.
Offering premium & luxurious facilities at a cheaper cost.
Safety and security measures.
Due to an expanding housing shortage, Pakistan requires about 700,000 new residential units each year, and moderately priced projects like Zameen Aurum play a critical part in meeting this demand.
Timely completion of project guaranteed.
In 2019, Lahore's real estate market had one of the best returns on investment (ROI) of any city in Pakistan, at 6.25%.
Between January 2018 and September 2020, apartment search volumes climbed by 127%.
Zameen Aurum is FBR registered, hence no revenue source statement is necessary.
Meet the rapidly changing lifestyles.
High-quality construction & building techniques & materials.
A project by reputable developers (Zameen Developments).
A smart investment for passive income.
Affordability & flexibility in the payment plan.
Documentation transparency and ease of ownership transfer.
WHAT DOES AN INVESTOR LOOK FOR WHILE INVESTING
Here's a look at some of the most important things to consider if you plan to invest in the real estate market:
Location of the property.
Value of the property.
Area of the property.
Builder repute verification.
Title deed verification.
Necessary approvals (NOC) by the local body.
Investment Purpose and Investment Horizon.
BENEFITS OF INVESTING IN RENTAL PROPERTY
Potential for long-term returns.
Provide a regular income.
Wealth accumulation.
Hedge against inflation
Appreciation for the property.
A steady stream of cash flow.
Advantages/deductions in tax.
DOCUMENTATION REQUIREMENT FOR BOOKING
The following documentation is required for booking any property:
Two passport size Pictures.
Two copies of your National Identity Card.
Two copies of the ID card of your next to kin(father, mother, wife, sister, brother).
NICOP for overseas clients.
CONCLUSION – ZAMEEN AURUM
Zameen Aurum is the ideal combination of elegance and comfort. These apartments are excellent for both residence and investment, with construction set to complete soon. If you rent out your unit to a high-end tenant when the development is finished, you will have a guaranteed monthly rental income.
So, if you are part of the same crowd looking to invest in installments in Lahore's new residential projects in 2022, contact INVEST LAHORE now!