DHA Rahbar Lahore
DHA Phase 11 is a mega residential and real estate project emerging in the landscape of the capital of Punjab. The society is enjoying the prestigious neighbourhood of Heart of Lahore city and having direct access to various well-known landmarks in a couple of moments. The project stands out from other societies having commercials, recreational & corporate experiences in the market because of its unique amenities.
DHA Rahbar (Phase 11) Lahore plots for sale aim to become a recognisable landmark and the thriving urban centre of Lahore.Beautiful and sumptuous residencial and commercial projects, spacious community setups, rich green surroundings, and an extensive list of facilities are all conveniently positioned near essential institutions and entertainment areas in the project.
DHA Rahbar is an awe inspiring venture of the most Nationally Recognised Corporate 'DHA Lahore'. Who have a stellar track record in the sector of real estate development. Rahbar Sector is an iconic luxury endeavour in and of itself, requiring no adjacent landmark because it offers a mix of residential and commercial facilities.
The main aim of society is to uplift the living standards of people and to facilitate them according to smart information and technology infrastructure. The society will have modern and creative smart features that make society really smart and attractive for residential purposes.
DHA Lahore Phase 11 Owners & Developers
It is the main and the most important thing to have an in-depth look at the developers and owners of a housing project while investing because it enhances your trust in the project.
Behind this luxurious commercial and residential project is the well-known company DHA Lahore, which started another project in Lahore, Pakistan, that is well-organised and well-structured.
This premium project is sponsored by DHA Lahore. A safe and secure investment with one of the best and most respected companies in its field.
DHA Lahore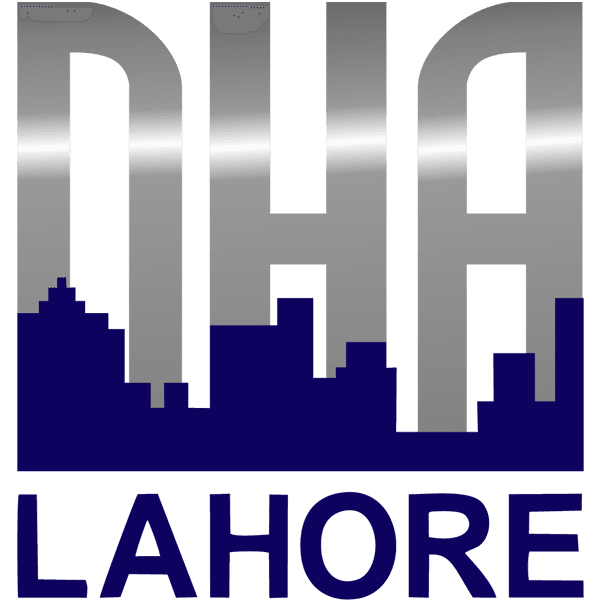 Defence Housing Authority Lahore is a "Nationally recognised corporate" company that has laboured to give the people of Pakistan the option to live in creative modern living structures.
Using modern designs in the development of residences, infrastructure, and vital accompanying amenities, has breathed new life into "Defence Living," making it gloriously lively, pleasantly dynamic, and easy to live.
They seek to deliver competitive and artistically constructed real estate properties that meet the genuine needs of clients, and to become a prominent participant in Pakistan's real estate business, filling a need in the market.
Projects Of DHA Lahore
Since its establishment, DHA has developed several magnificent projects around Pakistan. The projects that are currently in operation are:
Goldcrest in phase IV.
Penta square phase V.
Dolmen Mall.
IVY College of Management Sciences.
DHA Gujranwala.
DHA Phase 11 Project/Master Plan
DHA Rahbar is recognised as DHA's most advanced zone, including all necessary and extravagant facilities under one umbrella also named as DHA Phase 11. Defence Housing Authority Phase 11 involves a cutting-edge infrastructure and a rising residential construction into different phases:
DHA Rahbar Phase 1.
DHA Rahbar Phase 2.
DHA Rahbar Phase 3 (Also known as Halloki Gardens).
DHA Rahbar Phase 4.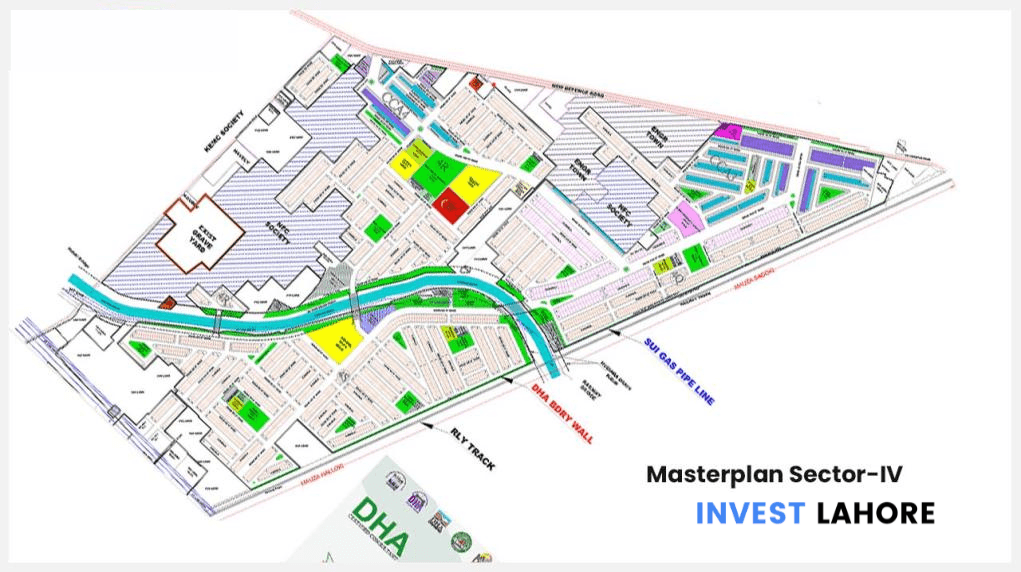 DHA Rahbar Blocks
DHA Rahbar categorised its 4 phases into 19 blocks that are somehow named alphabetically.
Block A.
Block B.
Block C.
Block D.
Block E.
Block F.
Block G.
Block H.
Block I.
Block J.
Block K.
Block L.
Block M.
Block N.
Block O.
Block P.
Block Q.
Block R.
Block S.
The explicated network of streets is spread throughout the society to connect all the blocks.
Categories Of Plots
DHA Phase 11 Rahbar plots for sale of numerous kinds and sizes. Society has categorised the plots into different categories to facilitate its clients and to maximise the customers.
The owners and developers have focused wholeheartedly to offer residential and commercial plots spaciously and with affordability. The master plan of the DHA Rahbar is categorised into two types of plots:
Residential plots.
Commercial plots.
Sizes Of Residential Plots
The sizes of residential plots that are being offered are as follows:
5 Marla.
8 Marla.
10 Marla.
1 Kanal.
Sizes Of Commercial Plots
DHA Rahbar also offers commercial plots in different sizes that are available on down payment and the remaining will be entertained on easy instalments. The society has commercial plots of:
IMPORTANT NOTE: Plots will be entertained on a first come first serve basis.
DHA Rahbar Lahore Location & Map
Most real estate experts think the location is the only factor that has the power to make or break the future valuation of any property.
DHA Rahbar is strategically located on New Defence Road Lahore, near Bhobatian Chowk on Ali Akbar Road. The mega residential project has a close proximity to Raiwind Road, Ferozepur Road and Lahore Ring Road. This region is one of DHA Lahore's most developed phases and offers excellent investment opportunities.
Because of its exceptional position, DHA Rahbar Lahore provides a perfect site for brand stores to attract clients. It is located near Bahria Orchard and many other housing societies and is regarded as one of the city's business centres and upscale neighbourhoods, with all amenities.
This project's location allows for quick and direct access to Raiwind Road, Ferozepur Road, Lahore Ringroad. All of the city's major residential districts are easily accessible from the apartments. This project is almost a few minutes drive away from Khayaban-e-Amin Cricket Stadium and has a direct approach to The University of Lahore and Riphah International University Lahore.
Raiwind Road and Ferozepur Road is unquestionably a commercial and recreational centre. It offers its people access to elegant and top-notch business options. This region boasts the greatest educational, healthcare and commercial possibilities for its residents, in addition to business prospects.
The society's planners and developers took the initiative to locate the society in such a way that every major commercial area and other facilities such as parks, educational institutes, hospitals, and shopping malls are only a few minutes drive away.
DHA Rahbar Lahore Nearby Accessibilities
DHA Rahbar navigations are easily accessible as follows
Ideally situated at New Defence Road.
Close proximity to Raiwind Road, Ringroad and Ferozepur Road Lahore.
6 minutes drive from Khayaban-e-Amin Cricket Stadium.
7 minutes drive from Raiwind Road Lahore.
8 min drive from The University of Lahore.
11 minutes drive from Riphah International University Lahore.
16 minutes drive from Fruits & Vegetable Market.
17 minutes drive from Lahore Wildlife Park.
18 min drive from Lahore Water Park.
23 min drive from Bahria Orchard Hospital.
27 min drive from Eiffel Tower Bahria Town.
34 min drive from Allama Iqbal International Airport.
36 min drive from Packages Mall.
DHA Rahbar Nearby Landmarks & Places
DHA Rahbar is close to several recreational amenities, hospitals, and educational institutions, which range from elementary schools to universities.
Nearby Schools & Universities
The project has multiple renowned schools and universities nearby including
DHA Rahbar School System.
University Of South Asia.
ICMS-IVY College.
Pak Turk Maarif International Schools and Colleges.
Bahria University New Campus.
The University Of Lahore.
STEP School Defence Road.
University Of Management & Technology Raiwind Road Campus.
Riphah International University Lahore.
Green International University.
The Lahore College.
Nearby Restaurants
The options of the eateries in the area are as follows
Savour Foods.
Texas Chicken.
Flavour Grill.
NANA's Kitchen.
Khayaban Restaurant & Hotel.
PitFire Pizza.
Lord Of Food.
Bite The Slice Restaurant.
McDonald's Bahria Town.
K.F.C.
Wrap & Co.
Nearby Hospitals & Pharmacies
Hospitals & pharmacies around the Venture are:
Bahria International Hospital.
Life Hospital.
City Hospital.
Lahore Hospital Muhafiz Town.
Horizon Hospital.
Lahore Care Hospital.
Roshaan Hospital.
Farooq Hospital WestWood Branch Lahore.
Doctor's Hospital & Medical Center.
Pakistan Kidney & Liver Institute.
Cancer Care Hospital & Research Center.
Nearby Landmarks
The real estate venture has multiple renowned landmarks nearby including
Grand Jamia Mosque Bahria Town.
Eiffel Tower Bahria Town.
Lahore Wildlife Park.
Safari Zoo.
Bahria Trafalgar Square.
Dolphin Chowk.
Army Museum.
Packages Mall.
Lahore Water Park.
The Oasis Golf & Aqua Resort.
DHA Rahbar NOC
DHA Rahbar is owned and developed by the DHA Lahore (A Nationally Recognized Corporate). So there is no need for authentication, or approval from any other authority or institution.NDC (No Demand Certificate) will therefore be necessary for some applicant-side verifications.
DHA Rahbar Phase 11 Plot Features
Defence Raya provides you with modern as well as basic facilities that include:
Sui gas supply.
Electricity supply.
Water supply.
Sewerage system.
Satellite or cable supply.
Accessibility through roads.
DHA Lahore Rahbar Sector Features
DHA Rahbar offers premium facilities at a lower price than other real estate projects in the vicinity. These are the features that make such housing projects essential for the future:
Owned By DHA Lahore.
Gated And Secured Community.
High Standard & Planned Residential Project.
24/7 CCTV Security & Surveillance System.
Modern & impressive Infrastructure.
Spacious Parking.
Treated Pure Water.
International Standard Restaurants.
Advanced Level Security With Latest Cameras.
Modern Indoor & outdoor Cafes & Restaurants.
Family Oriented Environment.
Community Parks.
Graveyard.
Jamia And Sector Mosques.
Sitting Area & Gardens.
24hrs Electricity, Gas And Water Backup.
Easy Instalment Plan for commercial plazas & Residential Sector.
Latest Garbage Shooting System.
Commercial Facilities.
Green And Clean Surroundings.
Modern And Lavish Housing Plans.
Recreational Use Of Empty Places.
State-Of-The-Art Gymnasium.
Jogging Track.
Prime Location.
Ultramodern Community Setups.
Underground Electrification.
Boundary Wall Around the Community.
Health & Fitness Center.
Hi-End Shopping Malls And Complexes.
Nearby Schools & Universities.
Shaded Pathways.
Green Belts Along Roads.
Wide Boulevards.
Nearby Health Facilities and Hospitals.
DHA Rahbar Lahore Payment Plan 2022
The DHA Rahbar Lahore prices are affordable and flexible. The properties for sale are open for booking at an easy instalment schedule. Investors will get huge profits off their money in the future; however, high rental incomes are guaranteed. The price of the plot changes according to the category of the plot. The payment plan is given below:
Important Information
Prices are subject to change without prior notice.
Prime location charges are to be applied like plots facing park, corner, and main road will cost extra. In addition, Plots facing Main Boulevard will cost more extra.
There may be some discount on a 50% Down Payment.
Prices are without development charges.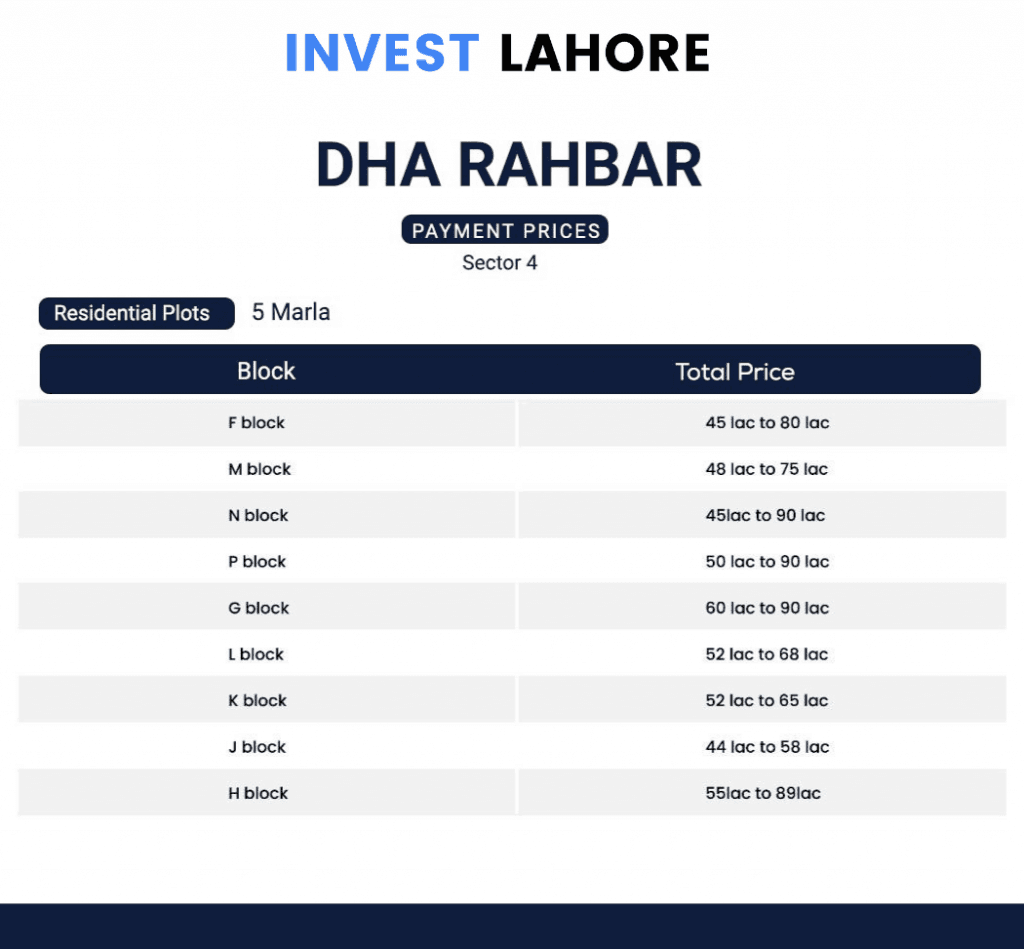 Why Invest In DHA Rahbar Lahore?
Here are some notable points in experts' opinion that why one should invest in DHA Rahbar Lahore:
A Better Place For Living
Due to an expanding housing shortage, Pakistan requires about 700,000 new residential units each year, and moderately priced projects like DHA Rahbar play a critical part in meeting this demand. So, transparency in documentation and ease of ownership transfer are also potential benefits.
Technology Driven Development Plan
DHA Rahbar will continue to use technologies, housing data, and other information to improve infrastructure and solve problems.
This could include having access to 24-hour electricity, low-cost housing, education, and healthcare services, as well as being connected to everyone.
DHA Rahbar will undoubtedly be a profitable investment due to its developers (DHA Lahore), who have never failed to provide smart housing societies on time. 70% of project development also demonstrates their success.
Legally Registered Community
DHA Rahbar Lahore is a fully LDA-approved and legally binding society. There is no possibility of fraud or legal encroachment as its the extension of DHA.
A Secure & Smart Investment
DHA Rahbar will become a thrilling reality, a true example of cutting-edge foundation and engineering combined with unwavering global standards. Once completed, the project is expected to be the region's main economic hub and one of the region's mainstays for future generations. Lahore's real estate market had one of the highest returns on investment (ROI) in Pakistan in 2019, at 6.25%. DHA Rahbar ensures the availability of luxury lifestyle par excellence hence, a smart investment for passive income as there is 80-100% gain expectation only within 12 months.
DHA Rahbar Lahore provides its residents with the safest and most peaceful living environment possible. Because of the smart surveillance, the location will be extremely secure, allowing people to live in a terror-free environment. CCTV and other smart cameras will be installed throughout the city to monitor all suspicious events and circumstances. The strict entry-point screening will be maintained, and security experts will work around the clock to provide the best security services.
The location is connected to the main city of Lahore and offers a safe and environmentally friendly environment. It is ideally located on Defence Road in Lahore and has a close proximity to Raiwind Road, Ringroad and Ferozepur Road Lahore. This location is ideal in every way and a hub of infrastructure development and real estate investment.
Affordable Payment Plan And Profitable Investment
There is a very flexible payment plan designed with the comfort of the occupants in mind. DHA Rahbar is the ideal location for you and your family to purchase a plot. Because of their prime location and simple payment procedure, the plots are selling quickly.
Quality Life And Outstanding Amenities
This pristine city's residents will have a standard living experience that includes stability, comfort, and abundance. Wi-Fi will be installed throughout the community, and CCTV cameras will be installed to monitor every nook and cranny around the clock, seven days a week. DHA Rahbar's educational institutes will provide world-class education.
Premium & Luxurious Facilities
DHA Rahbar provides its customers and investors with first-rate amenities at a lower price. The community provides a fitness centre, community and business centres, neighbourhood mosques, high-end shopping malls, educational institutions, advanced level security with the newest cameras, international standard restaurants, high standard and planned residential projects, and a 24/7 CCTV security and surveillance system. This housing development is a wise choice for passive income because it will leave a legacy for future generations.
What Does An Investor Look For While Investing?
Here's a look at some of the most important things to consider if you plan to invest in the real estate market
Location of the property.
Value of the property.
Area of the property.
Builder repute verification.
Title deed verification.
Necessary approvals (NOC) by the local body.
Investment Purpose and Investment Horizon.
Benefits Of Investing In Rental Property
Have a look at the benefits of investing in rental property:
Potential for long-term returns.
Provide a regular income.
Wealth accumulation.
Hedge against inflation
Appreciation for the property.
A steady stream of cash flow.
Advantages/deductions in tax.
Guidelines To Follow While Purchasing/Selling Of Property
Following are the guidelines to follow while purchasing or selling any property
Document Verification
Always verify all the documentation of property with complete satisfaction to avoid any inconvenience or misunderstanding. Before purchasing and selling any property, make sure to inquire about the NOC and other approval documents by the developers, approved by the authorities. That's how your purchase or sale will be made without any issue of invalidation.
Financial Security
Before selling and purchasing any property, make sure that you have some financial deposits on for backup if needed. While selling and purchasing, please ensure that your funds align with your payment plan. That's how your purchase or sale will be made without any issues.
Property Visits
It is compulsory to do property visits before purchasing and selling any property to analyse the validity and features of the property properly. After the surety of the validity, visit the site to ensure that the required documents are under the plot specifications.
Booking Requirements For DHA Rahbar
The following documentation is required for booking any property in DHA Rahbar:
Two passport size Pictures.
Two copies of your National Identity Card.
Two copies of the ID card of your next to kin(father, mother, wife, sister, brother).
NICOP for overseas clients.
Conclusion – DHA Rahbar Lahore
DHA Rahbar Lahore is a premium residential & commercial project that is surrounded by peace, warmth, love and serenity where life is perfect and blissful. This exquisite combination of luxury and elegance is a wise investment because, in a few future years, there is a hope of high capital gain. This housing project has everything you may desire for a relaxed weekend & a luxurious lifestyle. So invest for your better tomorrow as it's a legacy for the next generation.
So, if you are part of the same crowd looking to invest in instalments in Lahore's new residential projects in 2022, contact INVEST LAHORE now!