ZAMEEN OPAL LAHORE
The ultramodern housing complex Zameen Opal in Lahore has attracted both domestic and international investors. Zameen Opal Lahore, a Zameen Developments project, is intended to become the city's most prominent residential effort. This cutting-edge development will have residential apartments and split-level penthouses, as well as high-end state of the art amenities.
Zameen Opal is one of Lahore's most unusual and grand residential developments. It also provides lucrative investment options. The project has a significant advantage that offers good returns to investors.
The excellent architecture, contemporary design palette, superior construction standards, world-class amenities, and, most significantly, a flexible payment plan with cheap instalments have attracted buyers to this pioneering project.
ZAMEEN OPAL DEVELOPERS
It is the main and the most important thing to have an in-depth look at the developers and owners of a project while investing because it enhances your trust in the project.
Zameen Opal Raiwind road is a notable initiative of Zameen Developments, a prestigious real estate development company in Pakistan. Zameen Developments is built on the ideals of integrity, accountability, dedication, and excellence to improve Pakistan's real estate development and design business.
ZAMEEN DEVELOPMENTS
Zameen Developments aspires to revolutionize the Pakistani real estate development industry. Zameen Developments is a Multidisciplinary Team of 150+ Professionals having 5 on-ground projects worth PKR 36 Billion and 2,000+ happy customers.
Zameen developments vision is to become Pakistan's greatest vertical real estate developer, helping the government regulate horizontal expansion and promote new construction trends. They have a mission to put their customers, investors, and partners first, as well as to become the employer of choice.
ZAMEEN DEVELOPMENTS PROJECTS
Following are the currently running projects of Zameen developments:
Zameen Quadrangle.
Grande Palladium.
Zameen Ace Homes.
Mall 35.
Zameen Ace Mall.
Zameen Opal.
ZAMEEN OPAL RAIWIND ROAD NOC
Investors may expect fast delivery of Zameen Opal, which has been registered with the Federal Board of Revenue (FBR) under the 2020 construction incentive package, and authorized by the Lahore Development Authority (LDA). So there is no need for declaration of income resources.
ZAMEEN OPAL LAHORE LOCATION & MAP
The slogan of real estate investors worldwide is 'Location, Location, Location,' and the location of Zameen Opal in Lahore is one of its most noticeable advantages.
Zameen Opal, Lahore is situated at the intersection of Land Breeze Housing Society and Lahore's Main Raiwind Road nearby signal free khayaban-e-Jinnah Lahore. The project provides inhabitants with a one-of-a-kind living experience in Raiwind Road, one of Lahore's fastest-growing and most-desired neighborhoods.
The city's major roadways, including Canal Bank Road, Lahore Ring Road, and Khayaban-e-Jinnah, are all within a few minutes' drive of Zameen Opal, which provides convenient access to a variety of business centers.
ZAMEEN OPAL LAND BREEZE SOCIETY NEARBY ACCESSIBILITIES
Zameen opal directions are easily accessible as follows:
Easy access to M2-Motorway.
4-KM from Lahore Safari Park.
5 minutes' drive away from Shaukat Khanum Hospital.
5 minutes drive away from Lahore Expo Centre.
5 minutes' drive away from Lahore Ring Road.
6-minutes' drive away alternate Route to Raiwind Road.
Few minutes drive away from Johar Town, PIA Main Boulevard Commercial Area.
30-minute drive from Allama Iqbal International Airport.
Few minutes drive away from Wapda town, Tariq garden, Valencia and the Labor colony.
ZAMEEN OPAL NEARBY LANDMARKS & PLACES
This apartment complex is close to a number of recreational amenities, hospitals, and educational institutions, which range from elementary schools to universities.
NEARBY SCHOOLS & UNIVERSITIES
Zameen Opal have multiple of renowned schools and universities nearby including:
Lahore Grammar School (LGS).
Beaconhouse School System.
Pak-Turk International School.
Beaconhouse National University (BNU).
University of Central Punjab (UCP).
University of Management and Technology (UMT).
University of Lahore (UOL).
University College Lahore (UCL).
International School of Choueifat.
LACAS.
NEARBY RESTAURANTS
The options of the eateries in the area are as follows:
NEARBY HOSPITALS & PHARMACIES
Hospitals & pharmacies around the project are:
Rite aid pharmacy.
Dukes & dukes pharmacy.
University of Lahore Teaching Hospital.
NEARBY PARKS
Zameen opal Lahore have multiple of renowned parks nearby including:
Lala zar park.
Chaman park.
J block park.
Lahore canal bank co-operative housing society phase I(Gulbahar Park).
Central park, PEUHS town 1.
Agrics town park.
Baagh.
ZAMEEN OPAL APARTMENTS
Zameen Opal is a 9-Level iconic residential building with 2 basement parking levels. Zameen Opal Apartments offers:
Studio apartments.
1-bedroom apartments.
2-bedroom apartments.
3-bedroom apartments.
4-bedroom split-level penthouses.(limited stock).
This project also has 2-level secured, underground parking that is sufficient for residents and visitors.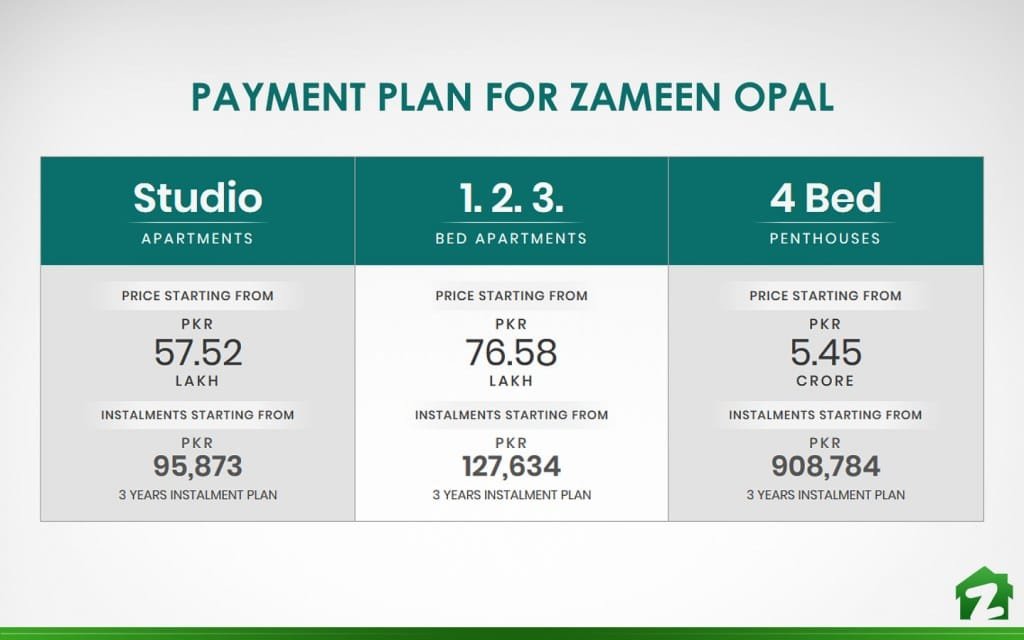 ZAMEEN OPAL FEATURES
The apartments for sale in this project also come with high-end fixtures and finishes, including porcelain flooring, air conditioning, walk-in closets, and more.
Here are some other features that Zameen Opal Lahore offers:
2 basement car parking.
Solar-powered backup power(for common spaces only).
Cargo elevators.
Rooftop barbecue and garden.
Prayer room.
Playground for children.
Clubhouse.
Central cooling system.
Health & fitness club.
Swimming pool.
Passengers elevators.
Satellite facility.
Mini-theatre.
Gated & secured neighbourhood.
Restaurant with Indoor and poolside dining.
A well-equipped gym.
Dedicated maintenance personnel.
Modern firefighting equipment.
24/7 Surveillance via CCTV.
Smart access to the building through a card.
ATM service.
24/7 Facility Management System.
Laundry service.
Groceries delivery.
Rental car service.
valet parking.
ZAMEEN OPAL LAHORE PAYMENT PLAN
The project's rising commercial success in Lahore is due in large part to the highly convenient and flexible Zameen Opal payment plan. It is expected to enjoy impressive capital gains of up to 60% in the near future. Zameen Opal offers apartments ranging between PKR 66.46 Lakh to 1.96 Crore.
A unit can be booked in Zameen Opal by paying 20% down payment. The rest of the amount will be paid in instalments covering 2.5 years.15% of the amount will be paid on possession.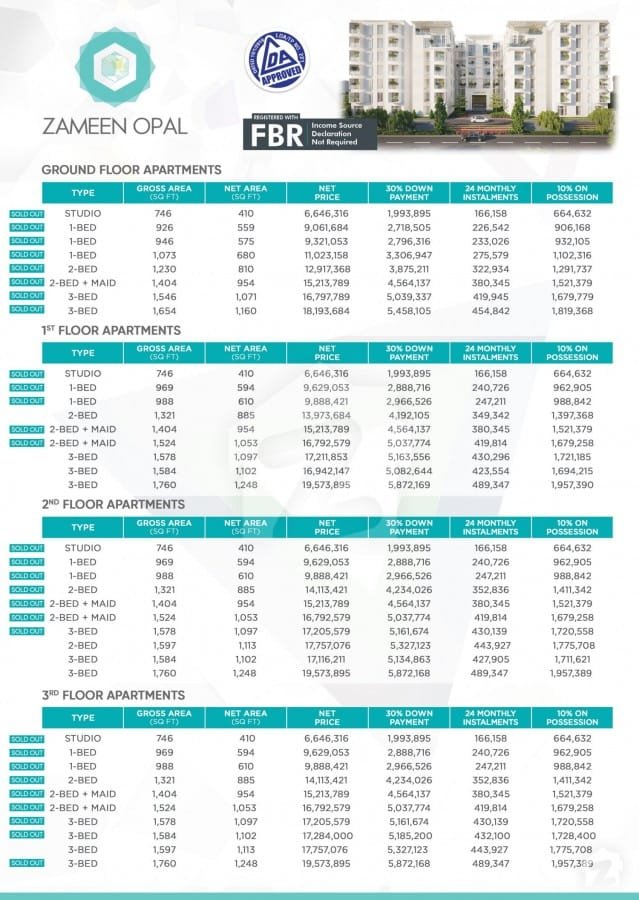 WHY INVEST IN ZAMEEN OPAL?
Zameen Opal will surely be a productive investment because of its developers who never fail in the provision of real estate projects.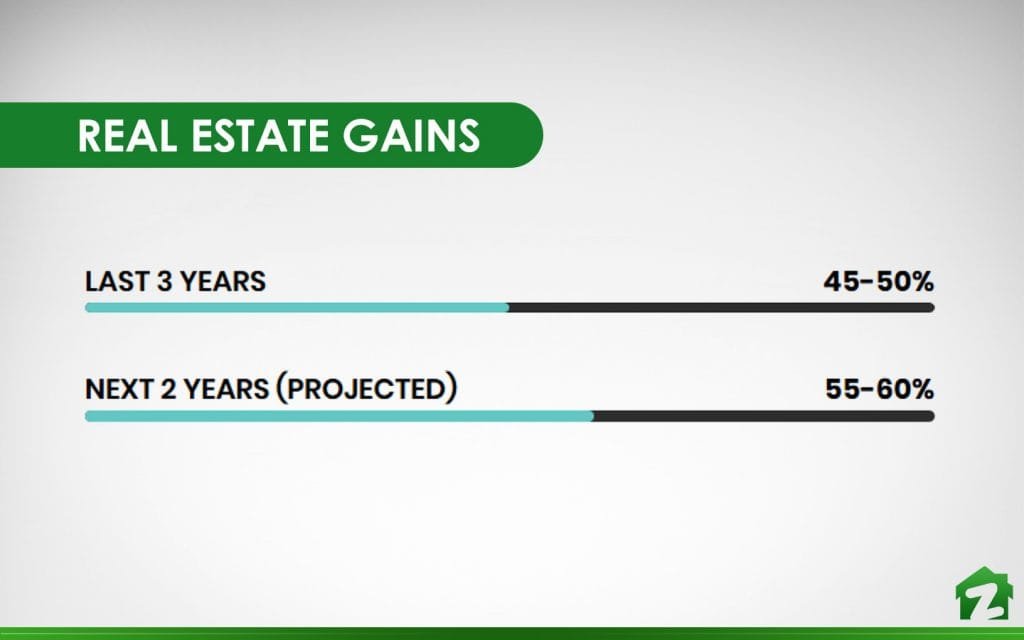 Real estate values in the area have risen 45-50% in the last 3 years, and a 55-60% increase is projected over the next 2 years.
6-7% annual rental return is expected.
Located on Raiwind Road, a hub of infrastructure development and real estate investment.
Offering residential & luxurious facilities.
Safety and security measures.
Timely completion of project guaranteed.
High-quality construction & building techniques & materials.
A project by reputable developers (Zameen Developments).
No income source declaration required due to FBR Registration.
Smart investment for passive income.
Prime or key location.
Documentation transparency and ease of ownership transfer.
Approved by Lahore Development Authority (LDA), with sanctions from all concerned public authorities.
Affordability & flexibility in payment plan.
Demand for apartments continues to grow.
Optimal investment option that gives high Return on Investment (ROI).
WHAT DOES AN INVESTOR LOOK FOR WHILE INVESTING
Here's a look at some of the most important things to consider if you plan to invest in the real estate market:
Location of the property.
Value of the property.
Area of the property.
Builder repute verification.
Title deed verification.
Necessary approvals (NOC) by the local body.
Investment Purpose and Investment Horizon.
BENEFITS OF INVESTING IN RENTAL PROPERTY
Potential for long-term returns.
Provide a regular income.
Wealth accumulation.
Hedge against inflation
Appreciation in the property.
Steady stream of cash flow.
Advantages/deductions in tax.
DOCUMENTATION REQUIRED FOR BOOKING
The following documentation is required for booking any property:
Two passport size Pictures.
Two copies of your National Identity Card.
Two copies of the ID card of your next to kin(father, mother, wife, sister, brother).
NICOP for overseas clients.
CONCLUSION – ZAMEEN OPAL, LAHORE
Zameen Opal is the ideal combination of elegance and comfort. These apartments are excellent for both residence and investment, with construction set to begin soon. If you rent out your unit to a high-end tenant when the development is finished, you will have a guaranteed monthly rental income.
So, if you are part of the same crowd looking to invest in installments in Lahore's new residential projects in 2022, contact INVEST LAHORE now!