| | | |
| --- | --- | --- |
| DHA Gujranwala 10 Marla File Rates Today | | |
| DHA Gujranwala Files For Sale | File/Plot Prices | Date |
| DHA Gujranwala 10 Marla Residential (Booking 44 Lacs in 4 years instalments) | 5 Lacs Profit | 22/10/2022 |
| DHA Gujranwala Land Affidavit (10 Marla) | Call us for Best Rates | 22/10/2022 |
| DHA Gujranwala Land Allocation (10 Marla) | 49.50 Lacs | 22/10/2022 |
Plots For Sale In DHA Gujranwala
| | | |
| --- | --- | --- |
| Plots For Sale In DHA Gujranwala | File/Plot Prices | Date |
| DHA Gujranwala Commercial Installment Files Buyer Prices Update | | |
| DHA Gujranwala 4 Marla ( Booking 225 Lacs in 5 years instalment) | 100 to 125 Lacs Profit | 22/10/2022 |
| DHA Gujranwala 4 Marla ( New Booking 325 Lacs in instalment) Zone 1 Or Zone 3 Plots | 100 Lacs Profit | 22/10/2022 |
| DHA Gujranwala 8 Marla ( Booking 425 lacs in 5 years in instalment) | Rarely Traded | 22/10/2022 |
| DHA Gujranwala Residential Plots for Sale | File/Plot Prices | Date |
| DHA Gujranwala 10 Marla Price Facing Park | G1 299 @ 72 lac OBF | 22/10/2022 |
| DHA Gujranwala 10 Marla Price | G1 612 @ 64 lac | 22/10/2022 |
| DHA Gujranwala 10 Marla Price | G2 48 @ 65 lac SBF | 22/10/2022 |
| DHA Gujranwala 10 Marla Price | G2 96 @ 64 lac SBF | 22/10/2022 |
| DHA Gujranwala 10 Marla Price | L1 115 @ 63 lac | 22/10/2022 |
DHA Gujranwala
Through the integration of significant educational, health, business, and recreational facilities, DHA aims to give the historically and culturally rich city of Gujranwala an aesthetically futuristic living system.
DHA Gujranwala is built on development, pragmatism, and traditional life in the Golden Industrial Triangle. It generates rewards for both investors and the general public, improving housing conditions and raising land values, significantly improving the region's economic prospects and making it a desirable place for settling and making investments.
Our future urban homes will be modern, environmentally friendly, and in keeping with our socio-cultural traditions.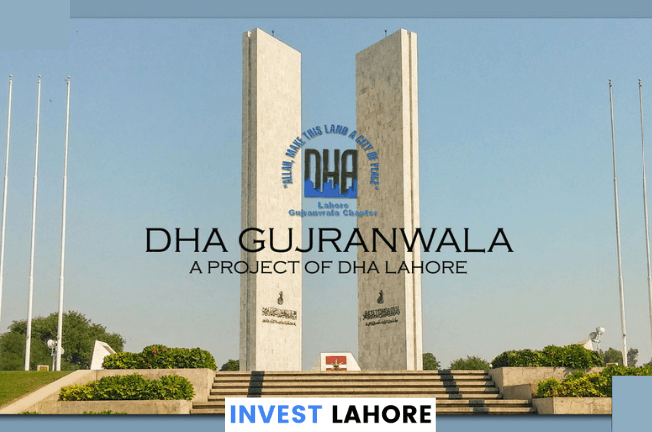 DHA Lahore
The Defence Housing Authority Lahore is a nonprofit corporation operating under the direction of the Pakistan Army. The goal is to give the families of fallen soldiers and wounded soldiers an honourable way of life while also giving Pakistan's citizens access to modern, safe housing. Offering high-end living amenities at a reasonable cost is one of DHA Gujranwala's defining goals.
Defence Housing Authority Lahore is a "Nationally recognised corporate" company that has laboured to give the people of Pakistan the option to live in creative modern living structures.
Using modern designs in the development of residences, infrastructure, and vital accompanying amenities, has breathed new life into "Defence Living," making it gloriously lively, pleasantly dynamic, and easy to live.
They seek to deliver competitive and artistically constructed real estate properties that meet the genuine needs of clients, and to become a prominent participant in Pakistan's real estate business, filling a need in the market.
Projects Of DHA Lahore
Since its establishment, DHA has developed several magnificent projects around Pakistan. The projects that are currently in operation are:
Goldcrest in phase IV.
Penta square phase V.
Dolmen Mall.
IVY College of Management Sciences.
DHA Gujranwala.
DHA Gujranwala Goals and Priorities
To provide our people with a modern urban lifestyle.
To offer contemporary, global living standards.
To provide essential municipal services including health, education, and leisure to our citizens and stakeholders.
To guarantee the provision of durable infrastructure for the benefit of the populace.
To officially launch an excellent educational city.
To ensure a healthy and environmentally friendly 14living space.
Creating a sociocultural thread by connecting individuals.
To promote religious harmony by offering public places of worship.
DHA Gujranwala Location
DHA Gujranwala is the only DHA project to be located on Main GT Road. Its location in the centre of the Golden Industrial Triangle offers vital access points and resources. The project's location provides access to industrial zones and agricultural land and has roomy residential and commercial areas, making it an excellent place to live.
It is conveniently positioned next to the Rahwali Cantt Chenab gate, yet it is between 8 and 12 kilometres from the centre of Gujranwala. It has a number of exits that are accessible immediately from GT Road and Gujranwala Cantt.
1 min drive from Main GT Road.
5 min Drive from Gujranwala Cantt.
20 min drive from Gujranwala Railway Station.
10 min drive from Gujranwala Jinnah Interchange.
8 min drive from Gujranwala Daewoo Bus Terminal.
20 min drive from Gujranwala Old Town.
55 min drive from Daska Interchange M 11.
30 min drive from Wazirabad.
DHA Gujranwala Features
Modern-Day Housing Project.
Plenty Of Latest Conveniences.
High-End Living Amenities.
Lavish Emporium Of Shopping.
Green, Lush Parks.
Educational Institutes Within The City.
Five-Star Hotel.
Unparalleled Recreational Resources.
Athletic Stadium.
Health Care Facilities.
Large Mosque.
Broad Roads And A Greenbelt
Subterranean Electricity.
Plants For Filtrating Water.
Grid Plan.
Constant High-Security.
DHA Gujranwala Sectors
Sector A.
Sector B.
Sector C.
Sector D.
Sector E.
Sector G.
Sector J.
Sector K.
Sector L.
Sector M.
ARY Laguna DHA Gujranwala
In all DHAs of Pakistan, ARY Laguna is a top-tier flagship project. Following the success of ARY Laguna DHA City Karachi on a global scale, ARY has partnered with DHA Gujranwala to introduce ultimately more extremely high-end villas and apartments there.
A crystal lagoon is being built around an artificial beach in Gujranwala as part of a cutting-edge project that makes use of first-rate technologies. Prices, payment plans, launch dates, ARY Laguna booking forms, the address, the master plan, and the most recent information regarding the DHA Gujranwala debut date are all available here.
DHA Gujranwala ARY Laguna Offers
The opening of Ary Laguna DHA Gujranwala is scheduled for January 9, 2022. The Laguna DHA Gujranwala Master Plan is constructed in such a way that all homes are close to the Beach-themed views lagoon, which has a total covered area of about 60 Acres.
Villas.
Plots.
Hotel Villas.
Hotel and Serviced Apartments.
Mansions & Island Mansions.
Sizes are ranging from
125 Yards 5 Marla.
250 Yards 10 Marla.
500 Yards 1 Kanal.
1000 Yards 2 Kanal.
4 and 8 Kanal High-End Mansions & High-end Island Mansion.
ARY Laguna DHA Gujranwala Prices/Rates
DHA Gujranwala Prices for ARY Laguna Villas have not yet been disclosed by the developer, but they will do so along with a special payment schedule when ARY Laguna is formally launched in DHA Gujranwala.
DHA Gujranwala Villas
DHA Gujranwala has signed MOUs for a joint venture to construct 5, 6, and 10 Marla villas with modern amenities. On May 7, 2021, the project's foundation was officially laid. Additionally, a ballot for the application forms was conducted.
5 Marla Villa
Type
Villas
Area
1750 sqft
Bedroom(s)
3
Kitchen
1
TV Lounge
2
Bath(s)
3
Servant Quarter
No
Terrace
Yes
Other(s)
Lawn | Car Porch | 1 Dressing Room | 1 Powder Room | 1 Dinning Room
Internal Amenities
Earthquake Resistant |
6 Marla Villa
Type
Villas
Area
2050 sqft
Bedroom(s)
4
Kitchen
1
TV Lounge
2
Bath(s)
4
Servant Quarter
No
Terrace
Yes
Other(s)
Lawn | Car Porch | 1 Box Room | 1 Powder Room | 1 Dinning Room
Internal Amenities
Earthquake Resistant |
10 Marla Villa
Type
Villas
Area
3500 sqft
Bedroom(s)
5
Kitchen
1
TV Lounge
2
Bath(s)
5
Servant Quarter
Yes
Terrace
Yes
Other(s)
Lawn | Car Porch | 1 Open Kitchen | 1 Powder Room | 1 Dinning Room
Internal Amenities
Earthquake Resistant |
Ballot Results DHA Gujranwala
The much-anticipated DHA Gujranwala Ballot is going to take place on 30th June 2022, according to the latest reports. The Ballot ceremony will also be live-streamed on its official Facebook page. The outcomes will be made public soon after. Therefore, the Balloting Results DHA Gujranwala will be made available on the official website within 24 hours.
The ballot will contain all residential and commercial files. There will be 10 Marla, 1 Kanal of partial allocation files and 5 Marla of complete files.
DHA Gujranwala Balloting 2021 Result Updates
10,000 Residential Plots.
300+ Commercial Plots .
Villas are now available with a decreased payment schedule that was adjusted from 1.5 years to 2 years.
Reduced down payment for Apartments.
Ary Laguna is upcoming.
Conclusion – DHA Gujranwala
Currently, DHA Gujranwala is arguably the most promising project. The project has the best access route imaginable, which is without a doubt unmatched, with the main GT Road front.
The project offers ideal timing for investors wishing to hold their assets for a significant amount of time because DHA Gujranwala is expected to be the leading society in terms of living standards.
INVEST LAHORE wish all file holders the very best on this historic occasion. Get in touch with us if we can be of any help, whether it be the voting results or an evaluation of the market value of your site.
Keep reading INVEST LAHORE Articles for more Pakistan-related content. Send us your feedback and recommendations .We like hearing from our readers!