LUXURY APARTMENTS FOR SALE IN LAHORE
A home is an excellent investment since it yields a high rate of return. A luxurious apartment is not as expensive as it seems. Look for something more affordable rather than settling for a mid-range apartment. People will be willing to spend more for a luxury lifestyle apartment that allows them to enjoy all of the benefits of a rich life in elegance. This article is a complete guide on Luxury Apartments for sale in Lahore 2022.
The finest thing about luxury apartment construction is that it focuses the apartments outside look by giving imaginative living spaces, gardening, and scenic beauty that may provide inner calm and happiness.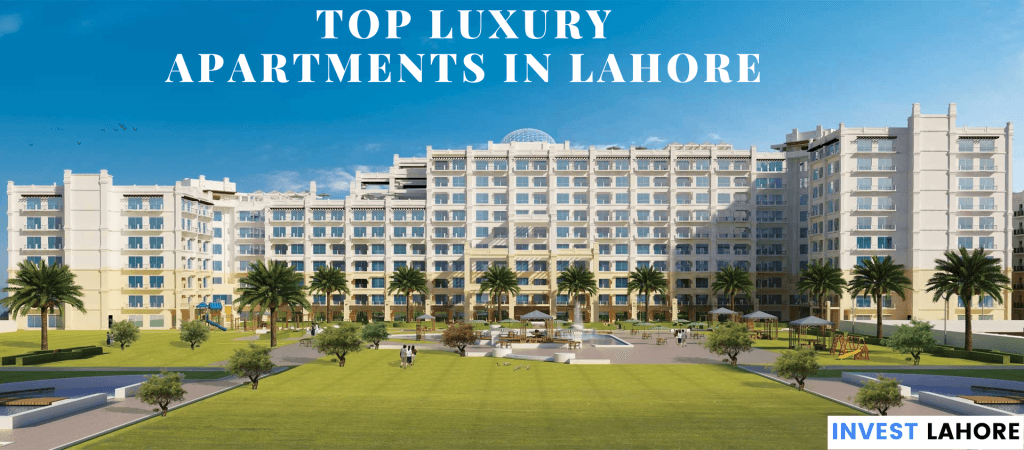 NEED OF LUXURY APARTMENTS IN LAHORE
The number of luxury apartment in Lahore has risen dramatically in recent years. This increase in high-rise residential structures reflects a dramatic cultural shift among the city's younger citizens.
Apartment living has been gaining popularity in major cities for some time. Between 2018 and 2020, the demand for residential flats in the Lahore region increased by 127%. These apartments are suitable not only for domestic use but also for investment, with a projected annual rental yield of 7% according to market figures.
FACILITIES IN LUXURY APARTMENTS
Luxury apartments offer premium facilities at a lower price than other real estate projects in the vicinity. These are the features that make luxury apartments essential for the future:
Gated and Secured Community.
High standard & planned residential project.
24/7 CCTV Security & surveillance System.
Modern infrastructure.
Water bodies & fountains.
jogging/walking track.
High-Speed Elevators.
Commercial facilities.
Central heating system.
Kids play area.
Handicapped accessible.
Modern indoor Cafes & Restaurants.
Dry cleaning services at doorstep.
Gymnasium.
Dedicated Parking.
Designated fire exits on each floor.
Business and conference rooms for official events.
Lavish salons and spas.
High speed internet.
Juice bar/Relaxation lounge.
Latest garbage shooting system.
Responsible maintenance staff.
Indoor car wash facility.
Sitting area & gardens.
24hrs electricity, gas and water backup.
Effective construction framework to withstand natural calamities.
Firefighting and alarm system.
easy instalment plan.
Fast cargo lifts.
Central air conditioning.
surrounded with luscious greenery and enchanting scenic views.
TOP LUXURY APARTMENTS IN LAHORE 2022
Apartments are quite appealing to a majority of real purchasers in Lahore, and several housing plans are launching residential apartment buildings. In this blog article, we will provide you an overview of the best luxury apartment for sale in Lahore that offer apartments on instalments.
INDIGO BOUTIQUE APARTMENTS.
THE SPRINGS APARTMENT HOMES.
DOWNTOWN MALL & RESIDENCY.
MADISON SQUARE APARTMENTS.
INDIGO BOUTIQUE APARTMENTS
Indigo boutique apartments is a luxurious residential project with breathtaking classical architecture at the key locations of Lahore, DHA and Gulberg III. Hi-speed lifts, wide stairs, spacious corridors, rooftop swimming pool, health club plus a plenty of top-notch amenities that offers you to enjoy a high end luxury lifestyle.
STRUCTURE SPECIFICATIONS
Indigo Apartments is a 11-Level iconic residential building on a covered area of more than 1-Lac square feet presents luxury apartments for sale in Lahore:
Luxury Villas.
1-Bed Boutique Apartments. (450 sq.ft. to 750 sq.ft.)
2-Bed Boutique Apartments. (890 sq.ft. to 1350 sq. ft.)
3-Bed Boutique Apartments. (1550 sq. ft. to 1750 sq.ft.)
This project also has 2-level secure, underground parking that is sufficient for residents and visitors.
DEVELOPERS
This luxury residential apartments project is designed and planned by the INDIGO DEVELOPERS. Indigo Developers is a Pakistan Engineering Council approved turnkey developer and builder. They've finished and executed a variety of residential and commercial real estate projects, as well as high rise mixed use buildings. Indigo developers extensive experience in design and architecture, construction engineering and development, and property management demonstrates the value of their 360° approach.
LOCATION
Indigo boutique apartments are conveniently positioned in two of Lahore's most promising and potential areas. One project is in Gulberg III while the other one is in DHA.
DHA INDIGO APARTMENTS
Indigo Boutique Apartments are located ideally in DHA Phase 8,Air avenue, the most developed phases of DHA Lahore and have a significant investment potential. The apartment building is almost 2-minute drive from Allama Iqbal Airport and ring road,7-minute drive from LUMS and 5-minute drive from DHA phase 5. All the best educational, commercial, healthcare and recreational facilities are accessible nearby to this luxury apartment in DHA Lahore.
GULBERG III INDIGO APARTMENTS
Indigo boutique apartments has a prime location in Gulberg III near liberty market, M.M Alam road, Gaddafi Stadium, a great addition in luxury apartments in Gulberg Lahore. All of Lahore's major residential districts are easily accessible from the apartments. This project is almost 15 minutes drive away to DHA Main Boulevard and has a direct approach to Model Town, Garden Town, Johar Town and Faisal Town.
PAYMENT PLAN
Indigo Builders may simply reserve your 1, 2 & 3 Bedroom Luxury Apartments with an affordable payment plan. Book one of these luxurious apartments on:
2 years easy instalments plan.
25% down payment.
Price starting from 90 lac rupees.
Indigo Boutique Apartments are offered for RS. 16,500 per square foot. So a rough estimation can be taken for a 2 or 3 bed apartment according to the sizes.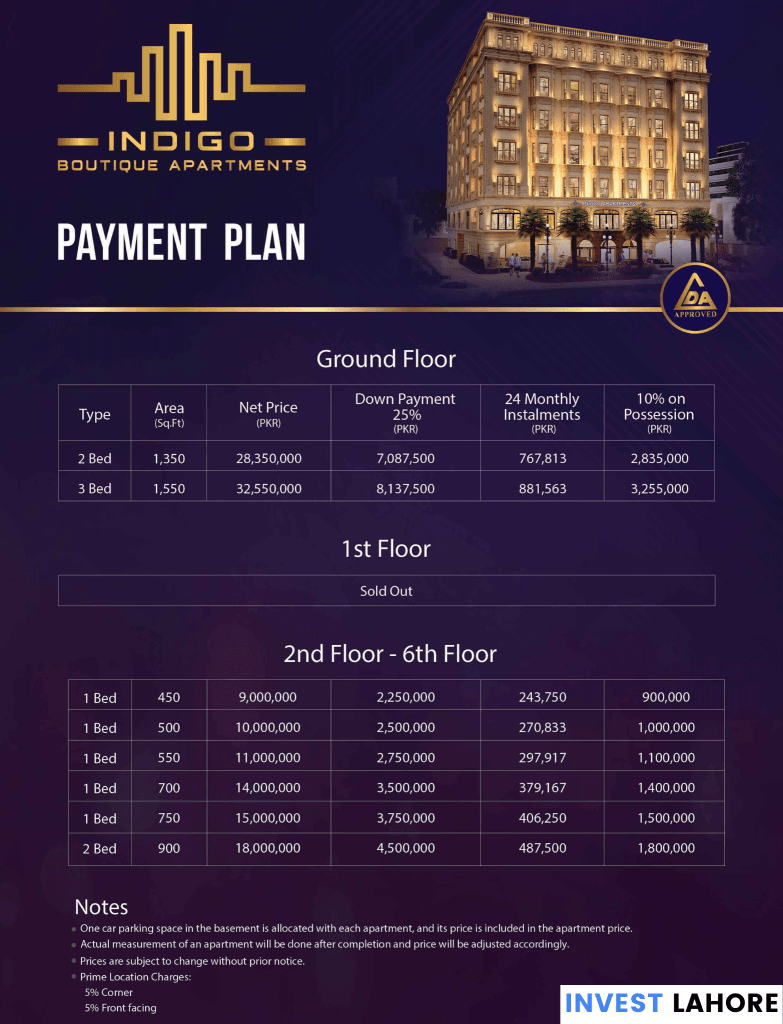 GOLD CREST MALL & RESIDENCY
Goldcrest Mall & Residency is a premium building that intends to become an iconic luxury apartments in DHA Lahore's booming urban arena. The project comprises beautiful and opulent top luxury apartments in Lahore, handy highways, lush green surroundings, and an extensive list of amenities, all conveniently located near vital institutions and entertainment hotspots.
The pace of advancement and development is incredible that the Gold Crest mall & residency completed its grey structure by 100%.DHA Lahore's Goldcrest Mall provides a perfect location for brand stores to attract clients located in DHA, Lahore's business and upscale district having all the educational, health and commercial facilities nearby.
STRUCTURE SPECIFICATIONS
Gold Crest Mall & Residency is a 19 storey tallest building in DHA Phase 4 which is offering 254 incredibly designed luxurious apartments on 10 levels, and 4 dedicated basement parking levels. This project has dedicated 4 levels measured as 250,000 sq.ft. for commercial space having 55 plus brands on board like AL FATAH, Fun city and super cinema. Goldcrest Residency offers various types of luxury apartments for sale in Lahore:
1 bed apartments.
2 bed apartments.
3 bed apartments.
3 Bed duplex apartments.
DEVELOPERS
This premium project by GIGA GROUP is being developed in conjunction with DHA Lahore. The developers are well-known in Pakistan and the United Arab Emirates. Giga Group is thrilled to introduce the improved version of the Icon of Dubai to Pakistan, having won the "Best High-rise Development Award 2008" in Dubai. Giga group has several projects under construction and in the completion process which includes:
Giga Mall.
Goldcrest Highlife.
D Mall.
Lignum Towers.
LOCATION
Gold Crest Mall & Residency is located at 456 DD Phase 4, one of DHA Lahore's most developed phases, and offers excellent investment opportunities. The well-known DHA-Y block market is only 2 minutes drive from the apartments. The Lahore Ring road is only around 10 minutes away, while Allama Iqbal International Airport is only about 15 minutes away.
PAYMENT PLAN
The payment plans of Goldcrest residency are affordable and flexible. The properties for sale are open for booking at an easy instalment schedule. Investors will get huge profits off their money in the future; however, the high rental incomes are guaranteed. The payment plan is given below: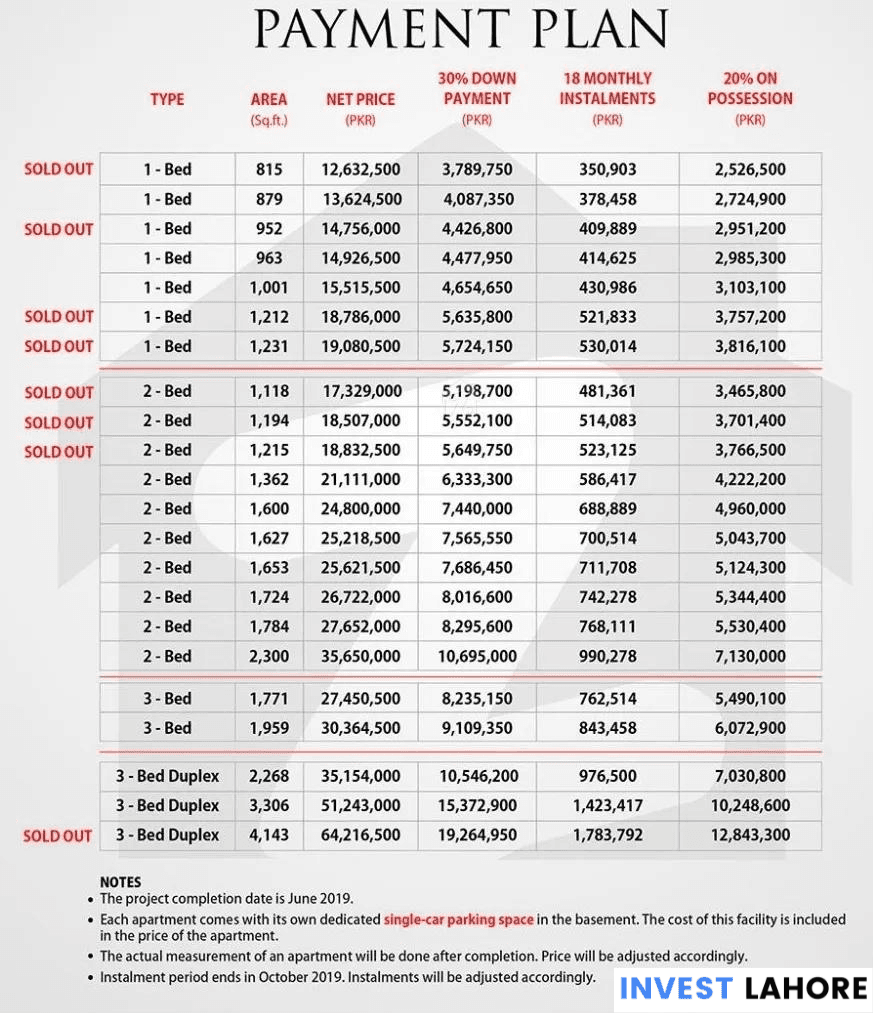 THE SPRINGS APARTMENT HOMES
The Springs Apartment Homes is a spectacular vertical residential complex that fosters community. This gated neighbourhood consists of four buildings surrounding a well-kept courtyard. The project is designed to deliver a high quality of life in a compact location, guaranteeing that our loyal customers can afford it. This project will provide them with substantial financial and rental gains, as well as the opportunity to live in the centre of Lahore.
It is built on five blocks on an 86-kanal plot of land near DHA EME on Canal Bank Road, where 50% area is dedicated for Centre Courtyard along with Royal Club.. Spring apartments offers top luxury apartments in Lahore:
Studio apartments.
Suite apartments.
1 bed apartments.
2 bed apartments.
3 bed apartments.
DEVELOPERS
Orbit Developers Pvt LTD, in collaboration with Orbit Housing, is developing the Spring Luxury Apartments Lahore project. Orbit Housing is a private company that has partnered with Orbit Developers to carry out this fantastic project. The developers are a well-organized group of experts with enormous abilities.
Orbit Developers also offers a talented and experienced executive team with backgrounds in engineering, architecture, accounting, operations, interior design, and management. The interior design of the flats and villas at Spring Apartments Lahore has been outsourced to an architectural firm by the developer.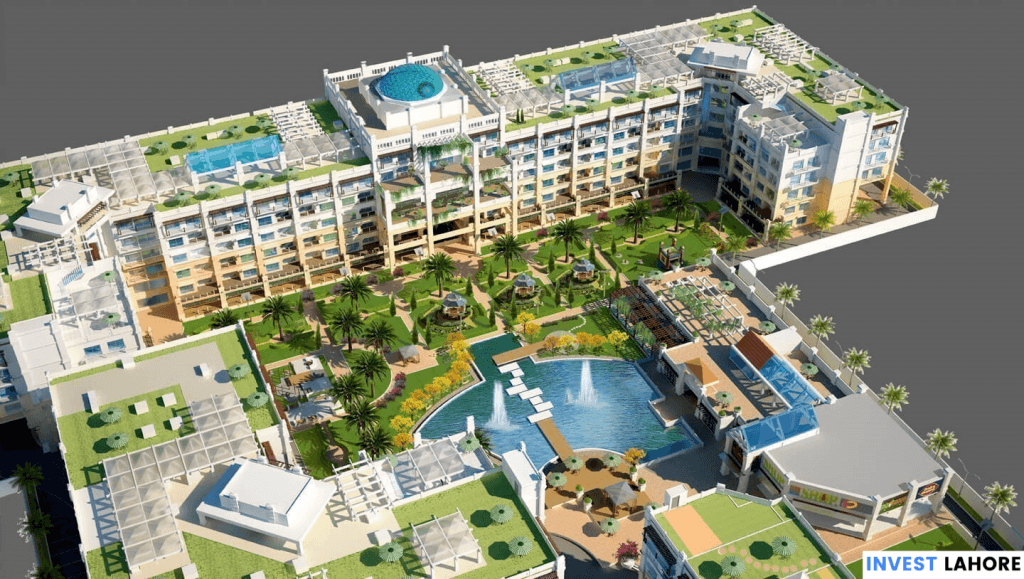 LOCATION
Spring apartments are nestled in two of Lahore's most promising and viable districts. One project is located in Gulberg another in canal road.
SPRINGS CANAL ROAD
Orbit Developers has chosen a highly anticipated town location along Canal Road and Qarshi University, directly across from the DHA EME Sector. The Springs Apartment Homes is close to some of Lahore's most well-known residential and commercial complexes, including Izmir Town, Bahria Town, Tricon Village, Jubilee Town, Sukh Chain Garden, and Green Fort Lahore.
SPRINGS GULBERG
Over the previous ten years, Gulberg has established itself as Lahore's Central Business District ("CBD"), with property values increasing at a rate of over 25% per year, compared to the city's general average of 10% per year. Springs Gulberg is a great addition in luxury apartments in Gulberg Lahore.
The project's land is in close vicinity to the Qaddafi Stadium, having easy access via Ferozepur Road, the canal (through Zahoor Elahi Road), Main Boulevard Gulberg, and the main hub of IT business (Hafeez Centre), Hali Road, and Liberty Market. The venture is within walking distance of Lahore's top-rated fitness club (Shapes), which offers potential clients the option to live a healthy lifestyle. Top private schools, colleges, and institutions surround the project.
PAYMENT PLAN
The payment plan has been devised in such a manner that consumers may easily afford it over the course of four years. The down payment for the booking is 10%, and after a month for confirmation, a sum equivalent to 10% is due, with the remaining payment due in 48 months or 16 quarters.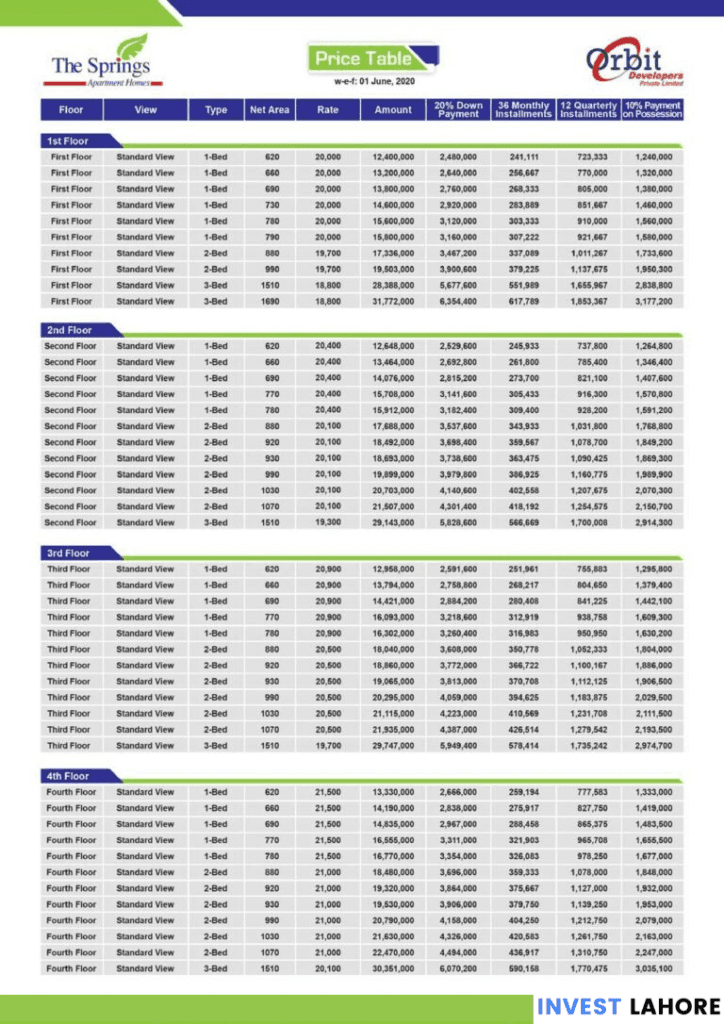 DOWNTOWN MALL & RESIDENCIES
Downtown is an optimum chance for real estate investment & a great addition in luxury apartments in Gulberg Lahore. Downtown Mall & Residences is a project of Mukhtar Group of Companies and AFA Properties that is set to become one of Lahore's highest buildings. It has an opulent multi-purpose tower with a breathtaking perspective of the ancient city as well as world-class facilities and services. The project is Offering completely furnished luxury flats for sale with a 30-month flexible payment plan.
Downtown Mall and Residencies is a great blend of modern and completely functional living space, designed just in time to enable Lahore to accept worldwide construction standards for high-rise buildings and flats.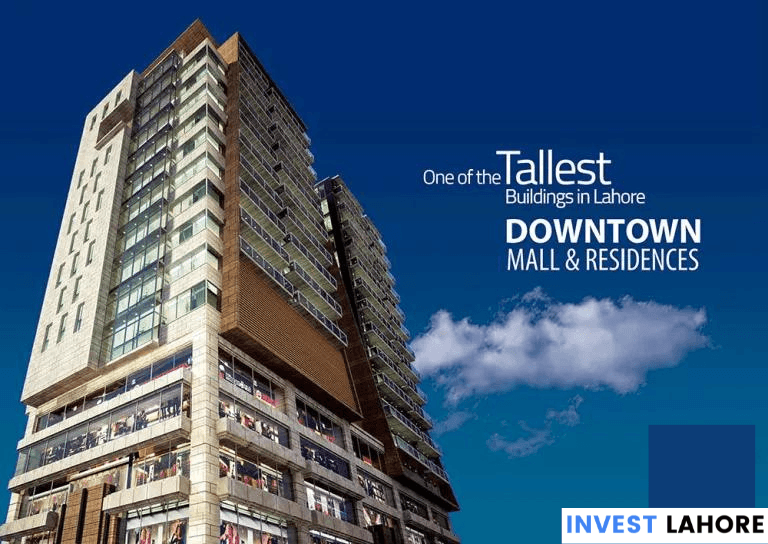 STRUCTURE SPECIFICATIONS
Downtown Mall & Residency is Gulberg's 21-story highest skyscraper, with 93 exquisitely built luxury residences on 10 floors and 4 dedicated basement parking levels. It is a 210-foot tall structure featuring 5 levels of commercial and mixed-use space and 2 levels for multiplex.
Here are the categories of luxury apartments for sale in Lahore in Downtown Mall.
Deluxe flats.
1-bedroom suites.
Apartments with 2-bedrooms.
Apartments with 3-bedrooms.
Apartment with 4-bedrooms.
Penthouses.
The entire mall is furnished by the exquisite Spanish furnishers 'Wing Chair'.
DEVELOPERS
Downtown is a Saiban Developers project at Lahore's most prestigious address. Structure work at Downtown Mall and Residencies is complete by over 40%. Saiban Developers constructed the project under direct supervision of qualified and experienced structure, public health, electrical, mechanical and HVAC engineers.
The Mukhtar Group of Companies and AFA Properties have collaborated on this special project to present modern-day Lahore with the city's highest Luxury Residential Complex.
Before beginning construction on the property, Saiban Associates obtained permission from all relevant government entities in Lahore. The LDA, Water and Sanitation Authority (WASA), Lahore Electric Supply Company (LESCO), Traffic Engineering & Planning Agency (TEPA), Environment Protection Agency (EPA), and Parks & Horticulture Authority have all given their approval (PHA).
LOCATION
One of the most appealing qualities of Downtown Mall and Residences is its great location. The mall is located at 134-E/1 Gulberg III, near the Liberty Roundabout, in the Centre of Lahore. The nearby locations from apartments are:
6-minute walk from Monal Lahore.
Hyde Park is a 7-minute walk away.
Liberty Market is a 10-minute walk away.
3-minute drive to Gaddafi Stadium.
5-minute drive to United Christian Hospital.
5-minute drive from MM Alam Road.
5 min drive from Kalma Chowk.
25 min drive from Lahore Railway Station.
30 min drive from Lahore International Airport.
PAYMENT PLAN
The developer has set the pricing for an apartment for sale in Lahore at PKR 25,000 per square foot to make the process as simple as possible for customers. You may reserve your apartment for +20 of the total amount today.
MADISON SQUARE APARTMENTS
An excellent addition in the luxury apartments for sale in Lahore having state of the art shopping and entertainment options and living needs of people according to the latest trends and demands. Madison Square apartments stands unique among all other apartment projects because it holds a mall for shopping requirements, eye-catching food court, state of the art gym and many other luxury amenities under one roof. These apartments offers top luxury apartments in Lahore of various sizes:
1 Bedroom Apartments (509 sq. ft.).
2 Bedroom Apartments (1325 sq. ft.).
LOCATION
In Lahore city, Gulberg is regarded as a fantastic area to live a modern life and invest in both business and residential properties. This location has a lot of potential for investors in terms of profit, growth, and returns.
Madison Square mall is also located on the prime location of Gulberg III,92-B/2, Lahore, Mian Mehmood Ali Qasuri Road, opposite Al Fatah for facilitated living. In Gulberg, properties have much more worth than any other area of Lahore. All the famous roads and landmarks are near the Madison Square mall like M.M Alam road, Liberty Market, Cavalry Ground, DHA etc.
DEVELOPERS
Repute of developers in any project considered much more crucial for a successful business. Madison Square Mall is developed by the 6th SENSE GROUP PVT. LTD. is a Leading real estate company striving to create high-quality developments. This amazing group has built some of the greatest and most prestigious commercial constructions, including:
PAYMENT PLAN
Madison Square Mall is a great opportunity for potential investors and consumers. The payment plan is designed by keeping in mind the ease and affordability of consumers. Investors will get huge profits off their money in the future; however, the high rental incomes are guaranteed.
WHY INVEST IN LUXURY APARTMENTS?
Approved by Lahore Development Authority(LDA) or DHA(if located in DHA).
Availability of luxurious amenities of life.
Sustained Growth real estate.
Completion guaranteed.
Safety and security measures.
Direct access to top-notch facilities.
Prime or key location.
All the amenities under one roof.
luxury residential apartments with an easy instalment plan.
Demand for apartments continues to grow.
Optimal investment option that gives high return on investment.
Meet the rapidly changing lifestyles.
Guaranteed annual rental yield.
Smart investment for passive income.
WHAT DOES AN INVESTOR LOOK FOR WHILE INVESTING?
Here's a look at some of the most important things to consider if you plan to invest in the real estate market:
Location of the property.
Value of the property.
Area of the property.
Builder repute verification.
Title deed verification.
Necessary approvals (NOC) by the local body.
Investment Purpose and Investment Horizon.
BENEFITS OF INVESTING IN RENTAL PROPERTY
Potential for long-term returns.
Provide a regular income.
Wealth accumulation.
Hedge against inflation
Appreciation in the property.
Steady stream of cash flow.
Advantages/deductions in tax.
DOCUMENTATION REQUIRED FOR BOOKING
The following documentation is required for booking any property:
Two passport size Pictures.
Two copies of your National Identity Card.
Two copies of the ID card of your next to kin(father, mother, wife, sister, brother).
NICOP for overseas clients.
CONCLUSION
According to the New York Times, Lahore is the top tourist destination in the world, and more and more people are becoming interested in this provincial city that is generating real estate headlines for all the right reasons.
Above stated some of the popular and luxury apartments for living and investing. All of these apartments are a perfect mixture of luxury and comfort and ideal for both residence and investment.
So, if you are part of the same crowd looking to invest on instalments in Lahore's new apartment projects in 2022, contact INVEST LAHORE now!