Tele Tower Model Town Link Road Lahore
Tele Tower, a wonderfully planned commercial complex along Model Town, Link Road, Lahore is yet another business contribution to the Lahore city's skyline. Tele Tower Model Town Link Road Lahore has been approved by the (LDA) Lahore Development Authority and developed by the trustworthy name "ICON VALLEY DEVELOPERS".
Tele Tower Model Town Lahore is a very lucrative commercial complex that offers all of the modern amenities consumers desire. Real purchasers and investors will be attracted to the project's huge and attractive architecture, prominent location, and exquisite facilities.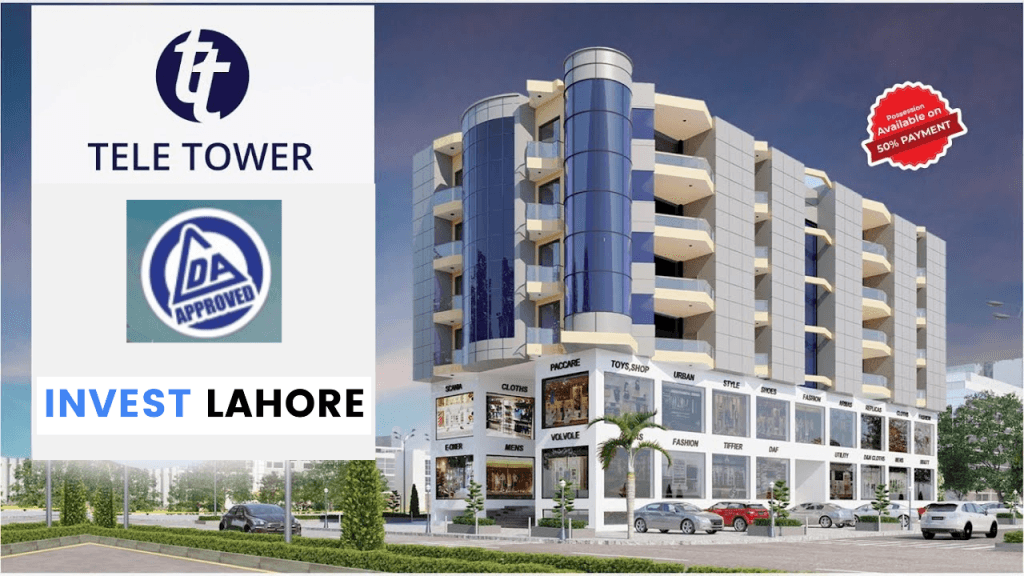 Tele Tower is an eventually declared project that is a perfect blend of properties for sale to entice investors and buyers. It flawlessly integrates some of the most modern amenities required for comfortable working space, including commercial shops and corporate offices. The commercial hub is built on 7 storeys, offering retail outlets, commercial shops & corporate offices with a fascinating glass exterior. 
Tele Tower Model Town Owners & Developers
Investing in a project requires an in-depth look at the developers and owners because it enhances your trust in that project.
Tele Tower is an impressive commercial project of Icon Valley, Pakistan's prominent real estate development firm. Since 2008, Icon Valley has constructed various property and residential projects in Pakistan. It is created by a group of people that are enthusiastic and devoted to the professions of design, architecture, engineering, building, and other related fields.
Icon Valley Developers
Icon Valley is built on the ideals of integrity, accountability, dedication, and excellence and has specialists in real estate contract projects.
The mission of Icon Valley is to operate in a safe and lucrative manner while exercising social and environmental responsibility, offering services that fulfil the requirements of customers and contribute to the development of Pakistan.
Its mission is to give economical yet spectacular homes and plots for sale in Lahore to moderate and lower-income families. Icon Valley, with projects in numerous urban regions, provides its diverse customer with the chance to buy and rent high-quality residences, villas, commercial shops, and luxury flats in Lahore.
Icon Valley Projects
Icon Valley is an organisation comprised of experienced and motivated professionals trying to revolutionise Pakistan's development and construction industries. Here are some completed & ongoing projects of Icon Valley Developers
Icon Homes.
Icon Heights.
Icon 57.
Icon Service Apartments.
Tele Tower Model Town Location & Map
The strategic location of Tele Tower significantly improves the project's accessibility and value. It is located at F899+G38, Tyron, R-A Wali Gali, Lahore, 54600, Pakistan.
Model Town Link Road is a top-tier business and commercial hub. In terms of new projects, this region has been thriving, with increased demand and rising prices. Tele Tower strives to meet all businesses' needs and challenges. The chosen location for the endeavour is the most upscaled location, with over 90% of established commercial civilizations in the surrounding area.
Lahore is the capital of Punjab and has many employment, health, educational, and commercial opportunities for outsiders. Tele Tower provides easy access to all of Lahore's central residential districts. The project has a direct approach to Metro Cash & Carry, McDonald's, Amanah Mall, Canal Road, Model Town Park and Packages Mall.
Tele Tower Link Road Nearby Accessibilities
Tele Tower Link Road is nearly accessible to many well-known areas as
Located on the Link Road, Model Town.
1-minute drive to Amanah Mall, McDonald's & Metro Cash & Carry.
2-minute drive to The City School Model Town Campus.
5-minute drive to Canal Road.
7-minute drive to Township Market Lahore.
10-minute drive to FAST NUCES Lahore.
10-minute drive to Model Town Park.
12-minute drive to Jinnah Hospital.
16-minute drive to Gulab Devi Chest Hospital.
18-minute drive to Packages Mall.
26-minute drive to LUMS.
Tele Tower Nearby Landmarks & Places
Tele Tower is close to several recreational amenities, hospitals, and educational institutions, which range from elementary schools to universities.
Nearby Schools & Universities
Tele Tower has multiple renowned schools and universities nearby including
TCS Model Town Campus.
University Of Mangement & Technology.
University Of Education.
Grand Charter School.
Cathedral School-4
Kips 30 A Main Campus.
FAST NUCES Lahore.
LUMS.
Comprehensive Learning School.
Bascule School Of Learning.
Divisional Public School.
Nearby Bakeries & Restaurants
The options of the eateries in the area are as follows
McDonald's.
Pronto Restaurant.
Gluttony.
Gourmet Restaurant.
Namak Family Restaurant.
Lahori Gate Restaurant.
Village Pizza.
Al Fazzal Barbeque & Restaurant.
Bonfire Kitchen.
Nearby Hospitals & Pharmacies
Hospitals & pharmacies around Pace Lahore are
Jinnah Hospital.
Model Town Hospital.
DHA Medical Center.
Khair un Nisa Hospital.
Saira Memorial Hospital.
Gulab Devi Chest Hospital.
Fauji Foundation.
Ihsan Mumtaz Hospital.
Lahore General Hospital.
National Hospital & Medical Center.
Nearby Parks
The venture has multiple renowned parks nearby including
Children Park.
Model Town Park.
Nishtar Park.
Gulshan Rasool Park.
Faisal Town Park.
Johar Town Park.
Motia Park.
Muhammadi Park.
Shaheen Park.
Tikoni Park.
Local Park.
Tele Tower Model Town Prices & Property Types
Tele Tower offers a variety of commercial outlets and corporate offices on the ground and upper floors. Shops and offices for sale are
Shops (Ground Floor) (109 sq. ft. – 656 sq. ft.)
The shops on the ground level have priced between PKR 48.5 lacs – PKR 4.64 Crore with a 14-month payment plan.
Offices (2nd, 3rd, 4th & 5th Floor) (366 sq. ft. – 1284 sq. ft.)
The offices in Tele Tower have priced between PKR 54.9 lacs – PKR 1.93 Crore with a 14-month payment plan.
Tele Tower Mezzanine Floor
Shops (Mezzanine Floor) (110 sq.ft. – 530 sq.ft. )
The shops on the mezzanine level have priced between PKR 40.8 lacs – PKR 2.59 Crore with a 14-month payment plan.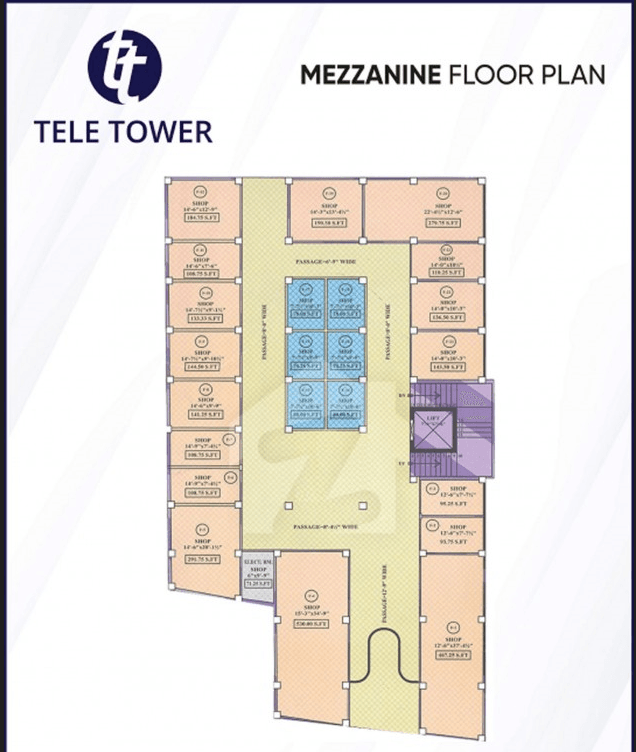 Tele Tower Link Road Salient Features
Tele Tower not only provides basic facilities in a commercial complex but also has many other noteworthy features.
Security Staff.
Mosque.
Heat Proof Ceiling.
Internet access through broadband.
High-speed elevator.
24/7 CCTV surveillance.
Access through satellite/cable.
Flexible Payment Plan of 14 months.
Firefighting System.
Emergency exits.
24/7 power backup.
Airy office balconies for natural ventilation.
Tele Tower Lahore Payment Plan
Everyone is looking for reasonable costs and investment strategies that investors must offer to their buyers. The rates may vary depending upon the covered area and floor options. Tele Tower offices & shops can be booked at a 30% down payment of the total price and are available at 14 monthly instalments.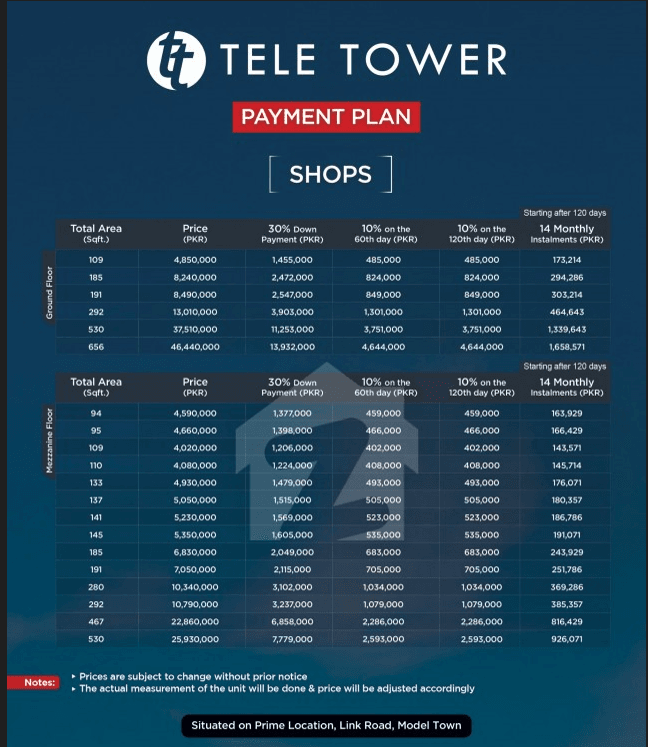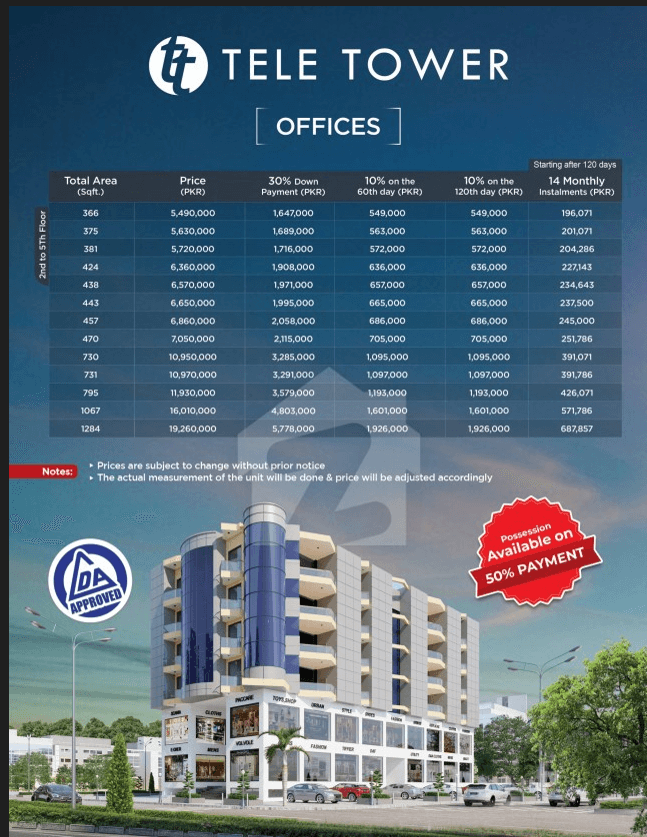 Why Invest In Tele Tower Model Town Lahore?
Located on Link Road, Model Town Lahore provides it with a competitive advantage over similar ventures.
There is an expectation of High Capital Gains in near future from Tele Tower.
Innovative architecture with a glass elevation.
The site is being built at a rapid pace.
A smart investment for passive income.
Tele Tower Link Road will surely be a productive investment because of its developers( Icon Valley ) who never fail in the provision of real estate projects.
Tele Tower is available at a reasonable & affordable cost offering an easy instalment plan of 14 months.
Tele Tower Model Town is an LDA-registered project.
What Does An Investor Look For While Investing?
Here's a look at some of the most important things to consider if you plan to invest in the real estate market:
Location of the property.
Value of the property.
Area of the property.
Builder repute verification.
Title deed verification.
Necessary approvals (NOC) by the local body.
Investment Purpose and Investment Horizon.
Benefits Of Investing In Rental Property
Have a look at the benefits of investing in rental property
Potential for long-term returns.
Provide a regular income.
Wealth accumulation.
Hedge against inflation
Appreciation for the property.
A steady stream of cash flow.
Advantages/deductions in tax.
Guidelines To Follow While Purchasing/Selling Of Property
Following are the guidelines to follow while purchasing or selling any property:
Document Verification
Always verify all the documentation of the property with complete satisfaction to avoid any inconvenience or misunderstanding. Before purchasing and selling any property, make sure to inquire about the NOC and other approval documents by the developers, approved by the authorities. That's how your purchase or sale will be made without any issue of invalidation.
Financial Security
Before selling and purchasing any property, make sure that you have some financial deposits on for backup if needed. While selling and purchasing, please ensure that your funds align with your payment plan. That's how your purchase or sale will be made without any issues.
Property Visits
It is compulsory to do property visits before purchasing and selling any property to analyse the validity and features of the property properly. After the surety of the validity, visit the site to ensure that the required documents are under the plot specifications.
Tele Tower Booking Requirements
The following documentation is required for booking any property:
Two passport-size Pictures.
Two copies of your National Identity Card.
Two copies of the ID card of your next to kin(father, mother, wife, sister, brother).
NICOP for overseas clients.
Charges To Be Paid At The Time Of Booking
30% down payment that is paid at the time of booking. The booking fee must be paid following the unit size specified in the payment plan.
The payments will be made over 14 months in easy instalments.
Conclusion-Tele Tower Model Town
Tele Tower is a commercial & corporate office complex that is the ideal combination of elegance and comfort. The shops are an excellent investment, with construction standards & innovative architecture.
This vertical exquisite is a combination of elegance and commercial civilization and is a wise investment because, in a few future years, there is a hope of high capital gain. Invest for your better tomorrow as it's a legacy for the next generation.
So, if you are part of the same crowd looking to invest in instalments in Lahore's new residential projects in 2022, contact INVEST LAHORE now!