101 By Icon Townhouses
Icon Developer is actively involved in improving the urban environments of Lahore. In this regard, 101 by Icon is the most recent project to address the area's rapidly increasing housing shortage. For both residents and tourists, 101 By Icon seamlessly blends home comforts with commercial activities. This is a proposal that was ultimately illustrated and incorporates some of the most contemporary facilities needed for pleasant living, such as flats or apartments.
Icon Townhouses are LDA (Lahore Development Authority) approved an excellent and affordable housing project developed and owned by Icon Valley Developers. 101 By Icon offers Luxury Apartments for sale in Lahore. 101 By Icon spans 40 Kanals and includes 8 residential towers and 50+ identical Victorian architecture style townhouses with luxury state-of-the-art amenities, strategically located between the icon valley phases 1 and 2.
In between the towers, there is a lush green patio of 21,241 sq. ft. State-of-the-art Health & Community Club spans over 42,312 sq. ft. having all the healthy and recreational activities.
101 By Icon, a wonderfully planned residential venture along Raiwind road, is yet another notable addition to the city's residential endeavor. Icon Valley is strategically located between Superior University and Lake City Scheme and approximately 5 minutes from Lahore Ring road and 15 minutes from Thokar Niaz Baig.
101 Icon Apartments is a thriving residential sector that offers all of the best amenities that modern homeowners require. The project's massive and appealing architecture, prominent location, and exceptional facilities will entice genuine buyers and investors.
101 By Icon-Townhouses Kot Araian Developers
Investing in a project requires an in-depth look at the developers and owners because it enhances your trust in that project.
101 By Icon Raiwind Road is a major venture of Icon Valley, Pakistan's prominent real estate development firm. Since 2008, Icon Valley has constructed various property and residential projects in Pakistan. It is created by a group of people that are enthusiastic and devoted to the professions of design, architecture, engineering, building, and other related fields.
Icon Valley Developers
Icon Valley is built on the ideals of integrity, accountability, dedication, and excellence and has specialists in real estate contract projects.
The mission of Icon Valley is to operate in a safe and lucrative manner while exercising social and environmental responsibility, offering services that fulfil the requirements of customers and contribute to the development of Pakistan.
Its mission is to give economical yet spectacular homes and plots for sale in Lahore to moderate and lower-income families. Icon Valley, with projects in numerous urban regions, provides its diverse customer with the chance to buy and rent high-quality residences, villas, commercial shops, and luxury flats in Lahore.
Icon Valley Projects
Icon Valley is an organization comprised of experienced and motivated professionals trying to revolutionize Pakistan's development and construction industries. Here are some completed & ongoing projects of Icon Valley Developers
Icon Homes.
Icon Heights.
Icon 57.
Icon Service Apartments.
101 By Icon-Townhouses Location Map
The most critical component in every real estate venture is the location. A good site adds a lot of value to the project over time. Investors and consumers place a high value on location and consider it worth buying only if it is located in a desirable neighbourhood.
The strategic location of 101 By Icon Lahore significantly improves the project's accessibility and value. It is located at 86RQ+M6Q, Kot Araian, Lahore, Punjab, between Lake City & Superior University Raiwind Road Lahore. It has a direct approach to various educational institutes like Superior University, NUR International University, Riphah International University, COMSATS, UMT and Beaconhouse National University.
All of Lahore's major residential districts are easily accessible from the project. Signature By Icon has a direct approach to Lahore Ring road, Bahria Orchard, M2 Motorway, Safari Park and Chinar Bagh.
This region has been thriving in terms of new projects, with increased demand and prices on the rise. It's near various educational institutes, recreational activities, healthcare facilities & commercial activities.
101 By Icon-Townhouses Map & Masterplan
Icon Valley has brilliantly developed the 101 By Icon master plan in accordance with the most recent trends and standards, spanning over 40 Kanals of land in such a manageable manner that it appears to be a modernly constructed architectural residential society with luxury art of facilities.
Icon townhouses has 8 apartment buildings & 50 plus identical buildings that are inspired by the astonishment of Victorian architecture. These vertical residential complexes have upscale housing accommodations on the Ground plus 2 floors.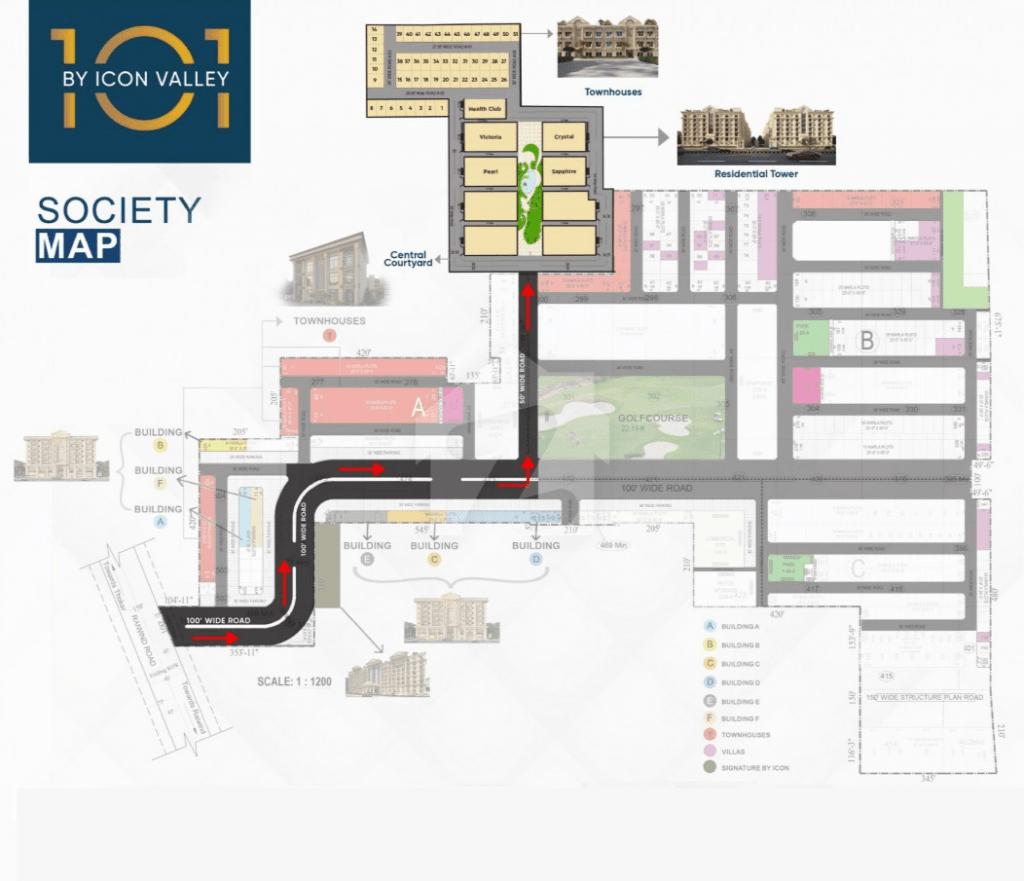 Townhouses
101 By Icon Townhouses offers townhouses of the same structure and same dimension from ground floor to 2nd storey. Townhouses are the tall, narrow traditional terraced house, generally having three or more floors.
101 By Icon-Townhouses Nearby Accessibilities
Icon townhouses are nearly accessible to many well-known areas as
Direct Access from the M2 Motorway.
Easy access to Bahria Orchard.
2-minute drive to Times Square Mall & Residencia.
3-minute drive to Ring Road Lahore.
4-minute away from Icon Valley Phase 1.
6-minute drive to Bahria Orchard Hospital.
7-minute away from Icon Valley Phase 2.
7-minute drive to Chinaar Bagh Play Land.
9-minute drive to Superior University.
12-minute drive to Liberty Lands.
13-minute drive to Tibba Bur Singh.
15-minute drive to Shaukat Khanum Hospital.
16-minute drive to Thokar Niaz Baig.
25-minute drive to Bahria Trafalgar Square.
26-minute drive to Eifel Tower Bahria Town Lahore.
29-minute drive to Grand Jamia Masjid Bahria Town.
101 By Icon-Townhouses Kot Araian Nearby Landmarks & Places
101 By Icon is close to several recreational amenities, hospitals, and educational institutions, which range from elementary schools to universities.
Nearby Schools & Universities
Townhouses has multiple renowned schools and universities nearby including
NUR International University.
GPS Tibba Pajian Raiwind Road.
Kings House School Bahria Orchard Campus.
Sharif Medical & Dental College.
Superior University.
The Punjab School Franchise Kot Araian.
Bahria Town School & College, Bahria Orchard.
UMT Health Sciences Campus.
COMSATS.
Beaconhouse National University.
Froebel's Lake City Center Lahore.
The School Of Patriotics Arian.
University Of South Asia.
Kings House School Bahria Orchard Campus.
Nearby Bakeries & Restaurants
The options of the eateries in the area are as follows
Timmy's Bahria Orchard.
Grill X.
McDonald's.
Bismillah Biryani Restaurant.
Boulevard Express Restaurant.
The Clove Restaurant & Grill.
Mezbaan Restaurant.
The Shaahi Foods.
Mashawi Restaurant.
Grill N Garden.
Bhatti Karahi Tikka.
Kabano Barbeque & Grill.
Mezbaan Restaurant.
Savour Foods.
Wazwan.
Rida's Kitchenette.
Pizza Basement.
Nearby Hospitals & Pharmacies
Hospitals & pharmacies around the housing project are
Bahria Orchard Hospital.
Life Care Hospital.
Shaukat Khanum Hospital.
Cancer Care Hospital & Research Center.
Medix Pharmacy.
Green Plus Pharmacy.
Bahria International Hospital.
Horizon Hospital.
Citi Hospital.
Cayle's Pharmacy.
Mumtaz Bakhtawar Hospital.
Clapp Hospital.
Evercare Hospital.
Nearby Parks
The residential project has multiple renowned parks nearby including
Chinaar Bagh Play Bagh.
Kashmir Block Park.
E Block Park.
Jasmine Block Park.
Jogging Park.
Tanky Park Railway Colony.
Quaid Block Park.
Children Park.
C Block Park.
J1 Block Park.
G4 Block Park.
101 By Icon Townhouses For Sale  In Lahore
101 By Icon has townhouses for sale are
Townhouses (Ground to 2nd Floor) (870 sq. ft. – 925 sq. ft.)
The townhouses has priced as PKR 74.5 Lacs – 78.5 Lacs with a 48-months payment plan.
101 By Icon State-Of-The-Art-Amenities
Aside from the obvious concerns of the number of bedrooms, price, and design, it is also critical to understand what facilities are offered in an apartment complex.
Jamia Mosque.
No load shedding.
Separate male & female Gymnasium.
Gated & Secured Community.
Rooftop Barbeque Area.
Banquet Halls.
Security staff.
Community Center.
Swimming Pool.
Internet access through broadband.
Paved walkways.
Waste management system.
Society Maintenance Office.
Commercial Store.
Concierge Services.
Underground Electrification.
Reception Lobby For visitors.
24/7 CCTV surveillance.
LDA Approved.
E-Tag Parking.
Security Control Room.
Access through satellite/cable.
Function/Banquet Hall.
Usage of high-quality building material.
24/7 power backup.
Airy balconies for natural ventilation.
1, 2 & 3 Bed Luxury Apartments.
8 buildings apartment complex.
Duplex Penthouses with panoramic views.
Dedicated car parking.
Chess Club.
Cigar Lounge.
Indoor Sports Facilities.
Trampoline & Archery Range.
Kids Play Area.
101 By Icon-Townhouses Payment Plan 2022
One of the most challenging difficulties that everyone faces when acquiring a property is payment. Everyone is seeking low-cost investment ideas that investors may provide to their buyers. Apartments are available at an affordable price with an easy 48-months payment plan.
The rates may vary depending upon the covered area and floor options. These apartments, offices & shops can be booked at a 35% down payment of the total price and are available with 48 monthly payment plan.15% of the total amount will be paid at the time of possession.
Why Invest In Townhouses Kot Araian Lahore?
101 By Icon will surely be a productive investment because of its developers who never fail in the provision of real estate projects.
In the last 3 years, the area's prices have risen by 40 – 50% and in the next 3 years, the price of 101 By Icon will climb by 50 – 60%.
The fact that it is located on Raiwind Road Lahore, gives it a competitive advantage over similar endeavors.
100% LDA Approved project.
Offering premium & luxurious facilities at a cheaper cost.
Icon Valley Developers are credible developers with a track record of success with Signature By Icon, Icon Valley Phase 1 & 2 with over 500+ happily settled families.
Documentation transparency and ease of ownership transfer.
101 By Icon Kot Araian is available at a reasonable & affordable cost offering an easy instalment plan of 4 years.
Early possession before completion of instalments.
Due to an expanding housing shortage, Pakistan requires about 0.7 million new residential units each year, and moderately priced projects like 101 By Icon play a critical part in meeting this demand.
High-quality construction & building techniques & materials are used in this state-of-the-art development.
Between January 2018 and September 2020, apartment search volumes climbed by 127%.
A smart investment for passive income.
What Does An Investor Look For While Investing
Here's a look at some of the most important things to consider if you plan to invest in the real estate market
Location of the property.
Value of the property.
Area of the property.
Builder repute verification.
Title deed verification.
Necessary approvals (NOC) by the local body.
Investment Purpose and Investment Horizon.
Benefits Of Investing In Rental Property
Have a look at the benefits of investing in rental property:
Potential for long-term returns.
Provide a regular income.
Wealth accumulation.
Hedge against inflation
Appreciation for the property.
A steady stream of cash flow.
Advantages/deductions in tax.
Guidelines To Follow While Purchasing/Selling Of Property
Following are the guidelines to follow while purchasing or selling any property
Document Verification
Always verify all the documentation of the property with complete satisfaction to avoid any inconvenience or misunderstanding. Before purchasing and selling any property, make sure to inquire about the NOC and other approval documents by the developers, approved by the authorities. That's how your purchase or sale will be made without any issue of invalidation.
Financial Security
Before selling and purchasing any property, make sure that you have some financial deposits on for backup if needed. While selling and purchasing, please ensure that your funds align with your payment plan. That's how your purchase or sale will be made without any issues.
Property Visits
It is compulsory to do property visits before purchasing and selling any property to analyse the validity and features of the property properly. After the surety of the validity, visit the site to ensure that the required documents are under the plot specifications.
Documentation Requirement For Booking
The following documentation is required for booking any property:
Two passport-size Pictures.
Two copies of your National Identity Card.
Two copies of the ID card of your next to kin(father, mother, wife, sister, brother).
NICOP for overseas clients.
Conclusion – 101 By Icon-Townhouses Kot Araian
101 By Icon is a luxury home development that blends elegance and comfort. These luxurious apartments are ideal for living as well as investing. If you rent out your apartment to a high-end renter after the construction is finished, you will have a guaranteed monthly rental income.
is vertical exquisite is a blend of elegance, commercial activities and a sensible investment because there is a chance of big financial gain in a few years. Invest for a brighter tomorrow since it will be a heritage for the upcoming generation.
So, if you are part of the same audience wanting to invest in Lahore's new residential projects in instalments in 2022, approach INVEST LAHORE right away!