Marina Apartments Lahore
Marina Apartments Lahore is an LDA & FBR registered project which is owned and developed by the most reputable builders New Castle Properties. Rashid Rasheed, a well-known architect and building designer, created the project. Because of its distinctive architecture, Marina Apartments stand out from other housing and apartment buildings.
Marina flats is a private residential apartment complex with 48 residential units spread across 7 storeys, 2 fast speed lifts and 1 basement dedicated for parking. It is a gated community with world-class amenities as well as basic facilities located within the complex.
Marina Apartments are ideally located on a 2 Kanal Corner Plot in Lahore's Lda Avenue, facing a 6 Acre ridiculously well-kept lush green park. This residential complex features apartments with 1,2 & 3 bedrooms and promises a luxurious lifestyle. The payment plan is also straightforward to grasp for clients because it covers a time frame of 4 years.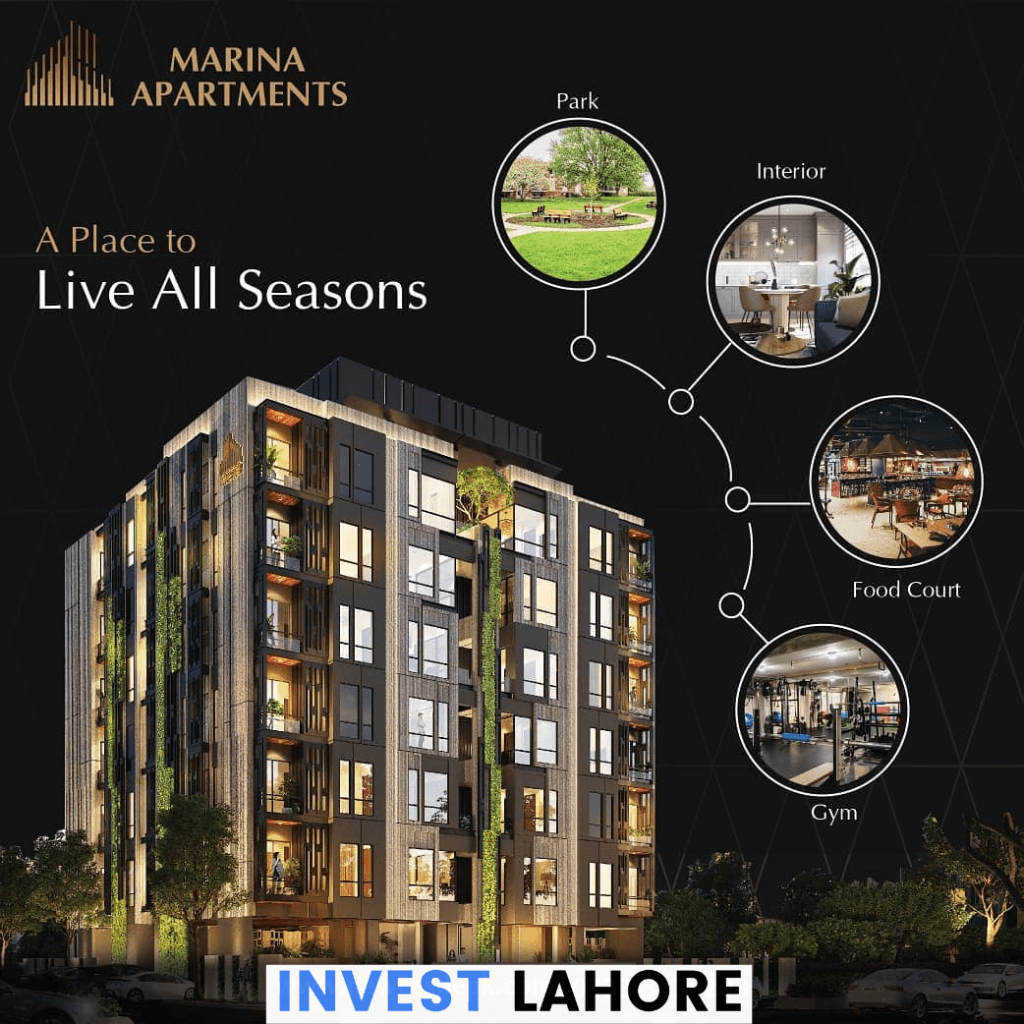 Marina Apartments housing concept offers exceptional value for money and provides you with a contemporary and luxurious lifestyle with affordability & early possession. It is a self-contained housing complex that has 70% apartments with a scenic view of a lush park. 
Marina Apartments Owners & Developers
A house is more than just a place to sleep. A home where you can be yourself; where you can be with those you care about; where you can leave the rest of the world behind and truly live. Everyone has the right to live a luxurious life, which is why we offer you the opportunity to experience premium luxury at Marina Apartments.
Marina Apartments is a project by one of the country's most trustworthy consultants named New Castle Properties. New Castle Properties provides this prime real estate project with the goal of creating the ultimate Family oriented, Luxury living experience.
New Castle Developers
The New Castle Developers are recognized for creating high-end real estate developments that cater to the demands of end-users. They make pretty good on their commitments. The developers of this project have a long and illustrious history of architecture and Innovative real estate ideas.

New Castle Developers is controlled by a group of experts and profoundly guaranteed people tremendous involvement in the fields of technical & financial feasibilities, land acquisition, its design & approval, sales & marketing and building management services.
Projects Of New Castle Developers
New Castle Properties has provided us with its administrative centre and flagship projects like
Marina Apartments Approvals
Marina Apartments has been approved by all the related authorized authorities, which adds more value and charm to the residential project.
Marina Apartments has been approved by:
LDA (Lahore Development Authority).
FBR registered (no income source declaration is required).
Marina Apartments Lahore Location & Map
The strategic location of Marina Apartments significantly improves the project's accessibility and value. Marina Apartments are located in a unique and prime location, Plots 296 & 297, Block H LDA Avenue1 LDA Avenue, Lahore, Punjab. This incredible project has also in proximity to Ring road Fazaia Interchange, Canal Road, Bahria Town Commercial, Thokar Niaz Baig and Bakra Mandi.
When it comes to new initiatives, this region has been flourishing, with rising demand and prices on the growth side. It is located at the crossroads of several universities, including Comsats, the University of Lahore, Beaconhouse National University, and the University of Central Punjab.
LDA avenue is unquestionably Lahore's commercial and recreational centre. LDA offers its people access to elegant and top-notch business options. This region boasts the greatest educational, healthcare and commercial possibilities for its residents, in addition to business prospects.
Marina Apartments Nearby Accessibilities
Marina apartments can be approached by nearby places as:
2-minute drive from Fatimah Jinnah Dental Institute.
4-minute drive from Canal Road.
5-minutes drive from COMSATS University Lahore.
8-minute drive from UMT Health Sciences Campus.
6-minutes drive from Indus Hospital.
10-minute drive from Fazaia Ring Road Interchange.
10-minute drive from Thokar Niaz Baig / Motorway.
12-minute drive from Shaukat Khanum Memorial Hospital.
15-minute drive from Bahria Town Commercial.
16-minute drive from Emporium Mall.
17-minute drive from Bakra Mandi.
17-minute drive from the University Of Punjab.
25-minute drive from Lahore Gym Khana Club.
30-minute drive from Allama Iqbal International Airport.
Marina Apartments Nearby Landmarks & Places
Marina Apartments is close to several recreational amenities, hospitals, and educational institutions, which range from elementary schools to universities.
Nearby Schools & Universities
Marina Apartments has multiple renowned schools and universities nearby including:
Bahria University New Campus.
University Of Lahore.
University Of South Asia.
Fatima Jinnah Dental Hospital.
Lahore Grammar School.
Unique School Of Learning.
COMSATS University.
UMT Health Sciences Campus.
Lahore City School.
American Learning School.
The Punjab School Canal Garden.
Green School System.
Nearby Restaurants
The options of the eateries in the area are as follows:
Yousaf Broast Family Restaurant.
SR Restaurant.
Feathers.
Ze Grill EME.
Cafe Grand.
Zest Family Restaurant.
La Grace Restaurant.
Savour Foods.
Food Lover.
Tiffin Spot.
Cafe Grand.
Haq Village Restaurant.
Nearby Hospitals & Pharmacies
Hospitals & pharmacies around the Apartments are:
Bahria International Hospital.
Horizon Hospital.
Citi Hospital.
Jinnah Hospital.
EverCare Hospital.
Life Hospital.
Doctor's Hospital.
Farooq Hospital West Wood.
Doctors Hospital & Medical Center.
Shadman General Hospital.
Shaukat Khanum Memorial Hospital.
Hameed Latif Hospital.
Nearby Parks
Apartments have multiple renowned parks nearby including:
Children's Park.
LDA Park.
F Block Park.
D Block Park.
Jasmine Park.
Muhammadi Park.
University Park.
92 D Block Park.
Marina Apartments Prices & Property Types
Marina Apartments offer a variety of luxury flats for sale in a 7-storey complex. The project offers
1-Bed Apartments (Type A) (534 Sq. Ft.)
The 1-Bed type A Apartments cost PKR 4,950,000 with a 48-month payment plan.
1-Bed Apartments (Type B) (575 Sq. Ft.)
The 1-Bed type B Apartments cost PKR 5,750,000 with a 48-month payment plan.
2-Bed Apartments (Type A) (873 Sq. Ft.)
The 2-Bed type A Apartments cost PKR 7,850,000 with a 48-month payment plan.
2-Bed Apartments (Type B) (910 Sq. Ft.)
The 2-Bed type B Apartments cost PKR 8,450,000 with a 48-month payment plan.
3-Bed Apartments (1154 Sq. Ft.)
The 3-Bed Apartments cost PKR 10,950,000 with a 48-month payment plan.
Coffee Shop (900 Sq. Ft.)
The Coffee Shop cost PKR 27,0000,000 with a 48-month payment plan.
CASH & Carry Mart (450 Sq.Ft.)
The Cash & Carry Mart cost PKR 13,500,000 with a 48-month payment plan.
The Salon cost PKR 13,500,000 with a 48-month payment plan.
Marina Apartments Plot Features
Marina apartments provide you with modern as well as basic facilities that include
Sui gas supply.
Electricity supply.
Water supply.
Sewerage system.
Satellite or cable supply.
Accessibility through road.
Marina Apartments State-of-the-art Amenities
Aside from the obvious considerations of how many bedrooms, price, and style, it's also crucial to know what amenities are available in an apartment complex.
Park Facing Apartments.
Home Made Food Restaurant
VRF(Internal Heating & Cooling)System.
State-of-the-art gym.
Valet Parking.
Card Access Entry.
Infinity swimming pools.
Fascinating kids play area.
Mosques & Prayer Area.
Waste Disposal.
Cash & Carry Mart.
Spacious Community Halls.
Broadband Internet Access.
Rooftop Barbeque Area.
24/7 CCTV Security.
Fire Extinguishing System.
Salon.
Practical & Furnished Kitchens.
Property Management Services.
Satellite/Cable Access.
Flexible Payment Plan.
Car Parking.
24/7 power Backup Generation.
Lifetime building maintenance.
Visitors Reception.
2 High-Speed Lifts.
Emergency exits.
Airy balconies for natural ventilation.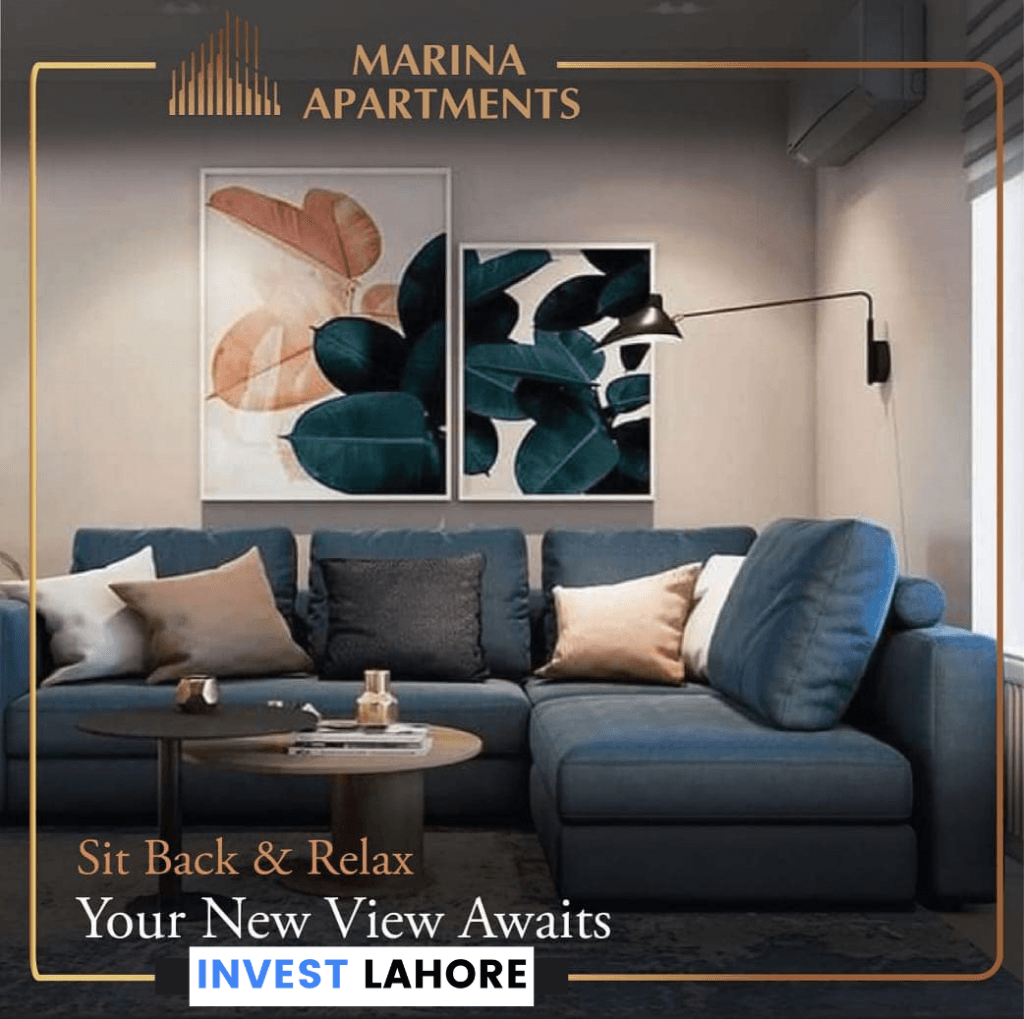 Marina Apartments Lahore Payment Plan and Prices
Customers will appreciate how simple and flexible the payment plan for Marina Apartments Lahore is. Its price plan is incredibly reasonable and convenient, with instalments spread out over 48 months. The one unit may be reserved with a 20% down payment, with the remaining balance due in 4 years. Possession will be granted on a 20% basis.
The booking of Marina flats is open for all types of apartments. The standard 1 bedroom apartment price starts from 47 lacs rupees and 2 bedroom starting price is 77 lacs rupees. 
Why Invest In Marina Apartments Lahore?
Marina Apartments will surely be a productive investment because of their developers who never fail in the provision of real estate projects.
Up to 8% guaranteed annual rental yield.
Certainty of investment gains in conjunction with the project.
Approved and registered by all the relevant authorities like LDA & FBR.
Providing every comfort in a thriving environment.
Located on LDA Avenue, a hub of infrastructure development and real estate investment.
No need to declare the source of income.
Offering premium & luxurious facilities at a cheaper cost.
Safety and security measures.
Due to an expanding housing shortage, Pakistan requires about 700,000 new residential units each year, and moderately priced projects like Marina Apartments play a critical part in meeting this demand.
Timely completion of project guaranteed.
Equipped with modern facilities.
Good opportunity for rental investment.
Between January 2018 and September 2020, apartment search volumes climbed by 127%. So Marina apartments are a wise investment for sure.
A smart investment for passive income.
Affordability & flexibility in the payment plan.
Documentation transparency and ease of ownership transfer.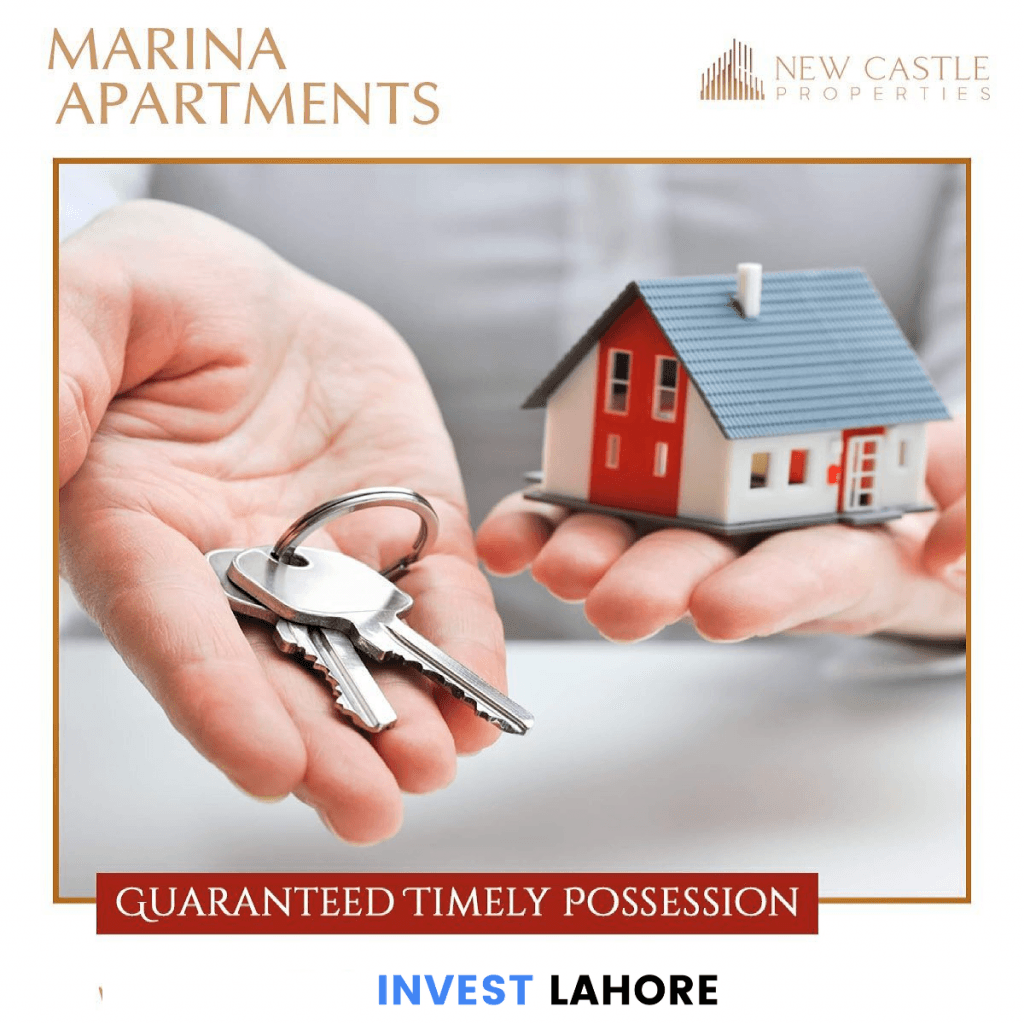 What Does An Investor Look For While Investing?
Here's a look at some of the most important things to consider if you plan to invest in the real estate market:
Location of the property.
Value of the property.
Area of the property.
Builder repute verification.
Title deed verification.
Necessary approvals (NOC) by the local body.
Investment Purpose and Investment Horizon.
Benefits Of Investing In Rental Property
Potential for long-term returns.
Provide a regular income.
Wealth accumulation.
Hedge against inflation
Appreciation for the property.
A steady stream of cash flow.
Advantages/deductions in tax.
Guidelines To Follow While Purchasing/Selling Of Property
Following are the guidelines to follow while purchasing or selling any property
Document Verification
Always verify all the documentation of property with complete satisfaction to avoid any inconvenience or misunderstanding. Before purchasing and selling any property, make sure to inquire about the NOC and other approval documents by the developers, approved by the authorities. That's how your purchase or sale will be made without any issue of invalidation.
Financial Security
Before selling and purchasing any property, make sure that you have some financial deposits on for backup if needed. while selling and purchasing, please ensure that your funds align with your payment plan. That's how your purchase or sale will be made without any issues.
Property Visits
It is compulsory to do property visits before purchasing and selling any property to analyse the validity and features of the property properly. After the surety of the validity, visit the site to ensure that the required documents are under the plot specifications.
Marina Apartments Booking Requirements
The following documentation is required for booking any property:
Two passport size Pictures.
Two copies of your National Identity Card.
Two copies of the ID card of your next to kin(father, mother, wife, sister, brother).
NICOP for overseas clients.
Charges To Be Paid At The Time Of Booking
20% down payment that is paid at the time of booking. The booking fee must be paid following the unit size specified in the payment plan.
The payments will be made over 4 years in easy monthly instalments.
20% is to be paid at the time of possession.
Conclusion – Marina Apartments
Marina Apartments are the ideal combination of elegance and comfort. These apartments are excellent for both residence and investment, with construction set to complete soon. If you rent out your unit to a high-end tenant when the development is finished, you will have a guaranteed monthly rental income.
Marina Apartments is a wise investment because, in a few future years, there is a hope of high capital gain. The pre-bookings are open now and payment plans of your choice are available. So invest for your better tomorrow as it's a legacy for the next generation.
So, if you are part of the same audience wanting to invest in Lahore's new residential projects in instalments in 2022, approach INVEST LAHORE right away!