DB 32 DHA Lahore
DB 32 DHA Lahore is located in the prime location of DHA Lahore, which has the finest and most well-known neighbourhood of packages mall and offers Hotel Apartments, Deluxe and VIP rooms on a three-year instalment plan. The opulent venture is a safe and secured investment with one of the best and most respected companies in its field 'Mashaf Developers'.
With a 10% annual rental income and a 20% rental increment every third year, the project provides a great opportunity for investors to invest because it's a legacy for the next generations. DB 32 DHA is approved by all relevant authorities as DHA, LDA & FBR.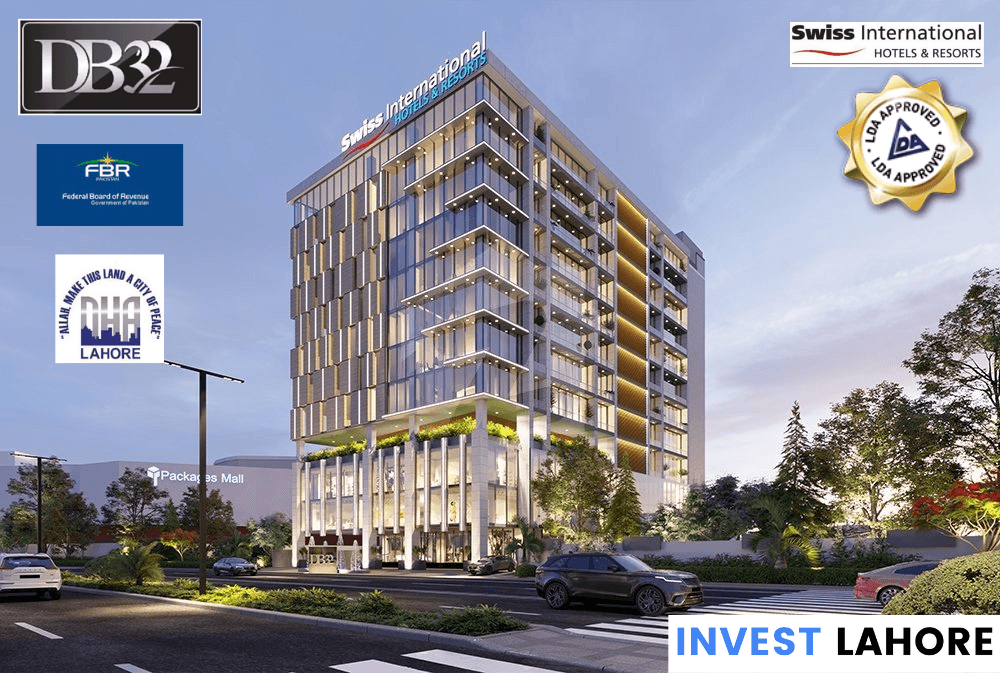 DB 32 DHA Lahore is located at Khayaban-e- Iqbal DHA with the family centre atmosphere that you love to visit and shop from the top leading outlets, and the list of amenities is not yet complete. It contains a well-organized gymnasium, a cinema and 11 floors of magnificent and intriguing hotel apartments.
The well-planned & gracefully designed Hotel Apartments are managed by the globally recognized hotel chain 'SWISS INTERNATIONAL HOTELS & RESORTS'. The respected company has almost 40 years of splendid experience in the hospitality industry. DB 32 Hotel Apartments provides the same management and hospitality services as international hotels.

DB 32 DHA Lahore Developers
Behind this opulent commercial & residency project, there is a well-known real estate developer Mashaf Developers. who began a well-organised and well-structured project in Lahore, Pakistan.
About Mashaf Developers
Mashaf Developers is one of the country's most prominent development businesses, which owns and develops real estate businesses. They just inaugurated their newest initiative, which is conveniently located on Khayaban-e-Iqbal DHA Lahore and is expected to become one of the area's most popular developments.
On-Going Project
DB 32 DHA Lahore is the only ongoing project by Mashaf Developers. A safe and secure investment with one of the best and most respected companies in its field.
DB 32 DHA Lahore Project Plan
DB 32 Lahore is known as the private highly elevated building in DHA possessing all essential and opulent amenities beneath one roof on 4.4 Kanals of land.
2 Level Basement + Ground Floor + 11 Storeys.
DB 32 offers:
Hotel Apartments
Commercial Outlets.
DB 32 Lahore Location & Map
In the real estate business industry, there are some factors that play a vital role in buying and selling property. Location is one of the most important factors. In fact, most real estate experts define a location as one of the only factors that have the power to make or break the future valuation of any property.
Because of its exceptional position, DB 32 DHA Lahore provides a perfect site for brand stores to attract clients. It is located in Defence Housing Scheme and is regarded as one of the city's business centres and upscale neighbourhoods, with all amenities.
DB 32 Lahore is located at Khayaban-e-Iqbal, Sector XX, DHA Phase 3, Nishtar Town, Lahore, Punjab. It is one of DHA Lahore's most developed phases and offers excellent investment opportunities. It is close to Packages Mall, Walton Road and Phase 3 DHA commercial, thus inhabitants have no trouble getting about. This project's location allows for a quick and simple journey to Ringroad, D.H.A, Kalma Chowk, Liberty Market and Mall Road.
The project also provides direct access to Allama Iqbal International Airport, which can be reached in 15-minutes. The well-known Packages Mall is only a 2-minute drive from the apartments. The Lahore Ringroad is only around a 10-minute drive away.
DB 32 Lahore Nearby Accessibilities
DB 32 directions are easily accessible as follows:
Situated on Khyaban-e-Iqbal.
Next to Packages Mall.
5-minute drive from Central Business District (CBD).
8-minute drive from Ringroad, Lahore.
13-minute drive from DHA Phase 5 Ring Road Interchange.
15-minute drive from Allama Iqbal International Airport.
20-minute drive from Kalma Chowk.
21-minute drive from Lahore International Airport.
25-minute drive from Liberty Market Lahore.
27-minute drive from Mall Road Lahore.
35-minute drive from Lahore Railway Station.
40-minute drive to Thokar Niaz Baig M-2 Interchange.
DB 32 DHA Lahore Nearby Landmarks & Places
DB 32 Lahore is close to several recreational amenities, hospitals, and educational institutions, which range from elementary schools to universities.
Nearby Schools & Universities
DB 32 has multiple renowned schools and universities nearby including:
Al Maktab School.
University Of Child Health Sciences.
The University Of Lahore.
School of Science & Engineering.
Lahore University of Management Sciences.
CCM Pak School.
Hajveri University.
Al Baseerat High School.
DPS Girls & Boys.
Beaconhouse School System.
The University Of South Asia.
Nearby Restaurants
The options of the eateries in the area are as follows:
Bundu Khan Restaurant.
Salt n Pepper.
Arcadian Cafe.
Al Forno.
Besteiro.
OPTP.
The Rice Bowl.
Gloria Jeans.
New Yorker Pizza.
Cold Stone DHA.
Kashi Restaurant.
Al-Minaal Arabian Restaurant.
Nearby Hospitals & Pharmacies
Hospitals & pharmacies around the venture are
Farkhanda & Jamil Memorial Hospital.
Gulab Devi Chest Hospital.
Ayesha Hospital.
Naeem Surgical Hospital.
National Hospital & Medical Center.
Defence Skin, Laser & Cosmetology Clinic.
Makhdoom memorial hospital.
Aadil Hospital.
Lahore General Hospital.
Shaukat Khanum Laboratory.
Nearby Parks
DB 32 has multiple renowned parks nearby including:
Public Park.
J-block Park.
X-Block Park.
Muqaddas Park.
Benazir Park.
Askari Park.
Children & Family Park.
Cavalary Park.
Rani Park.
Gaddafi Stadium.
DB 32 Lahore Prices
Apartments in this extravagant building are well-designed, with layouts that prioritize aesthetics and space economy. Luxury apartments for sale in Lahore are
1-Bedroom Hotel Apartments (260 sq.ft. – 475 sq.ft.).
DB 32 Lahore offers 1-bed flats prices ranging between 1.12 Crore – 2.04 Crore PKR having 1 bedroom and 1 bath with a 36-month payment plan.
DB 32 DHA Lahore Salient Features
DB 32 offers premium facilities at a lower price than other real estate projects in the vicinity. These are the features that make luxury apartments essential for the future:
Gated And Secured Community.
High Standard & Planned Residential Project.
24/7 Cctv Security & Surveillance System.
Modern Infrastructure.
Indoor Swimming Pool.
Well Designed Terrace.
Modern Indoor Cafes & Restaurants.
Juice Bar/Relaxation Lounge.
Sitting Area & Garden.
Gym.
Cinema.
Deluxw & VIP Rooms.
24hrs Electricity, Gas And Water Backup.
Easy Instalment Plan.
Fast Cargo Lifts.
Salon.
Banquet.
Prayer Room.
Cafes.
Spa/Sauna.
Commercial Facilities.
Cigar Lounge.
Electrical & Maintenance Room.
Rooftop Restaurant.
Handicapped Accessible.
Dry Cleaning Service At Doorstep.
Earthquake Proof Building Design.
Central Heating & Cooling (Vrf) System.
Emergency Fire Exits.
High-Speed Wireless Internet Cloud.
Secured Residential Parking.
DB 32 Lahore Payment Plan
The payment plan of DB 32 Lahore is affordable and flexible. The properties for sale are open for booking at an easy instalment schedule. Investors will get huge profits off their money in the future; however, high rental incomes are guaranteed.
30% down payment is required at the time of booking and 15% of the total amount will be paid at Possession. The remaining amount can be paid in 36 monthly instalments.
The payment plan is given below
Why Invest In DB 32 Lahore?
DB 32 Hotel Apartments Lahore will surely be a productive investment because of its developers who never fail in the provision of real estate projects.
The top-notch neighbourhood of Packages Mall.
20% rental increment every third year.
10% annual rental income guaranteed.
Certainty of investment gains in conjunction with the project.
Providing every comfort in a thriving environment.
Located In Khayaban-e-Iqbal Sector XX, a hub of infrastructure development and real estate investment.
No income source declaration required.
Offering premium & luxurious facilities at a cheaper cost.
Due to an expanding housing shortage, Pakistan requires about 0.7 million new residential units each year, and moderately priced projects like DB 32 DHA play a critical part in meeting this demand.
Timely completion of project guaranteed.
Sale agreement at 30% down payment.
A smart investment for passive income.
DHA, LDA & FBR approved project.
What Does An Investor Look For While Investing?
Here's a look at some of the most important things to consider if you plan to invest in the real estate market:
Location of the property.
Value of the property.
Area of the property.
Builder repute verification.
Title deed verification.
Necessary approvals (NOC) by the local body.
Investment Purpose and Investment Horizon.
Benefits Of Investing In Rental Property
Have a look at the benefits of investing in rental property:
Potential for long-term returns.
Provide a regular income.
Wealth accumulation.
Hedge against inflation
Appreciation for the property.
A steady stream of cash flow.
Advantages/deductions in tax.
Guidelines To Follow While Purchasing/Selling Of Property
Following are the guidelines to follow while purchasing or selling any property:
Document Verification
Always verify all the documentation of property with complete satisfaction to avoid any misconvenience or misunderstanding. Before purchasing and selling any property, make sure to inquire about the NOC and other approval documents by the developers, approved by the authorities. That's how your purchase or sale will be made without any issue of invalidation.
Financial Security
Before selling and purchasing any property, make sure that you have some financial deposits on for backup if needed. While selling and purchasing, please ensure that your funds align with your payment plan. That's how your purchase or sale will be made without any issues.
Property Visits
It is compulsory to do property visits before purchasing and selling any property to analyse the validity and features of the property properly. After the surety of the validity, visit the site to ensure that the required documents are under the plot specifications.
Documentation Requirement For Booking
The following documentation is required for booking any property:
Two passport size Pictures.
Two copies of your National Identity Card.
Two copies of the ID card of your next to kin(father, mother, wife, sister, brother).
NICOP for overseas clients.
Charges To Be Paid At The Time Of Booking
30% down payment that is paid at the time of booking. The booking fee must be paid following the unit size specified in the payment plan.
The payments will be made over 36 months in easy monthly instalments.
15% is to be paid at the time of possession.
Conclusion – DB 32 DHA Lahore
DB 32 Lahore is a private high-rise residential project that is situated in the DHA Lahore, the most upscale and thriving location in terms of health, educational, commercial and recreational facilities nearby. This combination of luxury and elegance is a wise investment because it offers an easy instalments plan of 36 months with a 30% down payment.
So, if you are part of the same audience wanting to invest in Lahore's new residential projects in instalments in 2022, approach INVEST LAHORE right away!