Tower 18 Gulberg Lahore
Tower 18 is an impressive commercial and residential project of Mukhbateen Developers, Pakistan's prominent real estate development firm. It is created by a group of people that are enthusiastic and devoted to the professions of design, architecture, engineering, building, and other related fields.
Tower 18 Gulberg Lahore is a well planned and well located eventually declared project that is a perfect blend of properties for sale to entice investors and buyers. Tower 18 Lahore has been approved by the Lahore Development Authority (LDA) and FBR.
Tower 18, a meticulously designed commercial & residential complex along J Block, Gulberg, Lahore is yet another business contribution to the city's skyline. The commercial hub is built on multiple storeys, the ground floor of the building is made to present retail outlets & commercial shops, while 2nd to 10th floors offers 1 & 2 bed luxury apartments.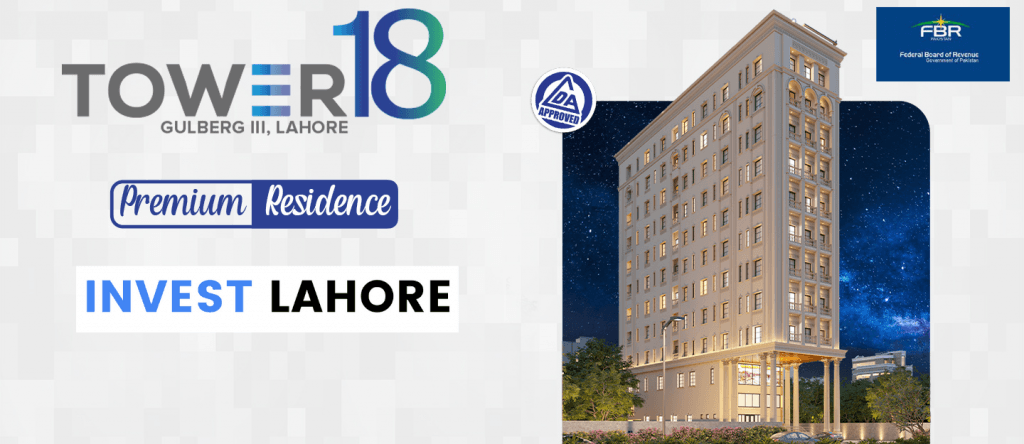 Tower 18 Gulberg is a lucrative commercial complex that offers all of the modern amenities consumers desire. Real purchasers and investors will be attracted to the project's huge and attractive architecture, prominent location, and exquisite facilities.
Tower 18 Gulberg III Lahore Owners & Developers
Investing in a project requires an in-depth look at the developers and owners because it enhances your trust in that project.
Tower 18 Gulberg III is the project of the strongly reputed developers in real estate industry 'Mukhbateen Developers'.
Mukhbateen Developers
Tower 18 is built on the ideals of integrity, accountability, dedication, and excellence and has specialists in real estate contract projects.
The mission of Mukhbateen Developers is to operate in a safe and lucrative manner while exercising social and environmental responsibility, offering services that fulfil the requirements of customers and contribute to the development of Pakistan. The developers provides its diverse customer with the chance to buy and rent high-quality residences, commercial shops, and luxury flats in Lahore.
Tower 18 Location & Map
The strategic location of the project significantly improves the project's accessibility and value. It is located at Plot 18, Block J Gulberg III, Lahore, Punjab 54660, Pakistan
Tower 18 is a top-tier business and residential hub. In terms of new projects, this region has been thriving, with increased demand and rising prices. Tower 18 strives to meet all of the area's business and residential needs and challenges. The chosen location for the endeavor is the most upscaled location, with over 90% of established commercial civilizations in the surrounding area.
Lahore is the capital of Punjab and has many employment, health, educational, and commercial opportunities for outsiders. It provides easy access to all of Lahore's central residential districts. The project has a direct approach to M.M Alam Road, CSD, Center Point, Kalma Chowk, Qadaffi Stadium and Allama Iqbal International Airport.
Tower 18 Lahore Nearby Accessibilities
Tower 18 is nearly accessible to many well-known areas as:
Easy access to Jinnah Flyover.
1-minute drive to M.M Alam Road.
1-minute drive to Center Point.
2-minute drive to Lahore Cantonment.
3-minute drive to Liberty Market.
5-minute drive to Kalma Chowk.
7-minute drive to Main Boulevard.
9-minute drive to Qadaffi Stadium.
12-minute drive to Sheikh Zayed Hospital.
21-minute drive to Race Course Lahore.
28-minute drive to Allama Iqbal International Airport.
Tower 18 Lahore Nearby Landmarks & Places
Tower 18 is close to several recreational amenities, hospitals, and educational institutions, which range from elementary schools to universities.
Nearby Schools & Universities
Tower 18 has multiple renowned schools and universities nearby including
Superior College.
Lahore City College.
Government College for Boys – Gulberg.
CIMS Group Of Colleges.
Forman Christian College University.
The University of Punjab.
LGS School.
LUMS.
Civil Services Academy.
CFE Group of Colleges.
Qasr e Behbood.
LACAS school.
Punjab Group Of Colleges.
Institute of Management Sciences.
SKANS school of accountancy ACCA Campus.
Nearby Bakeries & Restaurants
The options of the eateries in the area are as follows
Tasty Food Restaurant.
Zaiqa Lounge.
Shan Restaurant.
Nisa Sultan.
Nando's Gulberg.
McDonald's Pakistan.
Hardees Pakistan.
PF Chang's Pakistan.
Turkish restaurant & cafe.
Lal Qila.
OPTP.
Cafe Zauq.
Tabaq Restaurant.
Taipei Chinese.
Grab Your Meal.
Nearby Hospitals & Pharmacies
Hospitals & pharmacies around the area are
Hameed Latif Hospital.
IOM Health Assessment Center.
Cavalary Hospital.
Cavalry Dental Clinic.
Agha Khan Laboratory.
Shaukat Khanum Laboratory.
Sheikh Zayed Hospital
Masood Hospital.
Shadman General Hospital.
Ammar Medical Complex.
Hijaz Hospital.
Mayo Hospital.
Amanat Eye Hospital.
Anmol Cancer Hospital Oncologists.
Gulab Devi Memorial Hospital.
United Christian Hospital.
Horizon Hospital.
Nearby Parks
The venture has multiple renowned parks nearby including
J Block Park.
Ahsan Tariq Park.
Saint Mary's Park.
Jinnah Park.
Rise Park.
GOR Park.
Gulshan Iqbal Park.
T Block Park.
Cavalry Ground Park.
Tower 18 Apartments Lahore Plot Features
Tower 18 apartments provide you with modern as well as basic facilities that include
Sui Gas Supply.
Electricity Supply.
Water Supply.
Sewerage System.
Satellite Or Cable Supply.
Accessibility Through Roads.
Tower 18 Prices & Property Types
Tower 18 apartments offers a variety of commercial outlets and corporate offices on the ground floors.
Shops (Ground Floor) (250 sq. ft.)
The shops on the ground level have priced as PKR 91.23 lacs with a 48-month payment plan.
18 Gulberg Apartments Prices
Luxury apartments in Gulberg Lahore are
1 Bed Apartments (First Floor) (289 sq.ft. – 380 sq.ft. )
The 1 bed apartments on the 1st level have priced between PKR 60.27 lacs – PKR 79.24 Lacs with a 48-month payment plan with 1 bed and 1 bath.
2 Bed Apartments (2nd to 10th Floors) (666 sq.ft. – 829 sq.ft. )
The 2 bed apartments on the 2nd to 10th floor have priced between PKR 1.39 Crore – PKR 1.72 Crore with a 48-month payment plan with 2 beds and 2 baths.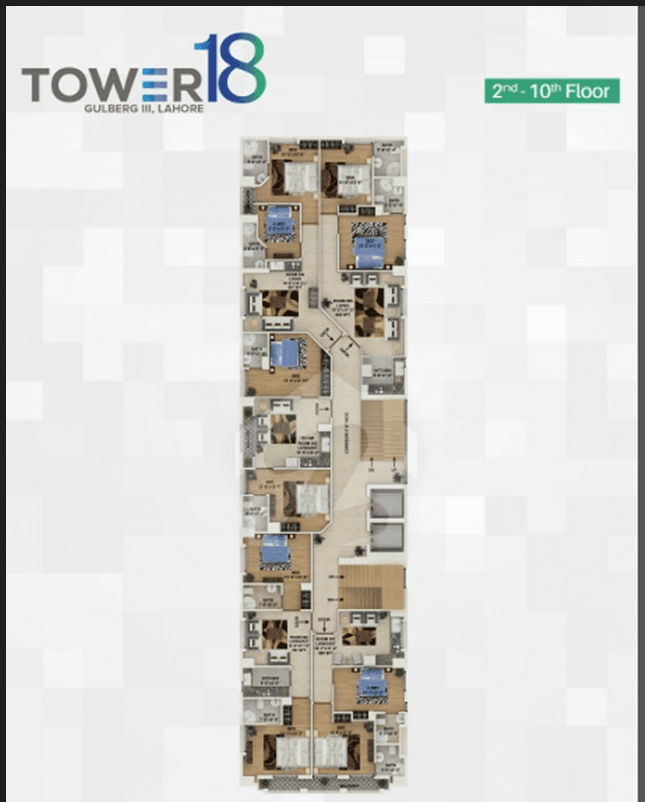 Tower 18 Gulberg Lahore Salient Features
The venture not only provides basic facilities in a commercial and apartment complex but also has many other noteworthy features.
Security Staff.
Mosque.
Heat Proof Ceiling.
Community Hall.
Coffee Shop.
Maintenance System.
Ice Cream Parlour.
Internet Access Through Broadband.
High-Speed Elevator.
24/7 Cctv Surveillance.
Access Through Satellite/Cable.
Flexible Payment Plan Of 14 Months.
Firefighting System.
Emergency Exits.
Laundary Area.
24/7 Power Backup.
Airy Office Balconies For Natural Ventilation.
Tower 18 Gulberg Lahore Payment Plan
Everyone is looking for reasonable costs and investment strategies that investors must offer to their buyers. The rates may vary depending upon the covered area and floor options. Tower 18 apartments & shops can be booked at a 30% down payment of the total price and are available at 48 monthly instalments.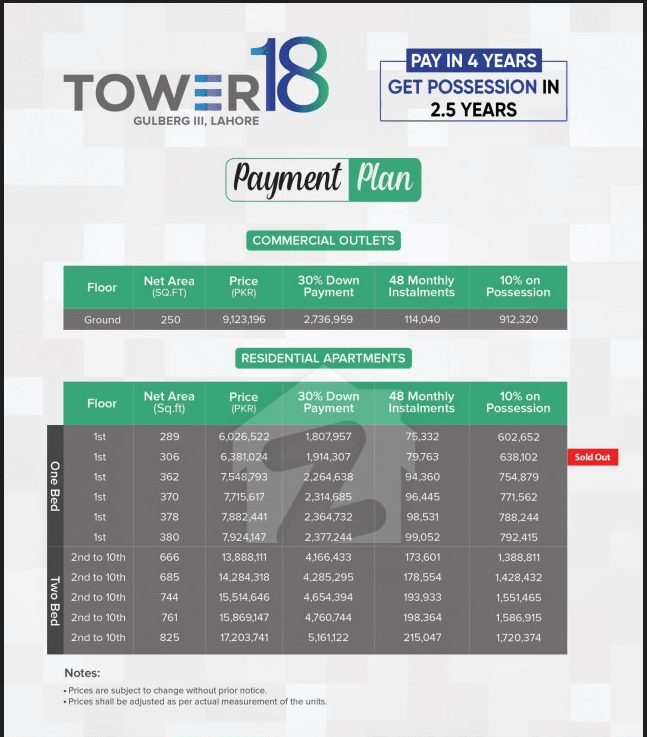 Why Invest In Tower 18 Gulberg Lahore?
Located on J Block, Gulberg, Lahore provides it with a competitive advantage over similar ventures.
There is an expectation of High Capital Gains in near future from Tower 18.
Innovative architecture.
No income source declaration required.
Due to an expanding housing shortage, Pakistan requires about 700,000 new residential units each year, and moderately priced projects like Tower 18 Apartments play a critical part in meeting this demand.
The site is being built at a rapid pace.
A smart investment for passive income.
Real estate values in the area have risen 40-50% in the last 3 years, and a 50-60% increase is projected over the next 3 years.
Tower 18 will surely be a productive investment because of its developers(Mukhbateen ) who never fail in the provision of real estate projects.
Tower 18 Apartments Lahore is available at a reasonable & affordable cost offering an easy instalment plan of 48 months.
Tower 18 Lahore is an LDA & FBR registered project.
What Does An Investor Look For While Investing?
Here's a look at some of the most important things to consider if you plan to invest in the real estate market:
Location of the property.
Value of the property.
Area of the property.
Builder repute verification.
Title deed verification.
Necessary approvals (NOC) by the local body.
Investment Purpose and Investment Horizon.
Benefits Of Investing In Rental Property
Have a look at the benefits of investing in rental property
Potential for long-term returns.
Provide a regular income.
Wealth accumulation.
Hedge against inflation
Appreciation for the property.
A steady stream of cash flow.
Advantages/deductions in tax.
Guidelines To Follow While Purchasing/Selling Of Property
Following are the guidelines to follow while purchasing or selling any property:
Document Verification
Always verify all the documentation of the property with complete satisfaction to avoid any inconvenience or misunderstanding. Before purchasing and selling any property, make sure to inquire about the NOC and other approval documents by the developers, approved by the authorities. That's how your purchase or sale will be made without any issue of invalidation.
Financial Security
Before selling and purchasing any property, make sure that you have some financial deposits on for backup if needed. While selling and purchasing, please ensure that your funds align with your payment plan. That's how your purchase or sale will be made without any issues.
Property Visits
It is compulsory to do property visits before purchasing and selling any property to analyse the validity and features of the property properly. After the surety of the validity, visit the site to ensure that the required documents are under the plot specifications.
Tower 18 Lahore Booking Requirements
The following documentation is required for booking any property:
Two passport-size Pictures.
Two copies of your National Identity Card.
Two copies of the ID card of your next to kin(father, mother, wife, sister, brother).
NICOP for overseas clients.
Charges To Be Paid At The Time Of Booking
30% down payment that is paid at the time of booking. The booking fee must be paid following the unit size specified in the payment plan.
The payments will be made over 48 months in easy instalments.
10% amount should be paid at the time of possession.
Conclusion
Tower 18 Gulberg III Lahore is a high rise project that is the ideal combination of elegance and comfort. The apartments and shops are an excellent investment, with construction standards & innovative architecture.
18 Gulberg apartments is a wise investment because, in a few future years, there is a hope of high capital gain. So, if you are part of the same audience wanting to invest in Lahore's new residential projects in instalments in 2022, approach INVEST LAHORE right away!