Broadway Heights Bahria Orchard Lahore
Broadway Heights, a wonderfully planned residential & commercial complex on Main Raiwind Road, next to Adda Plot Lahore, is yet another notable addition to the city's skyline. Broadway Heights Bahria Orchard Lahore is a massive commercial and residential development comprised of three architecturally identical structures. i.e. Broadway Heights I, Broadway Heights II, Broadway Heights III. The project's target is to develop high-quality residential facilities that are graceful & model, easily accessible, extravagant lifestyle and innovative in architecture.
Broadway Heights is an eventually released project located in the ideal position for a peaceful existence with easy access to all or some of the trendy facilities needed for a pleasant life. Broadway Heights has been approved by the Lahore Development Authority (LDA) and all other competent authorities. Broadway Heights intends to provide citizens with a new way of living. 
Broadway Heights Lahore is a very profitable commercial & apartment complex that offers all of the greatest facilities that modern apartment consumers want. It is a 3-buildings structure that will be a wonderful icon in Lahore's projects. The project's huge and attractive architecture, prominent location, and exquisite facilities will appeal to real purchasers and investors.
Broadway Heights Owners & Developers
It is the main and the most important thing to have an in-depth look at the developers and owners of a project while investing because it enhances your trust in the project.
Broadway Heights Bahria Orchard Lahore is a notable initiative of Q-Links Real Estate, a prestigious real estate development company in Pakistan. Q-links Real Estate is built on the ideals of integrity, accountability, dedication, and excellence to improve Pakistan's real estate development and design business.
Q-Links Real Estate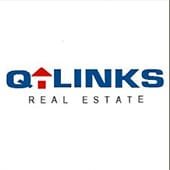 The mission of Q-links Real Estate is to assist investors in transforming property into space for success. The group contains profoundly guaranteed people whose involvement with the development of the board and land advancement says a lot. The Company Increase the value of your property and brand while earning a consistent income.
Q-Links Real Estate Projects
Q-links is one of the country's most prominent development businesses, which owns and develops it.Q-links, a brand familiar with quality real estate management in Bahria Town, has successfully launched a number of initiatives, including
Orchard Mall.
Grand Jasmine Mall.
Pearl mall.
Eatern villas.
Safari Villas.
Q Bazaar.
Al-Falah Heights.
The Gold Souq & The Gold Suites.
Jasmine Mall.
Broadway Heights Apartments Project Strategy
Broadway Heights is a huge commercial & resaidential project of which comprises 3 relatively similar architectures named as
which includes the basement and 1st floor both has commercial shops.
This comprises the second to fifth floors and has studio & 1 bed apartments.
This comprises the third to fifth floors and has 1 & 2 bed apartments.
The project has well-designed flats & offices with layouts that prioritize aesthetics and space efficiency offering:
Offices/ Free Workplaces.
Commercial Shops.
1-Bed Apartments.
2-Bed Apartments.
Studio Apartment
A studio apartment is usually a self-contained space that houses everything within a single room with a separate bathroom.
1-Bed Apartment
As the name shows 1-bed apartment is an apartment with one bedroom that's completely separate from the other space. The other space includes a kitchen and a living room. Sometimes the kitchen is separate and some apartments have an open kitchen in the living room.
2-Bed Apartment
A 2-bed apartment is an apartment which has 2 bedrooms and 2 bathrooms with a separate kitchen and living room.
Broadway Heights Bahria Orchard Location & Map
The strategic location of Broadway Heights Bahria Orchard Lahore significantly improves the project's accessibility and value. It is located on Main Raiwind Road, next to Adda Plot, Lahore.
All of Lahore's major residential districts are easily accessible from the project. This project has a direct approach to Raiwind Road, Lahore Ringroad, Lake City & Valencia Housing Scheme. The chosen location is the most upscaled location, with over 90% of established civilizations in the surrounding area.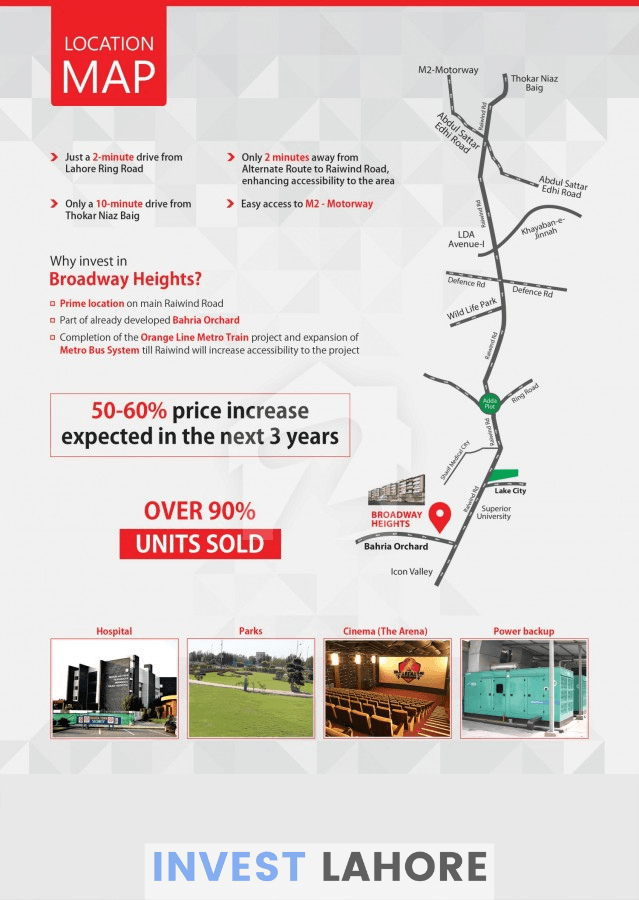 This region has been thriving in terms of new projects, with increased demand and prices on the rise. It's near various educational institutes, including Superior University, Nur International University, Beaconhouse National University, and Sharif Medical & Dental College.
Broadway Heights Bahria Orchard Nearby Accessibilities
Broadway Heights is nearly accessible to many well-known areas as
Close proximity to the Bahria Orchard.
Direct Approach to Raiwind Road Lahore.
1 minute drive to Orchard Heights.
2 minutes drive to Lahore Ringroad.
2 minutes drive to Lake City.
3 minutes drive to Bahria Orchard Hospital.
3 minutes drive to Times Square Mall & Residencia.
5 minutes drive to Liberty Lands.
6 minutes drive to Tibba Bur Singh.
7 minutes drive to Haier Factory Outlet.
10 minutes drive to Thokar Niaz Baig.
12 minutes drive to Valencia.
Broadway Heights Nearby Landmarks & Places
Broadway Heights is close to several recreational amenities, hospitals, and educational institutions, which range from elementary schools to universities.
Nearby Schools & Universities
The project has multiple renowned schools and universities nearby including
Superior University.
Nur International University.
Beaconhouse National University.
GPS Tibba Pajian Raiwind Road.
Sharif Medical & Dental College.
Nearby Bakeries & Restaurants
The options of the eateries in the area are as follows
Biryani Master Bahria Orchard.
Timmy's Bahria Orchard.
Times Square Mall & Residencia Food Court.
Nearby Hospitals & Pharmacies
Hospitals & pharmacies around the Al-Hayat Center are
Bahria Orchard Hospital.
Cancer Care Hospital & Research Center.
Life Hospital.
Nearby Parks
Broadway Heights has multiple renowned parks nearby including
Bahria Orchard Main Zoo.
Bahria Orchard Family Park.
Chinnar Baagh.
Khyber Block Park.
Broadway Heights Apartment & Shops Lahore
Flats for sale in Broadway Heights Bahria Orchard Lahore are
Shops Broadway Heights I Basement (390 sq.ft.)
Studio Apartments Broadway Heights II 4th & 5th Floor (327 sq. ft.)
Apartments Broadway Heights III
3rd Floor (512 sq. ft.)
4th Floor (639sq. ft. – 764 sq. ft.)
5th Floor (452 sq. ft.)
Broadway Heights Plot Features
Broadway Heights provide you with modern as well as basic facilities that include
Electricity supply.
Water supply.
Sewerage system.
Satellite or cable supply.
Accessibility through road.
Broadway Heights Salient Features
Aside from the obvious concerns of the number of bedrooms, price, and design, it is also critical to understand what facilities are offered in an apartment complex.
Mosque.
3 Buildings complex.
Gated & Secured Community.
Prime locality.
LDA approved.
Air Conditioned Balconies.
Separate entrance for the residential sector.
Security staff.
Internet access through broadband.
Rooftop grilling & barbecue area.
Partially completed project.
24/7 CCTV surveillance.
Shopping & commercial center.
Nearby educational & healthcare & recreational facilities.
Access through satellite/cable.
Flexible Payment Plan of 1 year.
Car parking.
Lifts & Escalators to all floors.
Rain water drainage system.
Visitors reception & parking.
Firefighting System.
Emergency exits.
24/7 power backup.
Airy balconies for natural ventilation.
Broadway Heights Lahore Payment Plan
Broadway Heights payment plan is incredibly flexible and reasonable, making it very appealing and advantageous to customers. Apartments are available at reasonable costs offering an easy instalment plan of 24 months.
The rates may vary depending upon the Building and floor options. These apartments & shops can be booked at a 30-50% down payment of the total price and are available at 24 months payment plan. 15-20% of the total amount will be paid at the time of possession. You can the remaining amount in 12-24 months payment plan in monthly or quarterly instalments as per your choice and affordability.
Why Invest In Broadway Heights Lahore?
Broadway Heights Bahria Orchard Lahore will surely be a productive investment because of its developers who never fail in the provision of real estate projects.
Real estate values in the area have risen 40-50% in the last 3 years, and a 50-60% increase is projected over the next 3 years.
LDA approved Project.
Bahria Orchard Lahore is located on Main Raiwind Road, next to Adda Plot, Lahore provides it with a competitive advantage over similar ventures.
A great option for investment because the project is almost complete.
Due to an expanding housing shortage, Pakistan requires about 0.7 million new residential units each year, and moderately priced projects like Broadway Heights play a critical part in meeting this demand.
The Orange Line Metro Train program improves regional connectivity.
Broadway Heights is available at a reasonable & affordable cost offering an easy instalment plan of 12-24 months.
In 2019, Lahore's real estate market had one of the best returns on investment (ROI) of any city in Pakistan, at 6.25%.
Between January 2018 and September 2020, apartment search volumes climbed by 127%.
Broadway Heights is a project with several purposes because it offers shops, offices & apartments.
What Does An Investor Look For While Investing
Here's a look at some of the most important things to consider if you plan to invest in the real estate market:
Location of the property.
Value of the property.
Area of the property.
Builder repute verification.
Title deed verification.
Necessary approvals (NOC) by the local body.
Investment Purpose and Investment Horizon.
Benefits Of Investing In Rental Property
Have a look at the benefits of investing in rental property:
Potential for long-term returns.
Provide a regular income.
Wealth accumulation.
Hedge against inflation
Appreciation for the property.
A steady stream of cash flow.
Advantages/deductions in tax.
Guidelines To Follow While Purchasing/Selling Of Property
Following are the guidelines to follow while purchasing or selling any property:
Document Verification
Always verify all the documentation of the property with complete satisfaction to avoid any inconvenience or misunderstanding. Before purchasing and selling any property, make sure to inquire about the NOC and other approval documents by the developers, approved by the authorities. That's how your purchase or sale will be made without any issue of invalidation.
Financial Security
Before selling and purchasing any property, make sure that you have some financial deposits on for backup if needed. While selling and purchasing, please ensure that your funds align with your payment plan. That's how your purchase or sale will be made without any issues.
Property Visits
It is compulsory to do property visits before purchasing and selling any property to analyse the validity and features of the property properly. After the surety of the validity, visit the site to ensure that the required documents are under the plot specifications.
Documentation Requirement For Booking
The following documentation is required for booking any property:
Two passport-size Pictures.
Two copies of your National Identity Card.
Two copies of the ID card of your next to kin(father, mother, wife, sister, brother).
NICOP for overseas clients.
Conclusion-Broadway Heights Lahore
Broadway Heights is a high-end commercial and residential complex surrounded by tranquilly, compassion, joy, and serenity, where life is ideal and beautiful. This perfect blend of luxury and elegance is a good investment since there is a chance of large capital gain in a few years. So invest for a brighter tomorrow since it will be a legacy for the upcoming generation.
So, if you are part of the same crowd looking to invest in instalments in Lahore's new residential projects in 2022, contact INVEST LAHORE now!