Amanah Mall Service Apartments Lahore
Everyone has the right to live a luxurious life, which is why Amanah Mall Service Apartments Lahore provides you with the opportunity to experience premium luxury. The project has been registered with the appropriate authorities, making it a wise investment. Amanah shopping center is so attractive among citizens that it welcomes 5,00,000 vistors each month.
Amanah Mall is owned and developed by 'Amanah Estates,' one of the city's most reputed and reliable builders. It is located at a prime location on Model Town Link Road Lahore. The complex features residential apartments with studio & 1 bedroom apartments and promises a luxurious lifestyle. The payment plan is also straightforward to grasp for clients because it covers a time frame of 1 to 2 years.
Amanah Mall is a private complex with multiple shopping, entertainment, residential and recreational options. The arcade spans over 13 Kanals land approximately, comprising 8 storeys, with lower ground floor, ground floor, and 4 basements all dedicated to parking.
The first four floors (Lower Ground, Ground, 1st and 2nd Floor) are for commercial brand outlets that serve as a successful business and attraction for customers and visitors. Food Court, Magic Planet, Amusement Park, Velocity Gym, Cinepax Cinema are found on 3rd, 4th and 5th floors. Remaining 3 floors are reserved for the serviced apartments.
This is an excellent chance for anyone wishing to invest, and it is ideal if you want to live in a luxurious lifestyle. This magnificent project is embellished with sophisticated and opulent residences, easy motorways, lush green surroundings, and an extensive list of facilities, all conveniently located near vital institutions and entertainment hotspots.
Amanah Mall Owners & Developers
Every human being requires a home for social, economic, and cultural reasons. It is much more than a place to sleep. A place to be yourself; a place to be with those you care about; a place to leave the rest of the world behind and truly live. Amanah Estate
Amanah Estates
Amanah Mall Apartments is a project by one of the country's most trustworthy consultants named Amanah Estate. Amanah Estate provides this prime real estate project with the goal of creating the ultimate Family oriented, Luxury living experience.
Amanah Group, a thriving international business group, is dedicated to delivering innovation and exceeding expectations. They have been in the real estate business since 1995.
The Amanah Estates is recognised for creating high-end real estate developments that cater to the demands of end-users. They make pretty good on their commitments. The developers of this project have a long and illustrious history of architecture and Innovative real estate ideas.
Amanah Mall Lahore Project Plan
Amanah Mall is known as the private highly elevated building in Model Town possessing all essential,recreational and opulent amenities beneath one roof.
3 Level Basement for Car and Bike Parking.
Lower Ground Floor for Carrefour Market.
Ground to First Floor for Different Brand Categories.
Second Floor for Gents Garments Brands and Trampoline Park.
Third Floor for Food Court and Kids Food Points.
Fourth Floor for Magic Planet and American Snooker Pool.
Fifth Floor for Velocity Health and Fitness Club and Cinepax.
Amanah Mall offers:
Studio Apartments
1-Bed Apartments.
Amanah Mall Location & Map
The most important consideration factor in real estate decisions is location. A good site adds a lot of value to the project over time. Investors and consumers place a high value on location and consider it worth buying only if it is located in a desirable neighbourhood.
The strategic location of Amanah Mall Apartments significantly improves the project's accessibility and value. Amanah Apartments are located in a unique and prime location,Model Town Link Rd, G.E.C.H.S. Phase 2 Muhammadpura, Lahore, Punjab 54600.
This incredible project has also in proximity to Model Town Park, the University Of Management & Technology, Pace MT, Jinnah Hospital, Township, Faisal Town, Garden Town, Qaddafi Stadium and Packages Mall.
Regarding new initiatives, this region has been flourishing, with rising demand and prices on the growth side. It is located at the crossroads of several universities including the Bahria University Lahore Campus, UMT, The University Of International Education and the University of Punjab.
Amanah Apartments Lahore Nearby Accessibilities
Amanah Apartments can be approached by nearby places as:
Situated at Model Town.
1-minute drive from Pace MT.
3-minute drive from Metro Model Town.
9-minute drive from Model Town Park.
12-minute drive from Jinnah Hospital.
12-minute drive from the University of Management & Technology.
15-minute drive from Gulab Devi Chest Hospital.
15-minute drive from Qaddafi Stadium.
20-minute drive from Packages Mall.
22-minute drive from Emporium Mall.
38-minute drive from Allama Iqbal International Airport.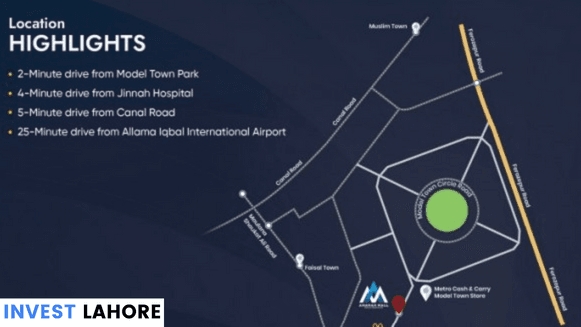 Amanah Mall Apartments Nearby Landmarks & Places
Amanah Residency is close to several recreational amenities, hospitals, and educational institutions, which range from elementary schools to universities.
Nearby Schools & Universities
The residency has multiple renowned schools and universities nearby including:
Bahria University Lahore Campus.
Universal College Lahore.
The City School MLTC.
RIPHAH International College Lahore.
College of International Education.
Punjab University Examination Center.
European University.
Acropetal International School.
University of Lahore.
University of Management & Technology.
FAST NUCES Lahore.
RISE Group of Colleges.
American Lyceum International School.
The Abacus School.
Nearby Restaurants
The options of the eateries in the area are as follows:
Yasir Broast Faisal Town.
Namak.
McDonald's.
Gourmet Restaurant.
Wrap House.
Johnny & Jugnu.
Burger Station Lahore.
Chicken Day 2 Night.
Chashni.
Pronto Restaurant.
Big Joe's Pizza & Burger.
Gluttony's Fast Food.
Jay Bee's Model Town Branch.
Khyber Charsi Tikka.
114 by Insomnia Kitchen.
Lahore Bites.
KFC.
Nearby Hospitals & Pharmacies
Hospitals & pharmacies around the Apartments are:
Lahore Care Hospital.
Bahria International Hospital.
Horizon Hospital.
Clapp Hospital.
Lahore General Hospital.
Jinnah Hospital.
Family Health Hospital.
Masood Hospital.
Mumtaz Bakhtawar Hospital.
Farooq Hospital West Wood.
Doctors Hospital & Medical Center.
Shadman General Hospital.
Shaukat Khanum Memorial Hospital.
Hameed Latif Hospital.
Nearby Parks
Residencies have multiple renowned parks nearby including:
2BI Park.
Children Park.
Usman Park.
Muqaddas Park.
Johar Town Park.
Milad Park.
Gulshan Rasool Park.
Johar Town Park.
Moazam Park.
Public Park.
Amanah Mall Apartments Prices & Property Types
Amanah Residences offer a variety of residential services apartments. Luxury apartments for sale in Lahore are:
Studio Apartments (6th Floor) (258 sq. Ft. – 436 sq.ft.)
The studio Apartments cost PKR 64.5 Lacs – 1.09 Crore with a 12-24 month payment plan having a studio bed and 1 bath.
1-Bed Apartments (6th Floor) (396 sq. ft. – 709 sq. ft.)
The 1-Bed Apartments cost PKR 99 Lacs – 1.71 Crore with a 12-24 month payment plan having 1 bedroom and 1 bath.
1-Bed Loft Apartments (7th Floor) (311 sq. ft. – 923 sq. ft.)
The 1-Bed Loft Apartments cost PKR 77.8 Lacs – 2.31 Crore with a 12-24 month payment plan having 1 bedroom and 1 bath.
Amanah Mall Lahore Plot Features
Amanah Residency provide you with modern as well as basic facilities that include
Sui gas supply.
Electricity supply.
Water supply.
Sewerage system.
Satellite or cable supply.
Accessibility through roads.
Amanah Apartments State-of-the-art Amenities
Aside from the obvious considerations of how many bedrooms, price, and style, it's also crucial to know what amenities are available in an apartment complex.
Best Western Plus (4 Star Hotel).
Additional Benefits In Amanah Mall For Amanah Noor Residents.
Trampoline Park.
3 Capsule, 2 Passenger and 2 Cargo Lifts.
VR Park.
Well Designed Terraces.
Modern Indoor Cafes & Restaurants.
Vrf (Internal Heating & Cooling) System.
State-Of-The-Art Gym.
Valet Parking.
Cinepax Cinema.
Swimming Pool.
International Standard Grocery Store.
Velocity Fitness Club.
American Pool & Snooker Club.
Magic Planet.
Fascinating Kids Play Area.
Prayer Area.
Food Court.
Waste Disposal.
Spacious Community Hall.
Broadband Internet Access.
Visitors Reception.
Indoor & Outdoor Seating Area.
Emergency Exits.
Airy Balconies For Natural Ventilation.
Juice Bar/Relaxation Lounge.
Steam Room, Plunge Pools, And Sauna.
24/7 CCTV Security.
Fire Extinguishing System.
High Standard & Planned Residential Project.
Satellite/Cable Access.
Flexible & Affordable Payment Plan.
Designated Car Parking.
24/7 Power Backup Generation.
Lifetime Building Maintenance.
Amanah Mall Service Apartments Lahore Payment Plan 
The payment plan for Amanah Mall Lahore is extremely reasonable and convenient, with instalments spread out over 12-24 months. One unit may be reserved with a 30% down payment. Possession will be granted on a 20% basis. The booking of Amanah Apartments Lahore is open for all types of apartments.
Why Invest In Amanah Mall Apartments?
Undoubtedly, the concern is quite serious prior to investing a certain amount in a project. Here are some major motivations why you should invest in Amanah Apartments.
Amanah Apartments will surely be a productive investment because of their developers (Amanah Estate) who never fail in the provision of real estate projects.
A potential investment for vendors looking to open outlets in a shopping mall.
Certainty of investment gains in conjunction with the project.
Approved and registered by all the relevant authorities.
Providing every comfort in a thriving environment.
Located on Model Town Link Road, a hub of infrastructure development and real estate investment.
Offering premium & luxurious facilities at a cheaper cost.
Safety and security measures and proximity to various facilities.
Due to an expanding housing shortage, Pakistan requires about 700,000 new residential units each year, and moderately priced projects like Amanah Mall Lahore play a critical part in meeting this demand.
Good opportunity for rental investment.
A smart investment for passive income.
Elegant and mesmerising Facade.
Affordability & flexibility in the payment plan.
Documentation transparency and ease of ownership transfer.
What Does An Investor Look For While Investing?
Here's a look at some of the most important things to consider if you plan to invest in the real estate market:
Location of the property.
Value of the property.
Area of the property.
Builder reputed verification.
Title deed verification.
Necessary approvals (NOC) by the local body.
Investment Purpose and Investment Horizon.
Benefits Of Investing In Rental Property
Potential for long-term returns.
Provide a regular income.
Wealth accumulation.
Hedge against inflation
Appreciation for the property.
A steady stream of cash flow.
Advantages/deductions in tax.
Guidelines To Follow While Purchasing/Selling Of Property
Following are the guidelines to follow while purchasing or selling any property:
Document Verification
Always verify all the documentation of property with complete satisfaction to avoid any inconvenience or misunderstanding. Before purchasing and selling any property, make sure to inquire about the NOC and other approval documents by the developers, approved by the authorities. That's how your purchase or sale will be made without any issue of invalidation.
Financial Security
Before selling and purchasing any property, make sure that you have some financial deposits on for backup if needed. while selling and purchasing, please ensure that your funds align with your payment plan. That's how your purchase or sale will be made without any issues.
Property Visits
It is compulsory to do property visits before purchasing and selling any property to analyse the validity and features of the property properly. After the surety of the validity, visit the site to ensure that the required documents are under the plot specifications.
Documentation Requirement For Booking
The following documentation is required for booking any property:
Two passport size Pictures.
Two copies of your National Identity Card.
Two copies of the ID card of your next to kin(father, mother, wife, sister, brother).
NICOP for overseas clients.
Charges To Be Paid At The Time Of Booking
30% down payment that is paid at the time of booking. The booking fee must be paid following the unit size specified in the payment plan.
The payments will be made over 1 to 2 years in easy monthly instalments.
20% is to be paid at the time of possession.
Conclusion – Amanah Mall Serviced Apartments
Amanah Mall Apartments is the latest & remarkable apartment & recreational project that aims to provide a luxurious lifestyle, cutting-edge amenities, a prestigious location, and top-tier urban experiences all under one roof.
These apartments are excellent for both residence and investment, with construction set to complete soon. If you rent out your unit to a high-end tenant when the development is finished, you will have a guaranteed monthly rental income.
Keep reading INVEST LAHORE Articles for more Pakistan-related content. Send us your feedback and recommendations .We like hearing from our readers!