Pace Circle & Hyatt Regency Lahore
Pace Circle & Hyatt Regency Lahore flawlessly integrates some of the most modern amenities required for a comfortable living, including commercial shops, 5-Star Hotel, and residential flats all under one roof. Pace Circle Lahore has been approved by the all competent authorities. It is a subsequently rendered project that is a perfect blend of properties for sale to entice investors and buyers.
Pace Circle Lahore, a wonderfully planned residential & commercial complex along Amjad Chaudhary Road, Lahore is yet another notable addition to the city's skyline. Pace Circle Lahore is built on 3 towers, one for a 5-Star Hotel and the other 2 for retail outlets, a mall, and apartments.
The project spans 72 Kanals, but the covered area is only 42 Kanals, allowing for plenty of green space for scenic beauty and landscapes. The 11-floor superstructure makes up the multi-storey complex, which also contains a well-designed shopping Mall on 5 floors, parking in basement on 3 levels and residential apartments on the top floors.
Pace Circle Lahore is a very profitable commercial & apartment complex that offers all of the greatest facilities that modern apartment consumers want. The project's huge and attractive architecture, prominent location, and exquisite facilities will appeal to real purchasers and investors.
Pace Owners & Developers
It is the main and the most important thing to have an in-depth look at the developers and owners of a project while investing because it enhances your trust in the project.
Pace Lahore is a notable initiative of Pace Pakistan Ltd. a prestigious real estate development & Capital Group in Pakistan. Pace Pakistan is built on the ideals of integrity, accountability, dedication, and excellence and has specialists in real estate contract projects.
Pace Pakistan Limited have started Pakistan's first retail shopping mall in 1995. Today, this first business has become a landmark in Lahore.
Pace Pakistan Limited
Pace Pakistan Ltd. is a subsidiary of the well-known first capital group and an independently public limited company listed on the Pakistan Stock Exchange. Pace limited specializes in the construction, acquisition, management, and sale of shopping malls, residential apartments, and supermarkets, among other things, either directly or through joint ventures.
The main source of revenue of Pace limited is the sale of properties, real estate projects, shopping malls, and advertising.
Projects Of Pace Pakistan
Pace's subsidiaries and associated companies include Pace Woodlands Pvt. Limited, Pace Supermall Pvt. Limited, and Pace shopping malls (Lahore, Gujranwala, and Gujrat).
Pace Woodlands Housing Scheme.
Pace Tower.
Pace Circle.
T-27.
Peacock Valley Hotel & Resort.
Pace Gulberg Shopping Mall.
Pace G.T Road Gujranwala.
Pace Model Town Shopping Mall Lahore.
Pace Circle Lahore Project Plan
Pace Circle Lahore has well-designed shops, offices & flats with layouts that prioritise aesthetics and space efficiency.The project was initiated in December 2020.
Pace Circle Lahore is built on three towers, one for a 5-star hotel and the other two for retail outlets, a mall, and apartments. The project spans 72 Kanals, but the covered area is only 42 Kanals, allowing for plenty of green space for scenic beauty and landscapes.
Pace Lahore comprises 11 storeys
3-level basement for parking.
Ground Floor have commercial outlets & corporate offices.
11 floors for mixed-use like Commercial activities & flats. Pace Circle Shopping Mall is spread on 5 floors comprises food court, Kids play land & shopping outlets.
The shopping center has separate dedicated parking for residents, shop owners & visitors.
Pace Circle Lahore has a perfect combination of properties for sale to attract investors & buyers. Pace Lahore offers
Hotel Apartments.
Service Apartments.
Commercial Outlets.
Food Court.
Pace Circle Location & Map
The strategic location of Pace Circle Lahore significantly improves the project's accessibility and value. It is located at 131-A, Amjad Chaudhary Road, Near Rangers Head Quarters, Opposite Askari-10, Lahore Cantt, Pakistan.
Lahore is the capital of Punjab and has many employment, health, educational, and commercial opportunities for outsiders. Pace Circle provides easy access to all of Lahore's central residential districts. The project has a direct approach to Allama Iqbal International Airport, Canal Road, Garrison Golf & Country Club, DHA Phase V, Askari 10 and Metro Cash & Carry. The chosen location for the endeavour is the most upscaled location, with over 90% of established commercial civilizations in the surrounding area.
The Hotel & residential apartments are near various educational institutes, recreational activities, healthcare facilities & commercial activities adding more charm to the project.
Pace Circle Lahore Nearby Accessibilities
Pace Circle is nearly accessible to many well-known areas as
Proximity to the Allama Iqbal International Airport.
3-minute drive to Polo Club.
5-minute drive to Canal Road.
5-minute drive to DHA Commercial Broadway.
8-minute drive to DHA Metro.
8-minute drive to Lahore School of Economics.
9-minute drive from NADRA Office.
10-minute drive to LUMS.
10-minute drive to National Hospital.
20-minute drive to DHA Phase V.
22-minute drive to Fortress Stadium/Mall of Lahore.
30-minute drive to Packages Mall.
Pace Circle Hyatt Regency Nearby Landmarks & Places
Pace Lahore is close to several recreational amenities, hospitals, and educational institutions, which range from elementary schools to universities.
Nearby Schools & Universities
Pace Lahore has multiple renowned schools and universities nearby including
International Grammar School.
Lahore Grammar School Paragon City.
The Smart School Askari Branch.
Green Meadows Remedial School.
Bloomfield Hall School.
SCIL.
Kips Academy.
The City School Paragon Campus.
Lahore School of Economics (LSE).
LUMS.
Information Technology University (ITU).
Army Selection Center.
Lahore Leads University (LLU).
Superior Group Of Colleges.
Nearby Bakeries & Restaurants
The options of the eateries in the area are as follows
McDonald's.
Quetta Dalaan Restaurant.
Grill House.
Spice Hut.
KFC Mall of Lahore.
Khan Burger & Family Restaurant.
Patli Gali Restaurant.
Savoury Bite.
Big Bite.
Pizza Tonight.
Waqas Lasani Burger.
Darbari Desi Restaurant.
Nearby Hospitals & Pharmacies
Hospitals & pharmacies around Pace Lahore are
Zarar Shaheed Hospital.
Heart & Medical Center (HMC).
Al Rehman Life Care Hospital.
Lahore Care Hospital.
Aadil Hospital.
Fauji Foundation Hospital.
National Hospital & Medical Center Lahore.
Garrison Medical Center.
CMH Lahore.
Medeast Hospital.
Shalamar Hospital.
Pakistan Kidney & Liver Institute & Research Center.
Nearby Parks
The venture has multiple renowned parks nearby including
Guldasht Town Park.
Askari Sector D Park.
Public Park.
Bismillah Park.
Public Park.
Askari Sector C Park.
Sector F Park.
Joyland.
Lahore Cantt Park.
GOR Park.
DHA Park.
Pace Circle Lahore Prices & Property Types
Pace Circle offers a variety of commercial outlets, corporate offices & flats on the lower, ground and upper floors. House for sale with a shop in Lahore are
Shops (Lower Ground Floor) (229 sq. ft. – 3795 sq. ft.)
The shops on the lower ground level have priced between PKR 1.08 Crore – PKR 13.73 Crore with a 48-month payment plan.
Shops (First Floor) (272 sq. ft. – 1734 sq. ft.)
The shops on the first level have priced between PKR 1.83 Crore – PKR 5.97 Crore with a 48-month payment plan.
Others (Second Floor) (1.59 Marla – 30.22 Marla )
The shops on the second level have priced between PKR 1.89 Crore – PKR 24 Crore with a 48-month payment plan.
Pace Circle Apartments For Sale
Pace Circle Lahore offers hotel & service apartments in the hub of commercial & basic state-of-the-art amenities. House for sale with a shop in Lahore are
Hotel Apartments (2nd to 11th Floor) (440 sq. ft. – 882 sq. ft.)
The standard & suite hotel apartments cost PKR 1.14 Crore – 2.28 Crore with a 48-month payment plan.
Service Apartments (1 Bed Flats ) (473 sq. ft. – 1028 sq. ft.)
The service apartments cost PKR 1.11 Crore – 2.24 Crore with a 48-month payment plan.
Pace Circle & Hyatt Regency Hotel Lahore
Pace Circle reserved a full tower for a 5-star hotel providing state-of-the-art luxury amenities.
Here are some features that Pace Circle Hyatt Regency Hotel offering
288 Rooms.
20 Suites.
608 Sq.Metre Ball Room.
2300 Sq.Metre Plant Room.
7Meeting Rooms.
2 Speciality Based Dining Restaurants.
Bakery.
1 Fine Dining Restaurant.
Laundry Services.
Housekeeping Pantry For Each Floor.
Dedicated Parking For Guests & Visitors.
The material used in the state-of-art development is
Imported Floor Tiles.
LED/SMD Lights.
High Quality Durable Paint.
Matt Finish / U.V laminated Wardrobes.
Kitchen Equipped with branded oven, hood & sinks.
Ceiling Moulded with Plain Plaster Of Paris.
Aluminium,Glass & Woodwork.
Pace Circle Plot Features
Pace Circle provide you with modern as well as basic facilities that include:
Sui gas supply.
Electricity supply.
Water supply.
Sewerage system.
Satellite or cable supply.
Accessibility through road.
Pace Circle & Hyatt Regency Salient Features
Aside from the obvious concerns of the location of shops, the number of bedrooms, price, and design, it is also critical to understand what facilities are offered in an apartment & commercial complex.
Shopping Mall.
Gym, Pool & Cafes.
Pool Side View Apartments.
Super Market.
Central Courtyard.
Mosque.
Gated & Secured Community.
Security Staff.
Internet access through broadband.
Rooftop grilling & barbecue area.
High-speed elevators & escalators.
Cinema.
24/7 CCTV surveillance.
Food Court.
Separate rooms for servants.
3-level Basement Parking.
Access through satellite/cable.
Flexible Payment Plan of 48 months.
Wedding & Event Hall.
Conference Room.
Visitors reception & parking.
Firefighting System.
Emergency exits.
Play area for children.
Usage of high-quality building material.
24/7 power backup.
Indoor & outdoor dining options.
Laundry Service.
ATM Service.
Airy balconies for natural ventilation.
Pace Circle Lahore Payment Plan
Everyone is looking for reasonable costs and investment strategies that investors must offer to their buyers. The rates may vary depending upon the covered area and floor options. Pace Circle apartments, offices & shops can be booked at a 35% down payment of the total price and are available at 48 months payment plan. 20% of the total amount will be paid at the time of possession. You can the remaining amount in a 48 months payment plan in monthly or quarterly instalments as per your choice and affordability.
The price per square foot is given below to calculate the total price of the property:
Commercial: 43,367/-
Food Court: 52,941/-
Hotel apartments: 25,883/-
Service Apartments: 23,530/-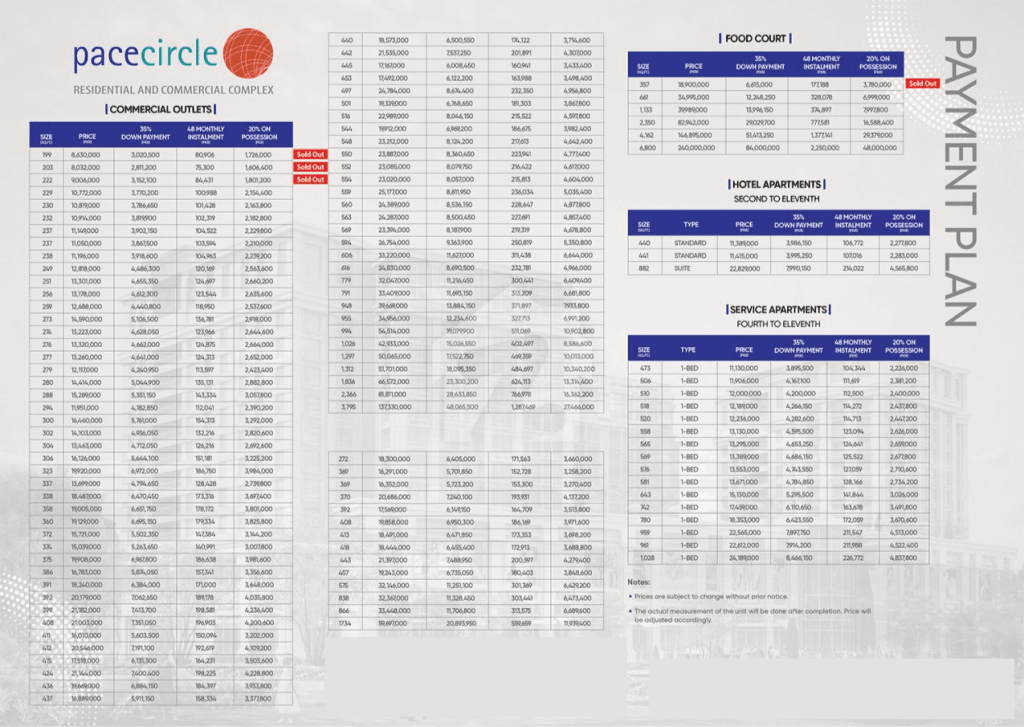 Why Invest In Pace Circle Apartments Lahore?
Located on Amjad Chaudhry Road, Guldasht Town, along Ring Road Lahore provides it with a competitive advantage over similar ventures.
Capital gain of 50% to 60% will appreciate in the coming 4 years.
Offering premium & luxurious facilities at a cheaper cost.
Due to an expanding housing shortage, Pakistan requires about 0.7 million new residential units each year, and moderately priced projects like Al Hayat Residencia play a critical part in meeting this demand.
Between January 2018 and September 2020, apartment search volumes climbed by 127%.
Pace Circle Hyatt Regency is almost 70% complete.
The site is being built at a rapid pace.
A smart investment for passive income.
Pace Circle will surely be a productive investment because of its developers who never fail in the provision of real estate projects.
Pace Circle Apartments Lahore is available at a reasonable & affordable cost offering an easy instalment plan of 48 months.
Pace Circle & Hyatt Regency Lahore is a registered project.
Guaranteed 8% annual rental yield on apartments.
Development Till Date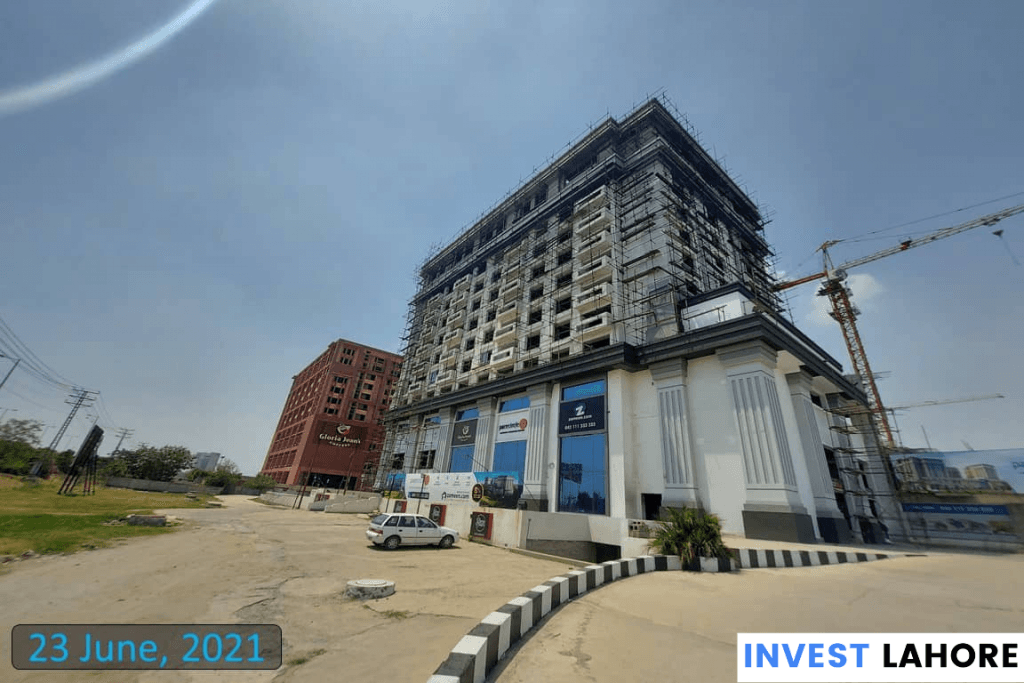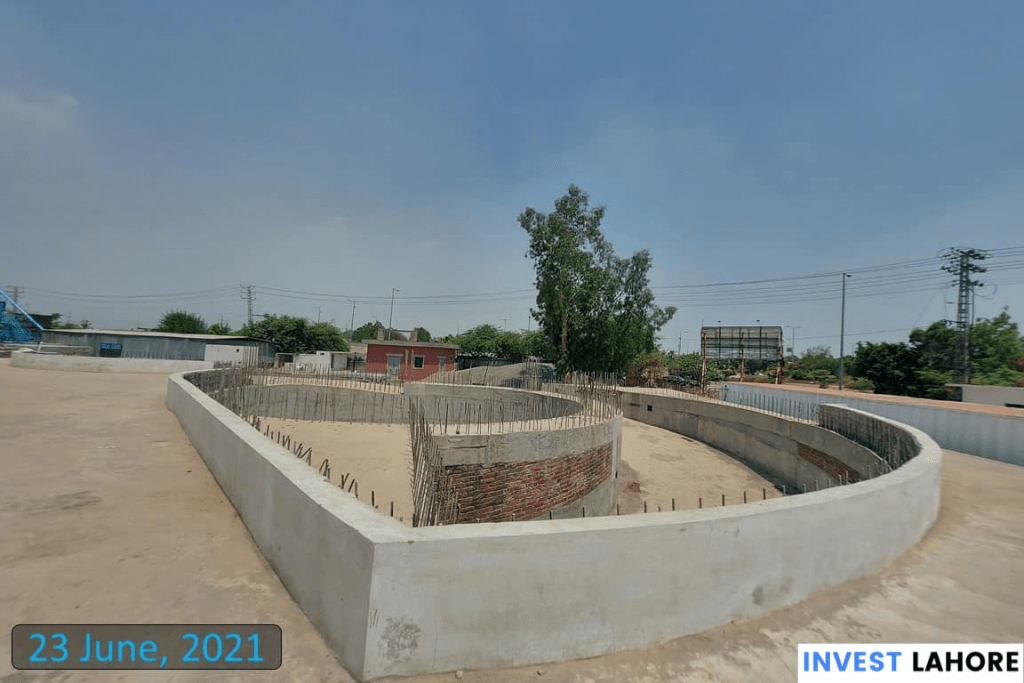 What Does An Investor Look For While Investing?
Here's a look at some of the most important things to consider if you plan to invest in the real estate market:
Location of the property.
Value of the property.
Area of the property.
Builder repute verification.
Title deed verification.
Necessary approvals (NOC) by the local body.
Investment Purpose and Investment Horizon.
Benefits Of Investing In Rental Property
Have a look at the benefits of investing in rental property:
Potential for long-term returns.
Provide a regular income.
Wealth accumulation.
Hedge against inflation
Appreciation for the property.
A steady stream of cash flow.
Advantages/deductions in tax.
Guidelines To Follow While Purchasing/Selling Of Property
Following are the guidelines to follow while purchasing or selling any property:
Document Verification
Always verify all the documentation of the property with complete satisfaction to avoid any inconvenience or misunderstanding. Before purchasing and selling any property, make sure to inquire about the NOC and other approval documents by the developers, approved by the authorities. That's how your purchase or sale will be made without any issue of invalidation.
Financial Security
Before selling and purchasing any property, make sure that you have some financial deposits on for backup if needed. While selling and purchasing, please ensure that your funds align with your payment plan. That's how your purchase or sale will be made without any issues.
Property Visits
It is compulsory to do property visits before purchasing and selling any property to analyse the validity and features of the property properly. After the surety of the validity, visit the site to ensure that the required documents are under the plot specifications.
Pace Circle Lahore Booking Requirements
The following documentation is required for booking any property:
Two passport-size Pictures.
Two copies of your National Identity Card.
Two copies of the ID card of your next to kin(father, mother, wife, sister, brother).
NICOP for overseas clients.
Charges To Be Paid At The Time Of Booking
35% down payment that is paid at the time of booking. The booking fee must be paid following the unit size specified in the payment plan.
The payments will be made over 4 years in easy monthly instalments.
20% is to be paid at the time of possession.
Conclusion-Pace Circle & Hyatt Regency Lahore
Pace Circle & Hyatt Regency is a premium mixed-use commercial & corporate hotel project that is the ideal combination of elegance and comfort. The apartments & shops are excellent for both residence and investment, with construction standards set to complete soon.
This vertical exquisite is a combination of elegance and commercial civilization and is a wise investment because, in a few future years, there is a hope of high capital gain. Invest for your better tomorrow as it's a legacy for the next generation.
So, if you are part of the same crowd looking to invest in instalments in Lahore's new residential projects in 2022, contact INVEST LAHORE now!